In the 80s it wasn't a great action TV show unless it had a cool vehicle to go along with it. Here is a list of some of our faves.
10. Face's Corvette (The A-Team)

Though this car did not get as much screen time as The A-Team van (coming up), this 1984 C4 Corvette was the pride and joy of Templeton "Faceman" Peck. With red interior and a red stripe (to match B.A.'s van), it is equipped with a CB radio and a mobile phone. The license plate was S967238 in it debut on the episode, "The Taxicab Wars" and then changed to 1HJG851.
As well as a number of cameos in other stories, the car was prominently featured in several episodes, including season two's "Chopping Spree", where it was used as bait in an attempt to catch car thieves. The car's final appearance is in the fifth season opener "Dishpan Man", where it is heard, off-screen, to crash after new recruit Frankie Santana gives Face some bad advice about repairing the faulty brakes. However, as B.A.'s jewelry is also damaged via similar bad advice and yet reappears in subsequent episodes, it is never made clear whether the Corvette was too badly damaged to drive from that point on-wards, or simply didn't happen to appear in any more stories before production of the series was cancelled later in the season.
9. Corvette Sting Ray (Stingray)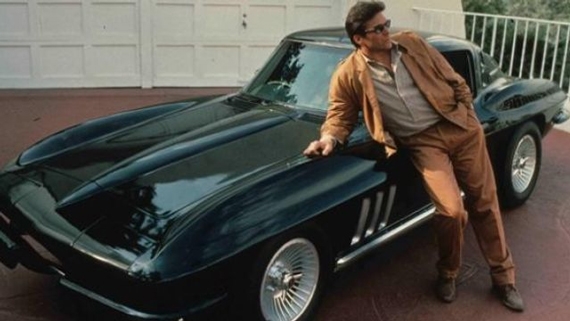 Stingray is an American drama television series created and produced by Stephen J. Cannell that ran on NBC from July 14, 1985 to May 8, 1987. It starred Nick Mancuso, who plays the mysterious character known only as Ray, whose trademark is a black 1965 Corvette Sting Ray. Fun Fact: Apparently only two Corvettes were used in the filming of the show.
8. Cody Coyote/Coyote X (Hardcastle and McCormick)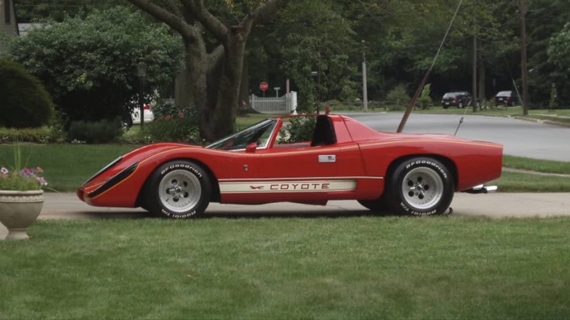 Hardcastle and McCormick is an American action/drama television series that stars Brian Keith as Judge Milton C. Hardcastle and Daniel Hugh Kelly as ex-con and race car driver Mark "Skid" McCormick. Los Angeles County Superior Court Judge Milton C. "Hardcase" Hardcastle, an eccentric judge notorious for being strict with the law in both his duties and towards defendants, is retiring. With file drawers filled with 200 people who escaped conviction due to legal technicalities, the judge, inspired by his childhood hero the Lone Ranger, desires to make the criminals answer for their crimes. Mark McCormick is a smart-mouthed, streetwise car thief. He faces a long incarceration for his latest theft, a prototype sports car called the Coyote X, designed by his murdered best friend. Together, the judge and the car thief strike a deal: Hardcastle helps McCormick catch the murderer; McCormick agrees to work as the judge's agent. In addition, McCormick is allowed to keep the Coyote, which proves to be an excellent pursuit vehicle for their needs. The car that McCormick drove, the iconic Coyote X, was built from custom molds based on the McLaren M6GT. The original Coyote X was molded, modified and assembled using a chassis from a Volkswagen Beetle and its engine is from a Porsche 914. For the second and third seasons, they used a different Coyote which was based on a De Lorean DMC-12.
7. Dodge Power Wagon (Simon & Simon)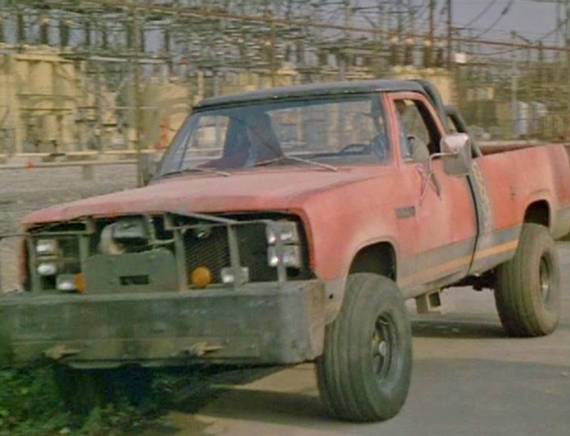 Simon & Simon is an American detective television series that originally ran from 1981 to 1989. The series was broadcast on CBS, and starred Gerald McRaney (Rick) and Jameson Parker (A.J.) as two disparate brothers who run a San Diego private detective agency. Rick's Dodge Power Wagon is notable for its dull paint and conspicuously large metal bumper/ramming device. Now this was not just any Dodge Power Wagon – it came with the Macho Package, which included a roll bar, big tires and a trick paint scheme. This package was only made between 1977 and 1981 and was part of Dodge's "Adult Toy" campaign to appeal to a younger crowd.
6. Ferrari Testarossa (Miami Vice)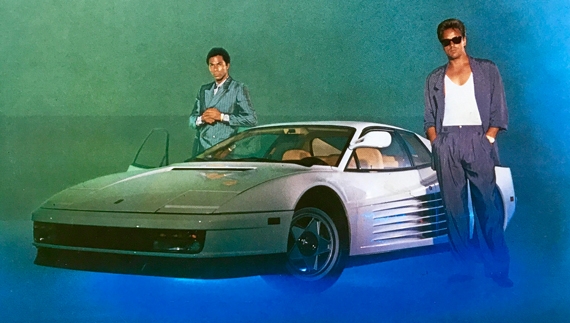 Miami Vice was an American crime drama television series that starred Don Johnson as James "Sonny" Crockett and Philip Michael Thomas as Ricardo "Rico" Tubbs, two Metro-Dade Police Department detectives working undercover in Miami. The series ran for five seasons on NBC from September 16, 1984 to January 25, 1990. Unlike standard police procedurals, the show drew heavily upon 1980s New Wave culture and music. The show became noted for its integration of music and visual effects as has been called one of the best TV shows of all time. During the first two seasons and two episodes of the third season, Crockett drove a black 1972 Ferrari Daytona Spyder 365 GTS/4, which sadly, got blown up, and replaced by a 1996 Ferrari Testarossa. Fun Fact: The factory in Maranello originally delivered these hero cars in black, but showrunner Michael Mann requested a repaint in white to make them more visible when filming at night.
5. Ferrari 308 GTS (Magnum P.I.)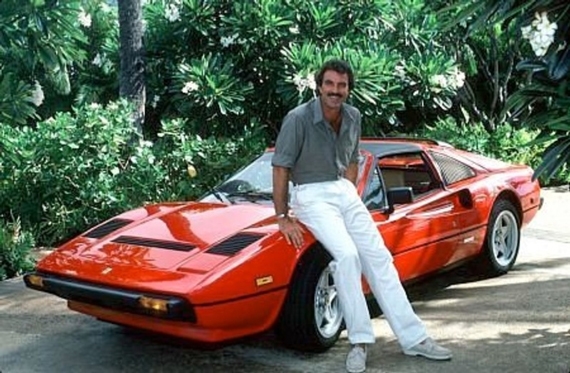 Magnum, P.I. is an American crime drama television series starring Tom Selleck as Thomas Magnum, a private investigator (P.I.) living on Oahu, Hawaii. Magnum lives a luxurious life on the estate of writer Robin Masters and operates as a P.I. on cases that suit him. The only thorn in the side of his near-perfect lifestyle is Jonathan Quayle Higgins III, played by John Hillerman. An ex-British Army Sergeant Major, he is on the surface a stern, "by-the-book" caretaker of Robin's Nest, whose strict ways often conflict with Magnum's more easy-going methods. Magnum has free use of the guest house and the car, a Ferrari 308 GTS Quattrovalvole. This particular Ferrari has a top speed of 170 mph and the cars used in the show had to be specially modified to accommodate Tom Selleck, who stands 6'4″ tall. The padding was removed from the seats so he would sit lower in the car, and the seats were bolted as far away from the steering wheel as possible to maximize the leg room.
4.
GMC K-2500 Sierra Grande Wideside

(The Fall Guy)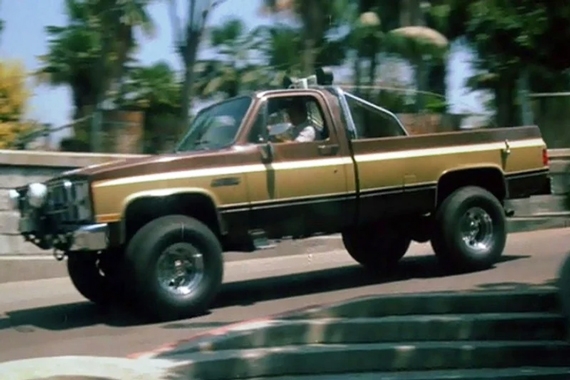 The Fall Guy is an American action/adventure television program produced for ABC and originally broadcast from November 4, 1981, to May 2, 1986. It starred Lee Majors, Douglas Barr, and Heather Thomas as Hollywood stunt performers who moonlight as bounty hunters. Of course no bounty hunter is complete without a kick-ass vehicle to help pursue and bring back the bad guys so Colt drove his trusty GMC K-2500 Sierra Grande Wideside. In the early seasons, a 1980 GMC 4×4 K-25 was used. It had a six-inch lift kit, a chrome roll-bar with high-watt lights, and 35-inch off-road tires. Later, this was upgraded to the 1982 model featured the Sierra Grande trim package, and was powered by a 350 cubic-inch V8 mated to a three-speed, 350 turbo Hydramatic transmission. Don't forget the cool hood decal too!

3. GMC Vandura (The A-Team)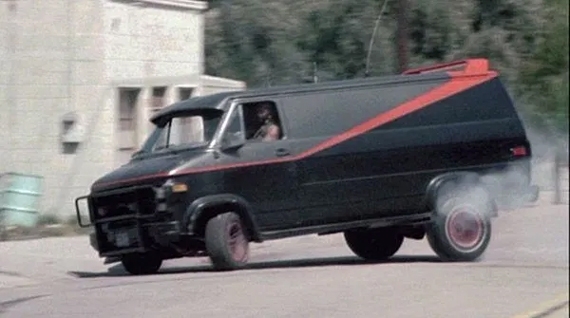 The A-Team is an American action-adventure television series that ran on NBC from 1983 to 1987 about former members of a fictitious United States Army Special Forces unit. The members, after being court-martialed "for a crime they didn't commit", escaped from military prison and, while still on the run, worked as soldiers of fortune. The team's strong man, mechanic and Sergeant First Class Bosco "B.A.", or "Bad Attitude", Baracus (Mr. T) owns and drives the black and metallic grey GMC Vandura van used by the A-Team. With its characteristic red stripe, black and red turbine mag wheels, and rooftop spoiler, the van has become an enduring pop culture icon.
2. General Lee (The Dukes of Hazzard)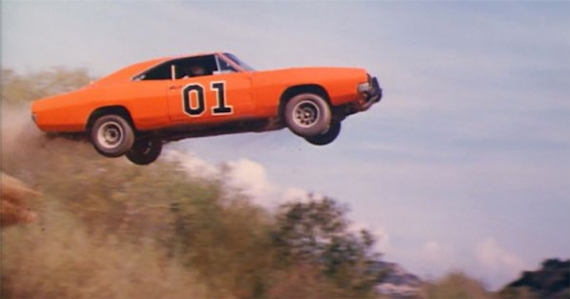 The Dukes of Hazzard is an American action-comedy television series that aired for 147 episodes spanning seven seasons. The show is about two young male cousins, Bo and Luke Duke, who live in rural Georgia and are on probation for moonshine-running. The young men and their friends and their female cousin Daisy Duke, and other family, such as patriarch Uncle Jesse have various escapades as they evade the corrupt law officers Boss Hogg and Sheriff Rosco P. Coltrane. The young men drive a customized 1969 Dodge Charger nicknamed (The) General Lee, which became an iconic symbol of the show. It is known for its signature horn, its police chases, stunts—especially its long jumps—and for having its doors welded shut, leaving the Dukes to climb in and out through the windows. Fun Fact: 255 (or so) vehicles were used in the filming of the TV series.
1. KITT (Knight Rider)
There is no better known TV vehicle than KITT. You see, KITT was more than just a car, it was a co-star.
Knight Rider is an American action crime drama television series created and produced by Glen A. Larson. The series was originally broadcast on NBC from 1982 to 1986. The show stars David Hasselhoff as Michael Knight, a high-tech modern crime fighter assisted by KITT, an advanced artificially intelligent, self-aware and nearly indestructible car. The character of KITT (Knight Industries Two Thousand) was voiced by William Daniels and was physically embodied as a modified 1982 Pontiac Trans Am. Fun fact: A total of 23 KITT cars were made for use in filming the series. All except one of these cars survived until the show was axed; all except 5 of the remaining 22 cars were destroyed at the end of filming.