Bring it on. We need, no we demand more slot games featuring your atypical hero. We have had enough of the Marvel and DC comic heroes. It's all over. I watched Avengers End Game, Its done. Let's bring in some oldies and newbies that are not getting the credit they deserve.
Despite that, many action heroes are not on slot machines. There are already some superb action slots, but we need more, such as the following:
Bruce Willis – Die Hard
Bruce Willis acts as John McClane in the movie franchise Die Hard. The American action thriller was released into the market in 1988. It follows the life of John McClane, an off-duty police officer working for the New York City Police Department (NYPD). This action hero movie offers a unique theme for slot games. It has several twists and turns that would make it ideal as a slot game. Alarms getting off, terrorists killed, the protagonist's life in danger, SWAT teams arriving on the scene, bombs going off, and so on. It has everything needed to excel as a slot.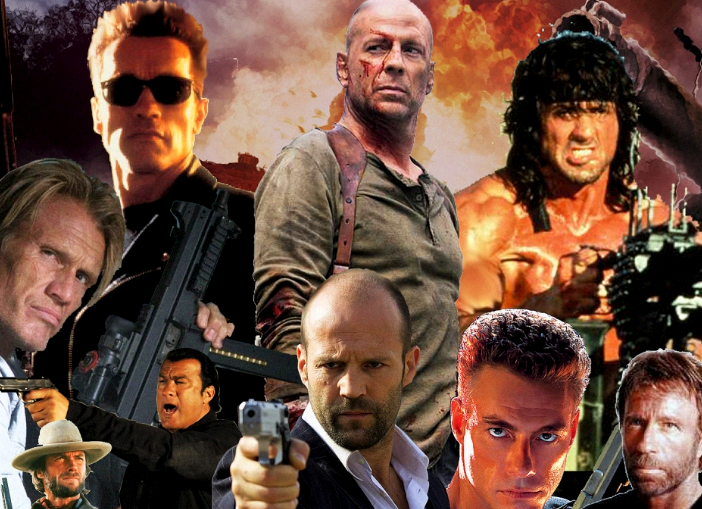 We love the oldies.
Mel Gibson – Lethal Weapon
Mel Gibson played the role of Martin Riggs in Lethal Weapon. Later, he was replaced by Clayne Crawford who took over the character in the TV adaptation of the movie. Nevertheless, in all the four films released between 1987 and 1998, Gibson was Riggs. It's all about Riggs – with the help of his partner Murtaugh – trying to solve the untimely death of his daughter. Each successive sequel has a different dimension. It would be nice to see how slot game developers change Lethal Weapon, especially by making it all about Martin Riggs as the action hero.
Jason Statham – The Transporter
Jason Statham stars as Frank Martin in this French film franchise that was acted in English. In all the four films under this franchise, Frank is a highly skilled driver who is often hired to transport time-sensitive cargo to different destinations. It is full of action. The movies are replete with intrigues everywhere you look. Therefore, be ready to be taken on a journey of a lifetime in case slot game developers finally opt to adapt it into one. The constant edge-of-the-sit action will leave you glued and playing until you win.
Keanu Reeves – John Wick
John Wick might not be as old as the other action hero movies listed here. Nonetheless, it deserves its own slot game for the cult following that it has garnered in the recent past. Two things make the film a must-feature on slot games. The first is its humane component. Secondly, its fans can't stop talking about how relatable John Wick is in the movie. He kills anyone who destroys something that is of value to him. Its stylishness is also bound to draw in most of the gamers who have enjoyed watching the first three films in this franchise.
Liam Neeson – Taken
Liam Neeson brought the house down with his performance in Taken, as Bryan Mills, a retired CIA operative. In Taken 1, his daughter is kidnapped, and Mills sets off on a mission to find her. In Taken 2, he is kidnapped together with his ex-wife. His daughter avoids capture after Mills calls her and asks her to hide. Taken 3 revolves around Mills trying to seek revenge against the people who killed his ex-wife. Slot game developers have plenty of material to go with here. All three Taken films can be gold.
Jamie Foxx – Django
Western movies are a hit for many reasons. From the beginning of the 20th Century to the 1960s, Western films enjoyed unmatched popularity in Hollywood. Therefore, based on this, it is easier to understand why Django Unchained became such a hit. Jamie Foxx plays the role of Django Freeman in this movie. It is action-packed. Different storylines also dot the film from the start to the end. The movie is about a bounty hunter, captured slaves, freed slaves, ruthless slave owners, and everything else that make Westerns such fantastic movies. It's worth a slot.
How Long Before it Becomes Reality
All the above action heroes represent just a drop in the ocean in terms of those who deserve their slot games. However, they present a good starting point for slot game developers. These action heroes and the movies they acted have grown into massive movements that continue enjoying increased popularity all over the world. For this reason, they would be massive successes as slot games.
Furthermore, they offer the known so wouldn't be impossible to sell as slot games. They are full of action. What is more, the storylines involved are as diverse as you can imagine. Online gamblers, especially those who are enthusiastic about slot games, can only hope that these action heroes are about to appear at their favourite no deposit online casinos.
All these actors are certainly good in their work, as the online casino portal https://casinonutansvensklicens.org/ is good in its own.