Michael Jai White has several projects in development; a lot of which are out in 2018. We had a good long chat with him about his new slate of movies including Triple Threat, Accident Man and Cops and Robbers (out now). We also finish off with a little video where we discuss The Dark Knight.
Eoin: Your latest picture Cops and Robbers has you and Quinton 'Rampage' Jackson working together again. Was it always a plan to do a bigger movie together?
Yeah, that was the plan; they wanted to put us together and play brothers. It was a great honour to work with Tom Berenger too. It turned out to be technically the third movie we are in together.
Eoin: Why was it the right vehicle for you both?
Timing wise was important but I also really liked the script and I responded to the writing. Scott Windhauser who was the writer/director, I thought he had put together a movie that I hadn't seen. This feels kind of like a bit of a mystery and I thought it was pretty bright how it was put together. I gotta be a fan of the script first so that's the thing that brought me to it.
Alex: How would you define his writing style versus his directing style?
I believe this was his directorial debut so to try to define his directing style can take a minute to know what that is. It was pretty straightforward. The writing style I liked because it was kind of like how I write where it was written from a place of knowledge of movies. I'm not interested in seeing the same movie over and over; some people make the mistake of just doing the formulaic stuff and it's not taking the audience in any kind of ride. When I first read the script the things I thought that would happen in typical movies didn't happen. I always had to think and wondering what was going on the subtext. To me it was just a really smart script and a smart movie.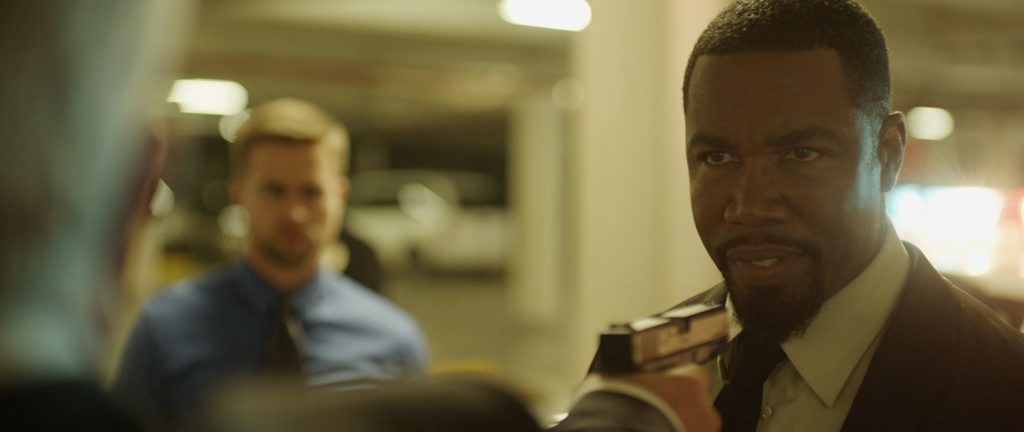 Alex: With the writing do you think he managed to do that with having the two brothers at odds with each other?
Yeah, I can't give away too much but you do wonder which way it's going to go. It's not just laid out; I think you learn something in each scene so that's a mark of a good movie.
Alex: So according to IMDB Steven Seagal apparently turned down the movie as he apparently doesn't like to co-star with you. Any comment?
I'd say that was true. I don't know what it is; Steven doesn't like me and Jean-Claude even though we don't have anything against him. There are theories to it but actually we kinda squashed it. Steven and I ran into each other in Thailand when I was shooting Triple Threat with Tony Jaa and Scott Adkins. So I saw Steven; he was in the same hotel and I went over and said hello. We talked and kind of identified the nucleus of the misunderstanding and we just put it beside us and kept going. I don't think I'm his favourite person (laughs) but I don't think there's any animosity there. There never was any on my side; I was a big fan of his for a long time. When his movies like Above the Law come on, I watch them all the time, you know? I never had a problem with him. I think that when we were shooting, there was a representative that confirmed Steven wasn't too keen on working with me and I didn't quite know why. We worked together before and got on fine. Like I said, it seemed to be a misunderstanding from a third party. They said something that misrepresented something I said; anyway, I never thought it was a big deal and I guess it's not even now.
Alex: So you'll not exactly become bowling buddies but you've nothing against him.
I don't know; I still want to work with the guy. I got nothing against him; maybe it's because some of your first images you've got of somebody stick with you and I thought he had so much swagger in Above the Law and Hard to Kill. I really dug that and I became a fan of the guy. I think he's particular and maybe very guarded. I think when the whole world is in your mix and there's people trying to gun for you there can be egos in the martial arts sometimes. He could make the assumption that everybody is trying to get something from him. I mean, we worked together before and he was cool. Nobody was trying to cheap shot anybody and everything was cool so maybe sometimes you've gotta be guarded I guess. I don't quite get it but it's cool now.
Eoin: You mentioned Triple Threat earlier which is one of our most anticipated movies of next year; you play a character called Deveraux. Can you give us a little background? Is he a bad guy?
Well, nobody is really a bad guy. Man, this was just a pleasure; working with family like Scott who is like a little brother to me and so is Tony Jaa. I love Michael Bisping too; getting to work with him really gave me a good understanding of him. He has what I call the "Michael Bisping Style of Tourette's". It's like he so means well and is such an innocent and doesn't even realize what he's said out loud (laughs). He's one of the most interesting characters I've met in years. His heart is on his sleeve and I don't know that I've met a more honest person in my life and you've gotta respect that.
Shooting Triple Threat was really great. Iko Uwais was just unbelievable; I would really love to work with him again. A new family member came out of this movie. We had a great time and I think the audience is going to really like this movie.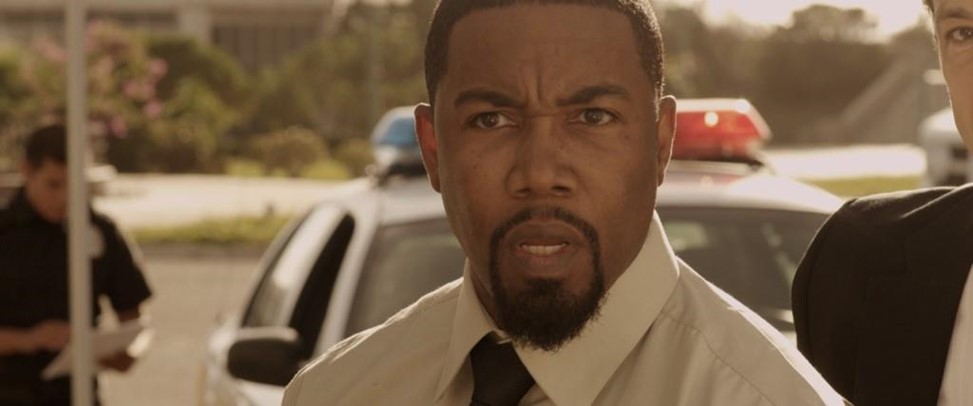 Eoin: Do you see it as a potential franchise?
Oh absolutely! I think they should keep going and going with this. I know they are calling it an "Asian Expendables" and I thought it was just really well put together. It really captured what was unique about Tiger Chen, Tony… hey Tony the Tiger! (laughs) Anyway, it really captured their personalities. These are lovely little guys and sometimes you've got leading men who are not so loveable but these guys are genuinely some of the nicest people in the world. When you've got these nice guys who are against the odds there's just something that really makes you root for them deep down. I really thought the script really lent to their own unique strengths. Audiences are really going to root for them.
Eoin: So, Deveraux; is that a nod to Universal Soldier?
I think it is! I think it's one of those little seeds for people knowledgeable about Universal Soldier.
Alex: Because of all the various martial artists on this film; would you consider this one of your most physically demanding pictures to date?
No, it's quite the opposite; when you've got really great martial artists it's easier. When Tony Jaa and I did Skin Trade there is a part where we fight through this building. We choreographed what we did 10 minutes before we shot it. It's basically like two musicians just jamming. We know and trust each other so well, knowing how close we can get to each other and it looks like a hit. So with Iko and my fight scene, these are the fastest things ever shot in these types of movies because we know what we're doing. It takes a lot longer if there's somebody you have to compensate for. It wasn't so physically demanding; what was demanding was the heat. In Thailand the heat that we had to deal with during the hottest month of the year was kind of demanding. In terms of the fights being physically demanding? No, it's not.  We were traipsing through the jungle in the heat with full gear on; it was harder than doing fight scenes.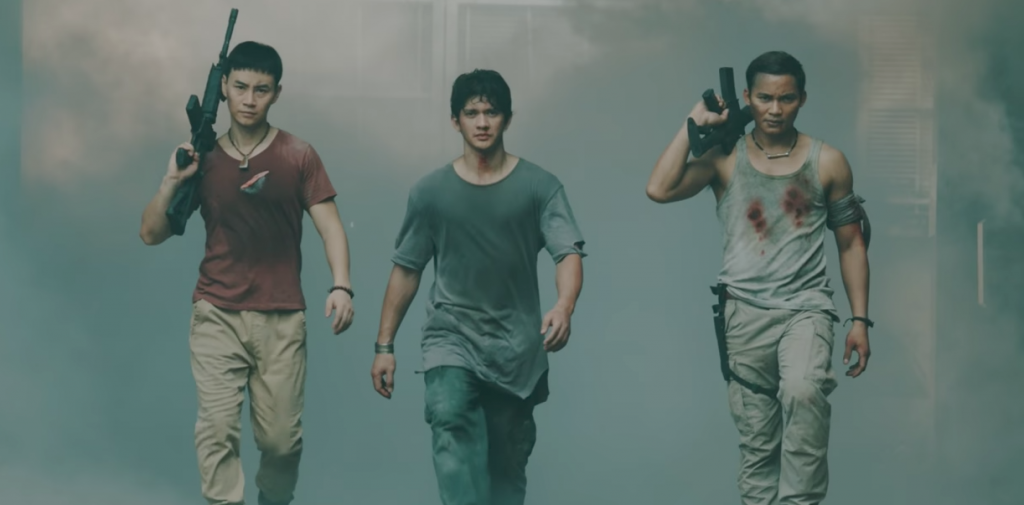 Eoin: What was the hardest moment of the shoot?
Traipsing through the jungle in the heat (laughs); just walking constantly back and forth while we've got these big packs on then that gets a little rough.
Alex: For some unknown reason you're working with Scott Adkins again on Accident Man; I dunno, you've been carrying this guy for how many movies now?
(laughs) How many movies has Scott even been in now? I just watched him in American Assassin the other night. I mean, I go to have my cereal in the morning and Scott is in the cereal!!
Alex: What can you tell us about Accident Man? It looks very different…
I feel like this is going to be a game changer for Scott Adkins; he so deserves a vehicle like this. It's funny, charming and he is custom made for this. I was just happy to be a part of helping him out on his venture. It's just a fun movie. It's got elements of things like Deadpool and the script was really well done. It was great working with Ray Stevenson; the film just moves really well. It feels like Guy Ritchie meets Tarantino where there's like some kind of hybrid there with the martial arts action bringing it to another level.
Eoin: You've worked with director Jesse Johnson on several movies including Accident Man and Triple Threat; what is it that makes you work so well together?
Jesse gets it, man. There's a lot of times  when you have a great script but you have to have a director who is kind of bilingual; somebody who knows of course how to shoot the action as well as get great performances out of the cast. Jesse is versed in the stunt world and a lot of the gunplay so he was like the perfect person to do this. I really like working with Jesse.
Alex: Any word on future sequels to Never Back Down, Black Dynamite or Falcon Rising?
There's some talk about Falcon Rising becoming a TV series, which I really wouldn't mind if it was written well. I think we constructed a character that I know I want to see more of again. So we'll see what happens with that. I really wouldn't mind a Falcon Rising series for 2018.
Never Back Down is another one of those things that may well go into the TV world. In fact the writer/director of the last one (me) kind of structured it that way. When I wrote and directed it you started to see a sort of family dynamic which I formed so going into a series would be an interesting way of seeing into these people's lives.
Regarding Black Dynamite, there is something in the world of Black Dynamite which is a definite and will be announced at the beginning of 2018… it's something I've mentioned before where it's something like Black Dynamite in the West. It's kind of going to feel like Monty Python and is our next foray into that world.
Alex: Is Black Dynamite your dream project like Accident Man is for Scott or is there another project you really want to do?
I actually have several things in 2018 including the launch of Jaigantic Entertainment which is my brand and we've got some really strong, game changing films which are in the works as we speak. 3 of which we want to get done in 2018. So we hope to be making a really big splash next year…
To finish off we talked about Michael's role in The Dark Knight and working with Heath Ledger.