Looking to get your heart-racing, but can't actually get yourself motivated to get off the couch?
Then you should definitely consider the motivating properties of an action-themed slot game. Rather than just sitting there, there might even be something lucrative in it for you too.
Tomb Raider Slots
Perhaps the mother of all action-themed slots, Tomb Raider has enjoyed wild success as a slot machine, mostly thanks to the legendary 2001 thriller film, starring Angelina Jolie.
The game has everything – gorgeous graphics (you might even see Ms Jolie in there too), fun gameplay, and most importantly of all – top bonus features. With such an all-round great game of offer, this is a top choice for players looking to use any, as seen here – or even just have a wager or several.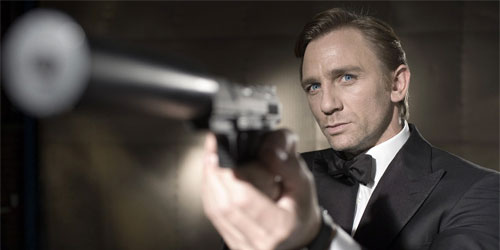 James Bond Slots
Thought it couldn't get any better for that London's most internationally recognized super spy? Think again – he's about to explode into yet another lucrative market!
Following the same well-trodden path as many beloved characters – from book or comic, to film, to slot game – James Bond slot (and there may be a few in the series) will be produced by pretty well-considered Scientific Games – and could be coming to a casino near you very soon indeed. We think it'll be quite the slot, not to mention one where you get to relive the Bond glory days.
Gladiator Slots
This is NOT Sparta, but this is something close. If you remember (or are just a fan of) Ridley Scott's 2000's Best Oscar winner, Gladiator, then this is the slot machine for you. This is a 'thumbs up' from us indeed: there are some awesome bonus extras (free spins, the gamble feature, scatters etc) – and the coliseum itself makes an appearance on the reels, as does Russell Crowe himself.
Let's say it together, now – 'My name is Maximus Decimus…'
Rocky Slots
We'll just wait here while you finish humming the theme tune (da…da…da…dadaaaaaaaaada…da…da).
For a fighting good time, with as many happy, joyous endings as you like (go on, we'll pretend with you), the Italian Stallion is back (again), along with his old foes Apollo Creed, Ivan Drago and the one, the only, Clubber Lang…and his favourite lady Adrian too. Whether you were a fan of the movie series or not, you'll be sure to have a heart-stoppingly good time here.
There are some pretty nice extra bonuses (scatters, free games and more), and actual film footage in between each round. Go Rocky, go!
Terminator 2 Slots
Did you have any doubt that he'd be back? Because he's back alright, and this time, as  slot game. It sure is Judgement Day, and has 243-paylines to prove it. Just like the T-man himself, it's a tad volatile – yes, there are several ways to win, but hitting the jackpot each and every time seems unlikely. Otherwise, it's fun aplenty – and just like with another of our favourite fighters' slots, has actual film footage to keep you reliving the fun of the original.