You will want to remember Bobby Soto's name. He is on the verge of taking that step towards a bigger piece of stardom in Hollywood and when that happens, you want to be able to say that you saw it coming.
Soto started his career in 2008 with a variety of guest spots on television shows like COLD CASE, THE CLOSER, and LIE TO ME. He has worked consistently since but just this year alone began a reoccurring role on the hit Netflix show NARCOS: MEXICO and also played a major supporting role in the crime thriller THE QUARRY opposite beloved character actors Michael Shannon (KNIVES OUT) and Shea Wigham (JOKER).
The third project that features Bobby Soto, to come out this year, is arguably the most impressive. It places him at the forefront of a film cast that includes such notable actors as Shia LaBeouf (FURY), Jimmy Smits (SONS OF ANARCHY), and George Lopez (RIO). That film is, THE TAX COLLECTOR, the latest gritty crime story from writer/director David Ayer (END OF WATCH).
Here is the synopsis of the film from its official press release:
"David (Bobby Soto) and Creeper (ShiaLaBeouf), are "tax collectors" for the crime lord Wizard (Jimmy Smits), collecting his cut from the profits of local gangs' illicit dealings. But when Wizard's old rival returns to Los Angeles from Mexico, the business is upended, and David finds himself desperate to protect what matters more to him than anything else: his family."
Bobby Soto turns a truly great performance in the lead role of David. As I stated earlier, it seems clear that he is a star on the rise. So, I was excited to get a chance to sit and talk with him about the film and his journey as an actor on the verge of hitting it big. 
---
How did you become involved with THE TAX COLLECTOR?
I'll tell you. So, I joined this dojo in Echo Park. And I'd meet the people there and I started working out with this guy… it turns out to be David Ayer.  I had no idea at the time it was David Ayer. So, he and I became really good friends. I was at that dojo for about a year and a half when we started training together, working out together, exercising, and everything. Then he came to my family weddings, and he came around my family a lot and I would go to his house. We were just buddies, just kicking it, having a good time all the time, sparring, working out at the dojo, just chilling.
And then one day, after months of being friends he asked me what I did. I told him I was an actor. Then I asked him what he did, and he told me he made movies. I was like, "Oh, cool. What movies?" He goes, "You ever heard of TRAINING DAY?" And I said, "Yeah." And I go, "Why?" And he says, "I wrote it." "No way!" He was like, "Yep. Have you ever seen END OF WATCH?" I said, "Yep." He said, "I made that one, too." And I was like, "Oh, man, that's cool!" He was like, "Yeah, man. You want to make a movie?" I said, "Yeah, I want to make a movie!" And so then, we got into the process of that and here we are today.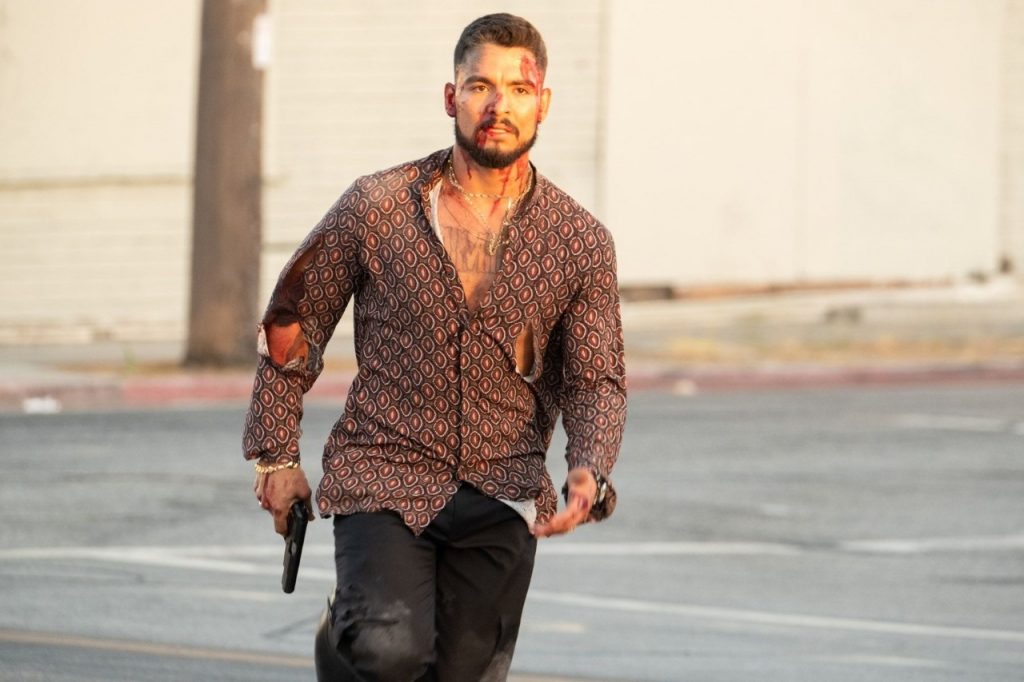 So, did he have the script for THE TAX COLLECTOR already written when he brought you on, or did he write it with you in mind for the lead role?
I don't really know but he had a lot of the script already either written or it was something ruminating in his mind for a long time. he probably didn't know where to do it, or what, or when. But the universe worked itself out, it untangled when we met. And I was blessed to be able to do things that he'd been wanting to make for such a long time. We just catered to each other as artists; me as the actor, him as the director.
So, I'm not necessarily sure. It wasn't a script, script, he wasn't like, "Hey, here's a script." It was like, "Yo, this is my movie. I'm thinking in my head, and this is what we've got." And I don't know how far he had went with a pen and paper on it already, when he called me that night to ask. A lot of it's very intimate between David's mind and the paper.
What is the collaborative process like between you and David when you're on set filming? What kind of direction does he give and what's your process, as an actor, to make those things happen?
David had us all gather at that dojo where we met. He had the whole class there too, including myself, of course. We sparred with each other for three months. And we were in the process of getting to know each other, really getting to know each other before any kind of acting ever happened. We were in this dojo, for real, for real, gloves, fucking shin pads and mouth pieces, sparring with one another. So, we got this intimate relationship built out of that. And then when it came down to set, we were already use to working hard. The first day he had all of us in the room getting to know one another.
So, when we got on set it wasn't as if this big thing was new. It was like, "Oh, yeah. You do have a camera now?" It was like, "Cool." We had been working with each other so well. There's trust, there's love, there's safety. That's the biggest thing with working with on a movie set is can you feel safe? Like, "If I do X, Y, Z, is someone there that's going to protect me and guard me or love me enough that I can go as far as I want or whatever."
Hearing a director's note, whatever it is, you don't take it personally. You don't take it against yourself as an actor. You take it like, "Oh, all right. David, my friend, is coming to me to better me or move the story forward." So, I have to appreciate that and it's not even like a decision. It's second nature because we've known each other so well. It's like your mom or your dad, like that relationship with your brother, like, "Hey, can you go get me a drink?" And he's like, "All right, what you want?" "Let me get a lemonade." "All right, I got you." "Blah, blah, blah," it's just back and forth. It's like banter. You just keep going… and eventually banter becomes one dialogue and now we're speaking the same language.
When that happens, now we understand with a look from across the room. I can look at Shia or David, or vice versa and we get it. We know something just shifted; the energy just moved. How are you going to play jazz? It's really jazz, like, "Who's leading this? Is it the bass right now?" But then, "Oh, he transitioned into the guitar. Oh, now he comes into the drums. Oh, the vocals," it's jazz. That's just what the world and acting in this industry is, it's like in this film, that is jazz. So, you open to it, you listen to it without any kind of, "No, I don't want to do that, and X, Y, Z." And then it was all due to the relationship we built before we even got on the set, that we were able to play and get all this shit out. And then finally walk into something and create while it was being taped.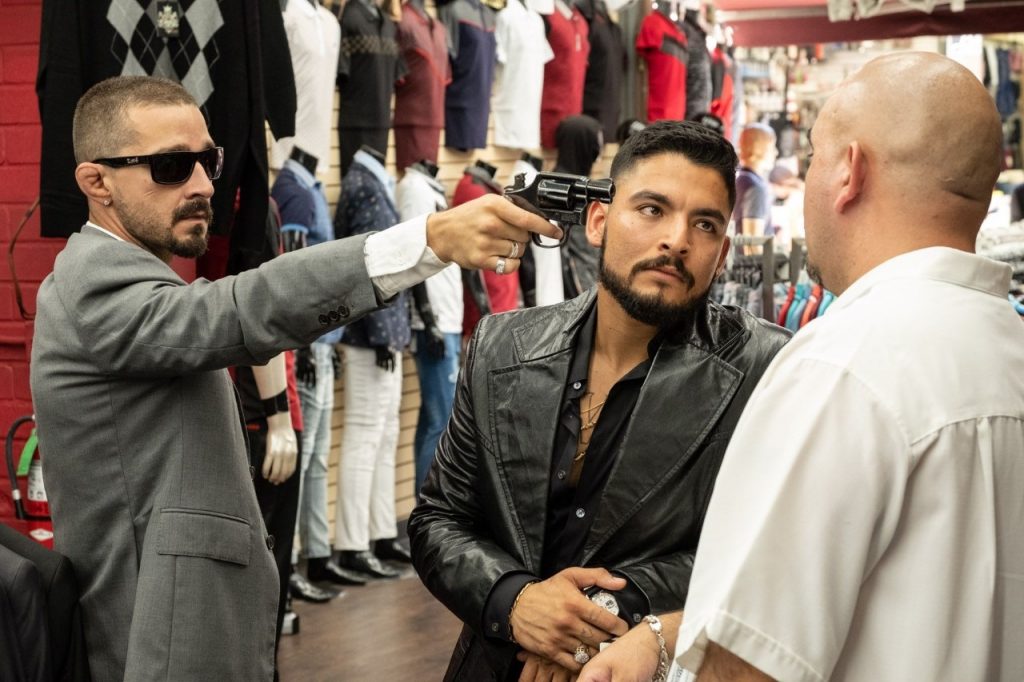 You mentioned your co-star, Shia LaBeouf. What was it like working with him? You share a lot of scenes in the film together.
I'll tell you the truth. I have seen Shia every day for the last two and a half years. He and I opened up a theater company in South Los Angeles, in the area I grew up in, called the Slauson Recreational Theater Company. Right after we wrapped up this movie we wanted to continue collaborating and working with each other. So, we opened up this program that's free for the community of South Los Angeles. Because of course, the educational systems out there is hurting, they remove the arts programs. They defund them to put money into other stuff. The kids are left out there with all these energies and biological changes because they're going through puberty and they're teenagers. They get caught up in other bad shit because they have nowhere else to go and have an outlet.
I grew up around that and I was lucky and blessed that my mother took me out, dropped me off at an acting class and I found my love there because I was given that room. I was given that space. I was given that time of day to be heard or express what I'm going through. And so, Shia understands that, to a hundredth degree he understands that, the need for art. He gets it, and so we discussed it a lot and finally we opened up a theater company.
So, to tell you what it felt like to work with him, the truth is- he's like my big brother, he really is. I see him every single day. I saw him today. It's not like this big thing. I guess because it's coming from the film industry. I get it, there's ranks and there's levels. But to me and him, we're human beings. Literally, he's like my big brother and I'm forever learning and collaborating. We're forever, to the day we get old and wrinkly, we just love each other. We created something so we can continue working with each other. I'm an advocate for the art. I'm an advocate for that brotherhood. I'm real big in loyalty, family, like exactly what the [opening of THE TAX COLLECTOR] says. This is what we do, we're inclusive.
We talk about "representation" in Hollywood, what are we about? If you ever come to a neighborhood where there's a quinceanera, and someone is having a 15th year birthday party celebration for a girl, you welcome everybody to the party, "Here's tacos. Here's some of the salad. Here's some of the soup. Here's some of the beers. Here's some of this, some of that. Oh, come, come, everybody's welcome." And that's how we are, we're inclusive. Growing up, either you have background of immigrant families from any part of the world. Or It's like this thing that us Chicanos, Hispanics, Latinx that we have. We're always wanting to include, the more the merrier, we love it.
That's the thing we're asking with Hollywood, it's like, "Knock, knock." Like, "Yo, I know you're having a party in there. Can I come in? Can I have some of the cake?"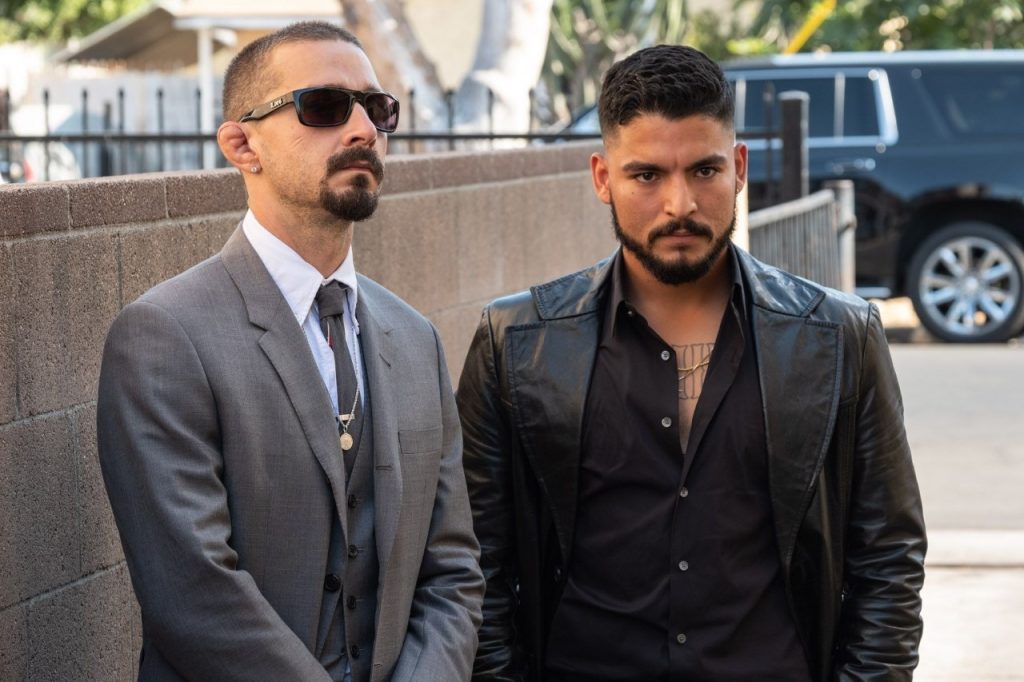 [Laughs] Yeah, I get it.
It's like that famous Tupac [Shakur] interview if you've ever seen it before. He says, "At first we're like, 'We see the food.' I know you got food over there in that other room. I ain't got no food. And then the next time, you're knocking on the door, 'Yo, what's up?' The next one is like, 'Hey, I'm kicking down the door. I'm breaking down the door.'"
We're blessed. We're blessed to have somebody like David Ayer, who's actually at the top of his game, just like Shia. And they are both putting in their time, their effort, and their energy into creating something for someone like myself, making me the lead of a film this size. They both came and did this, which they didn't have to. They did it because they love it. They did it because of whatever they saw in me, whatever potential they saw. And the repercussions of that is we are still working with each other. We're still making shit together, and that's just beautiful. It's a fucking dream man. You know what I mean?
I do. It's the rarest thing in this business, it really is. Bobby, I appreciate you taking time to talk with me today. I wish you nothing but success with the film and everything you are doing. Thank you.
It's all good, dude. Thank you!
THE TAX COLLECTOR is in Theaters, On Demand and Digital starting August 7, 2020.
To learn more about the work Bobby and Shia do with the Slauson Recreational Theater Company, and how to participate, please go here: https://www.slausonrec.com/