Whether it's for Halloween or a costume party, dressing up is always fun. Everyone gets to show off their themed outfits and even do a little roleplay to kick things up a notch. Movie-inspired costumes never go out of style. This lets you share your interest with many and get a chance to geek out over scenes, storylines, and plot twists. You may even act or recreate scenes with family or friends. The world is all about DIY tutorials to reuse or recycle old belongings and turn them into fabulous creations. Here are some catchy ideas for DIY movie costumes.
The Breakfast Club
Not only is The Breakfast Club an iconic 80s movie, but it is also still relatable to all people. It depicts the poignant, confusing, and overwhelming teenage years, and we've all been there. It gives simple and great inspiration for groups of friends. All of you get to replicate the looks of the diverse misfits, who unexpectedly formed a strong bond.
Lord of the Rings
The mystical realms in movies have always appealed to the public, and Lord of the Rings is a significant example. Showcase the whimsical elegance of the fictional middle Earth as an elf, ent, hobbit, orc, or dwarf. Nowadays, it is easy to make your own costume with assistive technology. Based on the information on https://io3dprint.com/3d-printing-cosplay/, you get to create accurate costumes with 3D printing devices. This will help you stand out in cosplay contests or LARPing conventions.
Harry Potter
It is safe to say that all of us are still waiting for our Hogwarts letter. Perhaps at any Halloween party, you will find a lot of Gryffindors, Slytherins, Ravenclaws, or Hufflepuffs. Regardless of what your house is, a Harry Potter-themed event certainly unites the masses. You can reuse a simple black robe and add a colored scarf to represent where you belong. As for the wands, all you need are chopsticks, watercolors, and a hot glue gun. Apply the hot glue to the chopstick to give thickness to the wand, and then color it.
Ghostbusters
Catch some pesky ghosts with the famous Ghostbusters ensemble. Simply styling army green pants and shirts, with old toy guns can give you the look of a professional ghost removal worker. Do you know who you're going to call? Gather your friends to form the stellar ghost-fighting team.
Star Wars
Beginning in the late 70s onwards, Star Wars movies have been one of the most popular franchises that everybody still follows. There is no ignoring the popularity of sci-fi, and thriller flicks based in the far galaxy. With so many iconic human or non-human characters, you will encounter several Yodas, Darth Vaders, or even Chewies in trick-or-treating. Whether you stand with good or evil, you will feel the force with you upon wearing the epic Star Wars galactic costumes.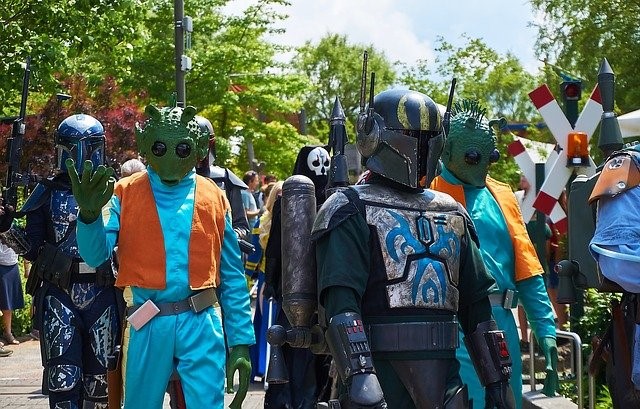 Disney Movies
There is something magical and heartwarming about Disney movies. Almost no one hasn't grown up watching any of these movies. The beauty in this is that all the members of the family can join the party and wear their favorite characters. It also has a myriad of options for couples, best friends, pets, and kids. You get to be the hero, villain, royalty, or a fantastical creature. Whether you are a fan of the old or the new Disney, there is no denying that there are many DIY inspirations for costumes to choose from.
Back to the Future
No matter how many time travel movies are made, nothing can beat the classic and quirky Back to the Future. It is safe to say that Marty McFly's famous denim look can be easily pulled off in any costume party you attend. You can add sunglasses and your favorite white sneakers to complete the look.
Men in Black
A simple, classy, and alluring look of the Men in Black can be replicated without the hassle of the costume-manufacturing process. All you need are black suits, sunglasses, and black shoes. Adding your summer water gun and spraying it with silver will help you fight alien threats and save the universe!
When it comes to custom parties, everybody gets creative with their ensemble. Cosplaying movie characters is always trendy. It is also a great way to make new friends and bond with others over cinematic interest. Certainly, dressing up for Halloween can stress you over choosing what to buy, especially with the various options you find in shops. This is where DIY costumes come into play. You get to style, spice up, mix, and match what you already have by turning it into a knockout.