Essential
Summary
Drive remains one of Mark Dacascos' finest hours and this release is one of MVD Rewind's best to date.
"I'm not a bad guy, okay? Just relax and drive!"
Plot: A human experiment goes AWOL, leading to a chase.
Review: If you're only going to see one movie starring Mark Dacascos, then see Drive. It follows the buddy/buddy formula, and gives Dacascos lots of room to show us what he's capable of as a martial artist and performer. He plays a human experiment named Toby Wong, who has been genetically engineered to move and think faster, and be the ultimate weapon. He goes AWOL, and the corporation that "made" him has put a bounty on his head. Some goofy (a little too goofy) mercenaries, played by John Pyper-Ferguson and Tracey Walter, are on his trail until he hooks up with a barfly named Malik (Kadeem Hardison), whose car becomes their stagecoach to adventure and non-stop action. Eventually, the corporation (run by James Shigeta from Die Hard and the Cage movies) sends a more-high-tech super soldier after them, and that leads to the last of many incredible fight scenes.
Steve Wang (The Guyver) directed this, and it's a shame he didn't go on to direct more action films. It's done in the Hong Kong style, with lots of close-call stunts and meticulous choreography. My one complaint is that it runs a little long. I watched the 112-minute director's cut, rather than the 100-minute theatrical cut. Brittany Murphy is in the film too, and she's cute in it, but she disappears at one point and never returns, which I found strange. Kadeem Hardison also appears in Instinct to Kill, with Dacascos.
MVD Rewind deserves huge kudos for releasing Drive onto Blu-ray, and it's a humdinger of a release. Packed with tons of bonus features, including an audio commentary with Wang, Dacascos, Harrison, and fight choreographer Koichi Sakamoto, on-camera interviews, two versions of the film, and much more, the film will finally be available in the correct aspect ratio in nice high definition for fans and anyone else that has never had the chance to see the film. One of MVD Rewind's best releases to date.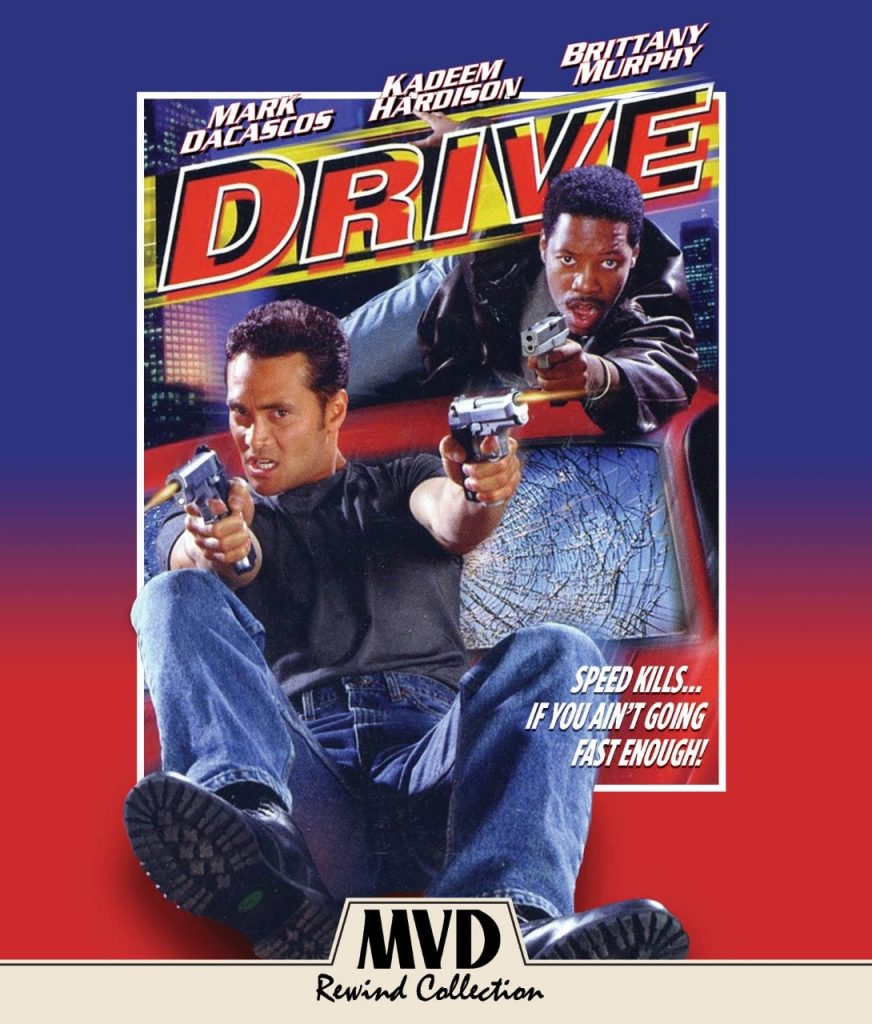 Bonus Materials
High Definition (1080p) presentation of the Extended Director's Cut in 2.35:1 aspect ratio from a brand new 4K HD scan of the original cameral negative.
Audio: 2.0 Stereo LPCM, 5.1 Dolby Digital Surround
Audio commentary by director Steve Wang, fight choreographer Koichi Sakamoto and stars Mark Dacascos and Kadeem Hardison
Drive: The Force Behind The Storm' documentary (SD, 47:42)
Six Deleted Scenes (SD, 08:42)
Interview gallery with cast, director and crew including stars Mark Dacascos and Kadeem Hardison, director Steve Wang, Second Unit Director Wyatt Weed and Stunt Coordinator Koichi Sakamoto (SD, 24:30)
Drive: Theatrical Cut with optional English Subtitles (HD, 1:39:00)
Original Theatrical Trailer (SD, 01:38)
Collectible Mini-Poster
Reversible Artwork with Alternative Cover