Explosive!
Summary
Ronin Flix has done a nice job remastering these movies so if you missed out on these titles before, now's the chance to snap them up.
Fist of Legend Plot: An accomplished martial arts student investigates the death of his master, leading to some very serious fights.
Review: One of Jet Li's most celebrated films, Fist of Legend is set in 1937 in Shanghai during the Japanese occupation. Li plays a student named Chen Zhen who comes home from Kyoto when he learns that a Japanese fighter had killed his master during a duel. Once Chen is home, he investigates and discovers that his master was poisoned before his fight, and that bombshell puts him in danger, as the Japanese now consider him a threat. His martial arts school is divided: Some are with Chen, and others are with the rightful master to the school but Chen gracefully declines leadership to pursue a romance with a Japanese girl, but all distractions aside, Chen is in for the fight of his life when he accepts a duel with the Japanese militant who is directly responsible for the death of his master.
A handful of knockout one-on-one martial arts scenes have given Fist of Legend a notable reputation as one of the great modern Kung Fu movies, and as one of Li's best. It covers the same ground as Bruce Lee's The Chinese Connection, and was later chronicled in Donnie Yen's Legend of the Fist: The Return of Chen Zhen. The story is no big deal, but the fight scenes are worth watching out of context. Directed by Gordon Chan, who did Thunderbolt and The Medallion with Jackie Chan.
Tai Chi Master Plot: Two exiled monks take separate paths and become mortal enemies.
Review: Two Shaolin monks – the kind-hearted Kwan Bo (Jet Li) and the quick-tempered Chin Bo (Siu-Ho Chin) – have been raised at a temple in the boonies and spend their young lives through their early 20's there, and they're the best of friends, despite constantly competing with each other. When Chin Bo greatly offends the master of the temple, both young monks are exiled (Kwan Bo defends his friend and is thrown under the bus for Chin Bo's offense) and must find their own way in the world, which they've never experienced before. Right away, the two bumbling monks run afoul of the law for coming to the defense of a young woman who is being taken advantage of, and it seems these two have found a calling: To be righteous, despite the fact that they have no idea how worldly justice works. After some time, Chin Bo takes an offer to join the army of a corrupt and evil Royal Eunich (Jiankui Sun), leaving his friend Kwan Bo scrambling on how to measure his own worth as a new member of society. As Chin Bo thrives as an ambitious soldier, rising in the ranks, Kwan Bo joins forces with a dejected woman named Siu Lin (Michelle Yeoh) who is amongst a group of freedom fighters who oppose the royal dictators ravaging the area. When destiny eventually has Kwan Bo and Chin Bo, who has since become a general, the showdown will be epic … and bloody.
From director Yuen Wo-Ping, the mostly lightweight Tai Chi Master has a comedic tone, and features almost wall-to-wall meticulous fight sequences involving Wo-Ping's signature wire work, and fun performances by Li and Chin. Yeoh plays a supporting character here, but she gets her moments to shine as well. The film has an upbeat score and a bit of a downbeat ending, but it's all in good taste, and the pace is very fast and swift, with a running time of 96 minutes that flits right by.
Ronin Flix has just released a two-disc double feature package of these two titles, packed with bonus features, including some newly produced featurettes, commentaries, and interviews, and the set is affordably priced to own. Transfers of the films are adequate and are upgraded from the previous DVD releases. If you missed out on these titles before, now's the chance to snap them up.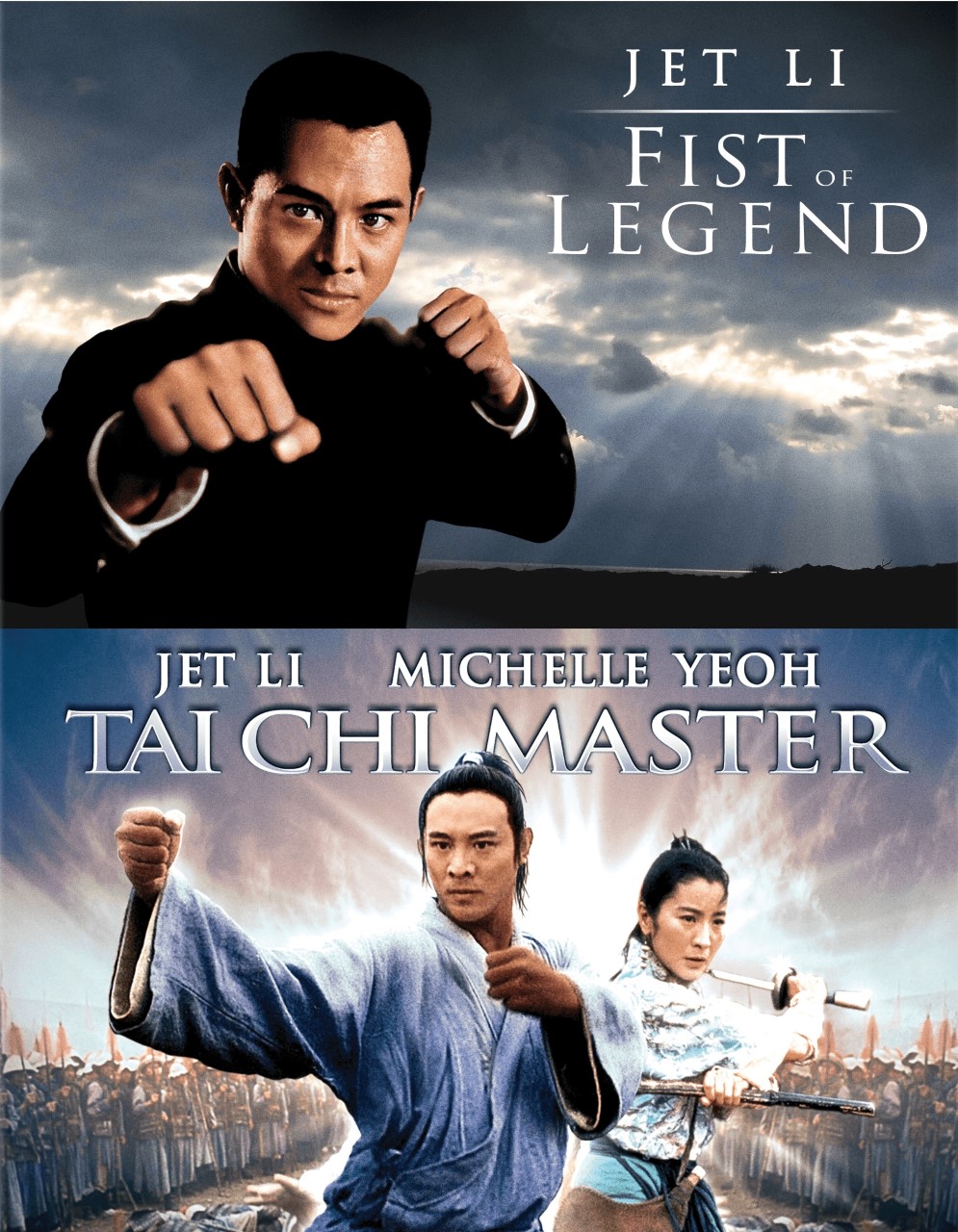 Bonus Materials
High Definition Blu-ray 1080p Widescreen Presentation (1.85:1) [Both Films]
NEW Cantonese Mono, Mandarin Mono, and English 5.1 lossless DTS-HD Master Audio [Fist of Legend]
NEW English subtitles translated from the original Cantonese version of the film [Fist of Legend]
The Man Behind the Legend: An Exclusive Interview with Director Gordon Chan [Fist of Legend] *
Brother in Arms: An Exclusive Interview with Kung Fu Impresario Chin Siu-ho [Fist of Legend] *
The Way of the Warrior: An Exclusive Interview with Japanese Action Legend Kurata Yasuaki [Fist of Legend] *
The School of Hard Knocks: A Screen Fighting Seminar at the Celebrated Kurata Action School [Fist of Legend] *
A Look at Fist Of Legend with Director Brett Ratner & Film Critic Elvis Mitchell [Fist of Legend] *
Deleted Scenes [Fist of Legend] *
Original Theatrical Trailer [Fist of Legend] *
NEW Cantonese 5.1, Original Cantonese Mono, and English 5.1 lossless DTS-HD Master Audio [Tai Chi Master]
English subtitles [Tai Chi Master]
Nemesis: An Exclusive Interview with Star Chin Siu-ho [Tai Chi Master] *
The Birthplace of Tai Chi: On Location in Chen Village [Tai Chi Master] *
Meditations On The Master: Film Director Brett Ratner & Film Critic Elvis Mitchell Discuss Yuen Woo Ping [Tai Chi Master] *
Twin Warriors: Film Director Brett Ratner & Film Critic Elvis Mitchell Discuss Jet Li & Michelle Yeoh [Tai Chi Master] *
* Bonus feature available on previous Blu-ray release