After finding success with 2001's If Chins Could Kill…legendary genre actor and fan favorite Bruce Campbell hit the books again with 2005's lifestyle guide Make Love! The Bruce Campbell Way and in 2017 returned to autobiography territory with Hail to the Chin: Further Confessions of a B-Movie Actor with the help of co-writer Craig Sanborn. In another rousing memoir, we catch up with The Bruce as he navigates low budget indie fare along with a hit cable show, the convention scene and directing himself in a film where he plays…himself.
What I dug about the second book is Campbell navigating and trying his best on $1 or $2 million flicks like Bubba Ho-Tep (2002) and directing The Sci-Fi Channel's Man with the Screaming Brain (2005) where it was The Adventures of Bruce in Bulgaria. A country not exactly known for its ties to filmmaking even though Nu-Image/Millennium has been producing fare there for years. Campbell details the trials and tribulations of language barriers, limited resources and cultural differences but striking gold and turning an abandoned army base into a backlot. The Chin would draw on these experiences when he partnered with Dark Horse Entertainment on 2007's My Name Is Bruce where the actor plays a cheap skate, fan loathing, skirt chasing, alcoholic version of himself fighting a vengeful, head chopping off ghost/demon.
Dark Horse had been behind some studio backed and star driven fare like Time Cop (1994), The Mask (1994), Barb Wire (1996) and Hellboy (2004) but My Name Is Bruce was made for probably half of what Jean-Claude Van Damme was paid for Time Cop…The Bruce turned his Oregon home/farm into a small studio lot, building and decorating sets with donated lumber, vintage cars and farming equipment sourced from locals. The film ends up being a lot of fun with plenty of throwbacks to Campbell's career, laughs and of course some horror filled thrills. It would play nicely with Nicolas Cage as Nick Cage in The Unbearable Weight of Massive Talent (2022) and Jean-Claude Van Damme as JCVD in JCVD (2008). The DVD comes packed with a comic book, making of and commentary for the physical media folks too.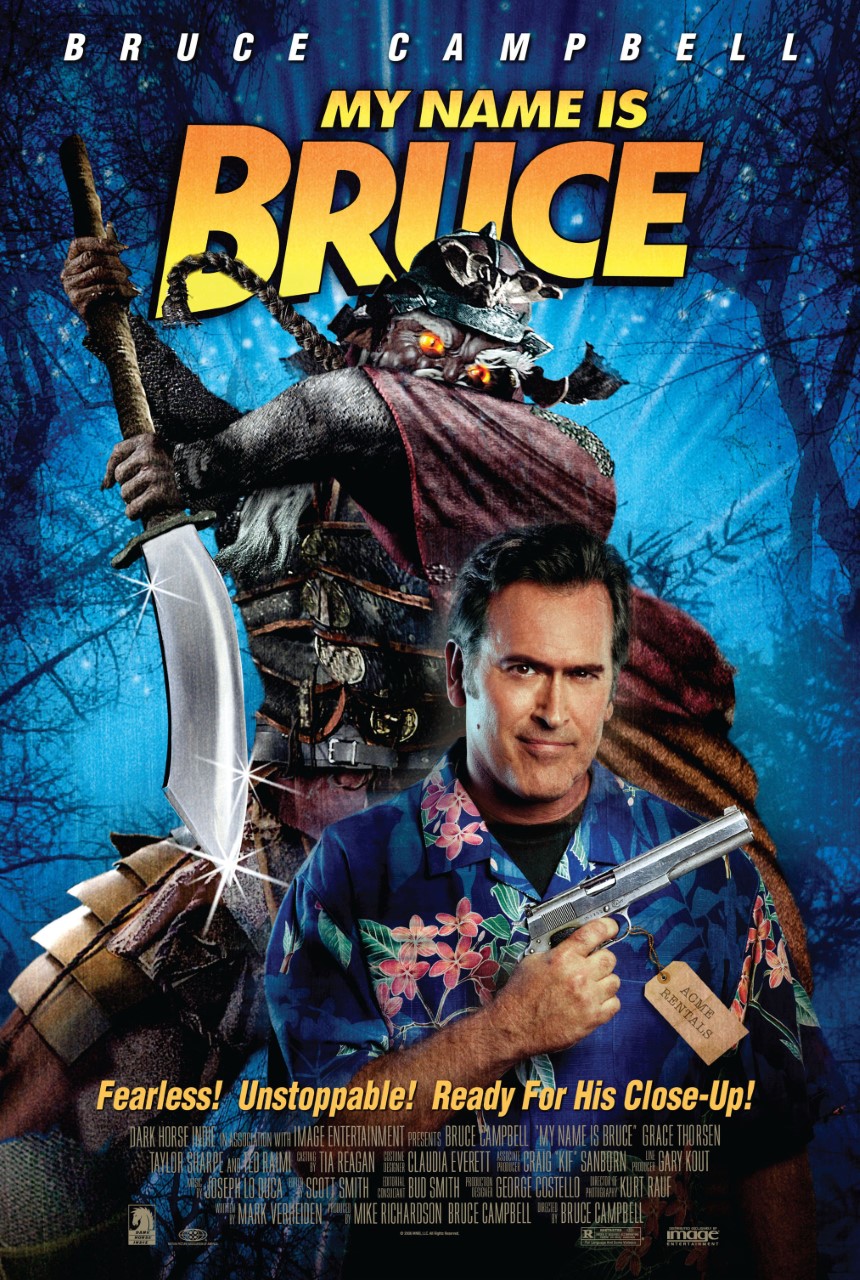 Next up Campbell co-starred on USA's hit action-comedy show Burn Notice where he played former Navy Seal and covert operative Sam Axe from 2007-2013. The early 90's days of Army of Darkness and Brisco County Jr. behind him, Campbell segued easily into the older, grizzled and scheming mentor/partner role to Jeffrey Donovan's Michael Westen. There's a nice detour to how the Burn Notice: The Fall of Sam Axe standalone film came into existence, essentially because USA wouldn't raise his pay much after the show caught on with audiences. The movie was a solution to provide some extra cheddar cheese without updating his show contract. Campbell also describes filming in the heat and humidity of Miami while providing an insider's tour of drinking establishments. There's a cool dive into Campbell and Donovan's USO tour in Iraq, meeting active military troops in remote and harsh surroundings but also lapping it up in luxurious palaces built by oil sheiks.
With the rise in popular culture conventions, Chinny found himself traveling the world and meeting fans at horror and comic-cons alike. Not content with simply speaking at panels, signing autographs and posing for photos, Campbell's entrepreneurial side resulted in Wizard World's Last Fan Standing (2015) series where con-goers competed against each other in movie/book/comic book trivia with BC as the wise ass yet supportive host. With Bruce Fest, Campbell is probably one of the few personalities out there who can claim to be the main subject of an entire 3-day festival. Another entertaining read like If Chins Could Kill, Hail to the Chin…had me on a Bruce Campbell journey with stops at Lois & Clark: The New Adventure of Superman (1993), Burn Notice, Last Fan Standing and Ash vs Evil Dead (2015) among others. Then back to Sam Raimi's Army of Darkness thanks to the wild ride that is Doctor Strange in the Multiverse of Madness (2022) where Raimi's tradition of physically tormenting Campbell in starring roles and cameos alike continues.