For the Bruce Campbell loving Deadites out there, Doctor Strange in the Multiverse of Madness is whipping up nostalgia for the chin-tastic genre star with old pal and Strange sequel director Sam Raimi teasing another Spidey universe cameo in the unmade Spider-Man 4. Next month you can attend BruceFest, "The Definitive Bruce Campbell Film Festival" happening June 17-19, 2022 in his hometown of Detroit, Michigan. Three days of screenings, live commentaries, Q&A's, on and on. For me this seemed like a culmination of recent months where I randomly read his two autobiographies and had my own Bruce Campbell watchfest. Campbell hit the Bestseller list with If Chins Could Kill: Confessions of a B-Movie Actor (2001) and again with Hail to the Chin: Further Confessions of a B-Movie Actor (2017) by Campbell himself and a Craig Sanborn assist on the sequel.
As an 80's/90's kid, I knew Bruce mainly from Army of Darkness (1992) and The Adventures of Brisco County Jr. (1993). Sure I'd always seen him pop in genre fare or at conventions but was never a hardcore The Evil Dead 1 or 2 fan. That didn't stop me from thoroughly enjoying his first memoir and leading directly into his second. If Chins Could Kill tracks young Bruce from his childhood outside Michigan, family life and the fateful meeting of lifelong friends and collaborators Sam Raimi and Robert Tapert. Campbell really gets into the trials and tribulations of indie filmmaking, how they made a small flick for the college crowd, grabbed some cash and thought they could keep going. The Evil Dead (1981) would take years to develop, produce, distribute and eventually make any dough.
The Bruce writes his autobiography as a genre/working class actor's journey without too much emphasis on glamour because he was always working multiple jobs to survive and fund the films. Shooting out in the woods in cold/miserable conditions (fake blood, physical effects, and Raimi's meticulous shooting style) hardly sounded like a dream gig. Even after making a few films, he found himself working night security to make ends meet. Run-ins with the Coen Brothers, more genre fare in Maniac Cop (1988) and other titles get some anecdotes leading up to his big budget and studio experiences on Army of Darkness and The Adventures of Brisco County Jr. television series.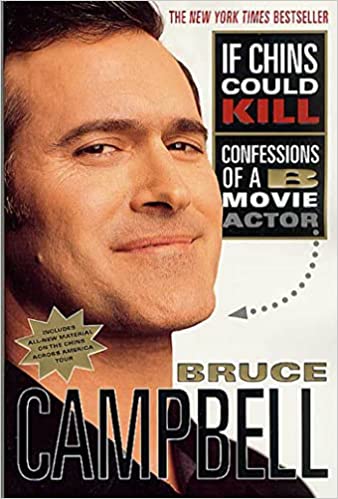 What struck me about his Army of Darkness breakdown was how little money a leading man of his caliber brought home given the two-year production and release plus life expenses, agent fees, etc. It wasn't the hit anyone thought it would be but enough to give him the juice to read for Brisco where he impressed producers by doing a full front flip in a conference room to showcase his physical prowess. This reminded me of stories about a young Jean-Claude Van Damme allegedly kicking out a light bulb or doing a jumping split in someone's face during an audition.
Speaking of JCVD I thought there might be a comment or two since Bruce chums Raimi and Tapert produced Hard Target (1993) and Timecop (1994) while BC would work with Timecop (1994) crew on his own flick, My Name Is Bruce (2007). But the only 90's action star who gets attention is an unnamed reference to Bruce Willis. It's not the most flattering depiction of The Willy so in light of recent revelations we'll keep to remembering Bruce W. as the lovable leading man of entertaining action and comedy.
After Brisco's one season run, Campbell would reunite with Raimi and Tapert on their 1995 syndicated shows Hercules: The Legendary Journeys and its spin-off Xena: Warrior Princess. Filmed in New Zealand, Campbell would appear on both shows and direct episodes of each. In an interesting tidbit, after the two hit shows ended, the now local seasoned crew went to work on Peter Jackson's Lord of the Rings trilogy leaving Campbell's Jack of All Trades TV show scrambling to staff up…
Get your butt back here for part 2 where we'll talk Bulgaria, Burn Notice and more Bruce Campbell goodness.