A must-have
Summary
88 Films' epic four-disc set of the In the Line of Duty movies has so much bonus material to sift through that it'll keep you busy for weeks just to make it through all of it. The movies themselves are awesome making this essential for fans of Hong Kong action cinema.
Yes, Madam! (1985)
Plot: Two female cops face an onslaught of thugs as they try to secure a strip of microfilm.
Review: The action gets going right away in Corey Yuen's Yes, Madam! Inspector Ng (Michelle Yeoh) is on a case involving retrieving a stolen strip of microfilm. The film is evidence against a surly and easily amused gangster, and by a series of events, a pair of bumbling (but likable) crooks manage to obtain the evidence, and before long, they're being chased by the gangster's goons. Ng seems to have the case under control when she is joined by Inspector Carrie Morris (Cynthia Rothrock), whose first scene in the movie is a knockout. The two inspectors hatch a plan to catch the gangster red-handed with the evidence, but in order to do that they have to set the two likable crooks up. The final showdown features Yeoh and Rothrock fighting off the gangster's bodyguards and assassins. It's a doozy.
A disposable plot and an easily forgettable script make Yes, Madam! an average viewing experience, but what makes the film work is the presence and enthusiasm of its two leads. Rothrock's character (as usual) is susceptible to sexist and racist remarks from her Asian counterparts, and she proves them all wrong with her amazing prowess as a fighter. Her period of making films in Hong Kong yielded her best fights on screen, and Yes, Madam! is proof positive that she was a force to be reckoned with. She later worked with Yuen again on No Retreat No Surrender II and Above the Law.
Royal Warriors (1986)
Plot: Three cops – one, a Japanese man, one, a Chinese female Inspector, and the other a love struck sap infatuated with the Inspector – must foil a group of seasoned Vietnam veterans who've vowed to live together and die as one as the group become terrorists with a plot to cause terrible damage to Hong Kong.
Review: A flight full of innocent passengers becomes a free-for-all battle for survival as several terrorists hijack it and begin killing passengers, with the intention to blow the plane up in midair. Lucky that three armed cops – one, a Japanese Interpol agent named Peter (Hiroyuki Sanada), one, a female Chinese Inspector named Yip (Michelle Yeoh), and the other a rookie cop in Yip's task force named Michael (Michael Wong) – are also on board, and together they foil the catastrophe, but not without some casualties. These three become targets of the other members of the terrorist group – all hardened Vietnam veterans turned mobsters with a bone to pick with Hong Kong – who begin unleashing hell on the populace of the city. First, they assassinate Peter's family in a car bomb right in front of him, and Yip does her best to help solve the case, despite being taken off the case by her exasperated boss. It doesn't help that Michael desperately tries to romance her in the midst of all the chaos, but despite the fact that she constantly refuses his advances, he won't give up on her. After a bloodbath in a trendy nightclub when an Uzi-armed mass shooter decimates the place and everyone in it, Yip and Peter team up to get to the bottom of the violent slayings, which is when the last of the terrorist group kidnaps Michael and uses him as bait to lure the other two intrepid cops in a carefully planned trap.
Extremely violent and full of shootouts with innocent people being gunned down, Royal Warriors is sometimes pretty shocking in its cruel, heartless violence, but there's plenty of martial arts action too with Yeoh and a young Sanada (who's still going strong in movies today) kicking and punching their way to victory, despite taking heaps of punishment along the way. With a rather downbeat tone and a conclusion that doesn't necessarily feel like a "happy ending," the movie deserves a rewatch if it's thus far escaped your attention. Unrelated to Yes, Madam, the movie stands on its own terms. From director David Chung.
In the Line of Duty III (1988)
Plot: Freedom fighter terrorists forge a path of blood and destruction on the way to achieving their goals, but a pair of renegade cops foils their plans.
Review: New to the Hong Kong police force, Rachel Yeung (Cynthia Khan) is constantly treated like a delicate flower and continually relegated to sub-par duties, and because the captain is her uncle, she's never given the proper respect because she's a woman. It's obvious right from the start that she's a force to be reckoned with; her skills in martial arts are incredible, and she has no problem speaking up for herself when she's being pandered to and disregarded by her superiors. When a posh fashion / jewelry show is sabotaged by a pair of daring freedom fighters (Stuart Ong and Michiko Nishiwaki) who kill scores of bystanders and make off with millions in jewels, a tough cop is murdered, while his partner – Inspector Otaka (Hiroshi Fukioka) – is wounded and takes responsibility for his friend's death. Otaka vows revenge, and the chase takes him to Hong Kong where he runs into the spunky Yeung, whose police work land her smack in the middle of the path of two dangerous and reckless freedom fighters who are still carving a swathe of carnage as they become more unhinged and difficult to catch as they let loose with their methods of allowing nothing to get in their way of achieving their goals. With Yeung and Otaka on the case, there will certainly be more collateral damage (Otaka is like Dirty Harry with his huge handgun, always breaking rules in Hong Kong) on their way to ending the reign of terror unleashed in the city.
Incredibly violent and bloody, In the Line of Duty III has a couple of standout fights – particularly the climax that has Khan going one-on-two with the villains in a factory – and while the film is tightly edited and executed, there's a sense of coldness to the proceedings that I found to be a little off-putting. Still, the film moves very quickly and feels like a slick entry in the annals of Hong Kong action cinema with almost nonstop gunfire, explosions, and close quarters fisticuffs. From directors Arthur Wong and Brandy Yuen.
In the Line of Duty IV (1989)
Plot: Corrupt CIA agents are hunted by a pair of mismatched cops with varying levels of ethics.
Review: A bumbling but martial-arts proficient illegal alien (played by Yat Chor Yuen) in the USA witnesses some CIA agents killing some drug dealers for their drugs, and he ends up with some negatives that can prove it. The agents hunt this guy down for his evidence, and lucky for him he ends up crossing paths with a Chinese cop working in Seattle named Donny (Donnie Yen) who sometimes crosses the line when he's trying to get his man. Donny believes the witness is actually the perpetrator of the killings, but a visiting cop from Hong Kong named Yeung (Cynthia Khan) stops Donny from going too far. They team up despite their best efforts not to in order to get to the bottom of the killings, but they also have to protect their witness before he's killed by a cadre of assassins who've been sent to kill him before he has a chance to identify the CIA agent and expose the dirty dealings of the USA.
Light on its feet with lots of close quarters martial arts fight scenes, chases, stunts, and complicated car action, The Line of Duty IV is less reliant on gunfire this time around and much more interested in showcasing stars Khan and Yen who were at prime stages of their early careers. Khan has some great fight scenes, while Yen gets to show off his impressive (and lightning fast) fists and feet in some wowzer fights, the most memorable being with the hulking Michael Woods, playing a vicious CIA thug, and another one with future fight coordinator John Salvitti, who plays another CIA baddie. Yuen Woo-Ping directed it, and while the film isn't especially well known as one of his best movies, it's still a solid action entry.
88 Films' epic four-disc set of the In the Line of Duty movies comes in a solid hardback case with a huge fold out poster and a thick booklet with some interviews in it. Special features are aplenty, and while this might be the one of the best releases from 88 Films so far, it's certainly a great place to begin your Hong Kong action collection on Blu-ray. The set features new artwork on the box and on each sleeve (which are all reversible with original artwork), and there is so much bonus material to sift through that it'll keep you busy for weeks just to make it through all of it.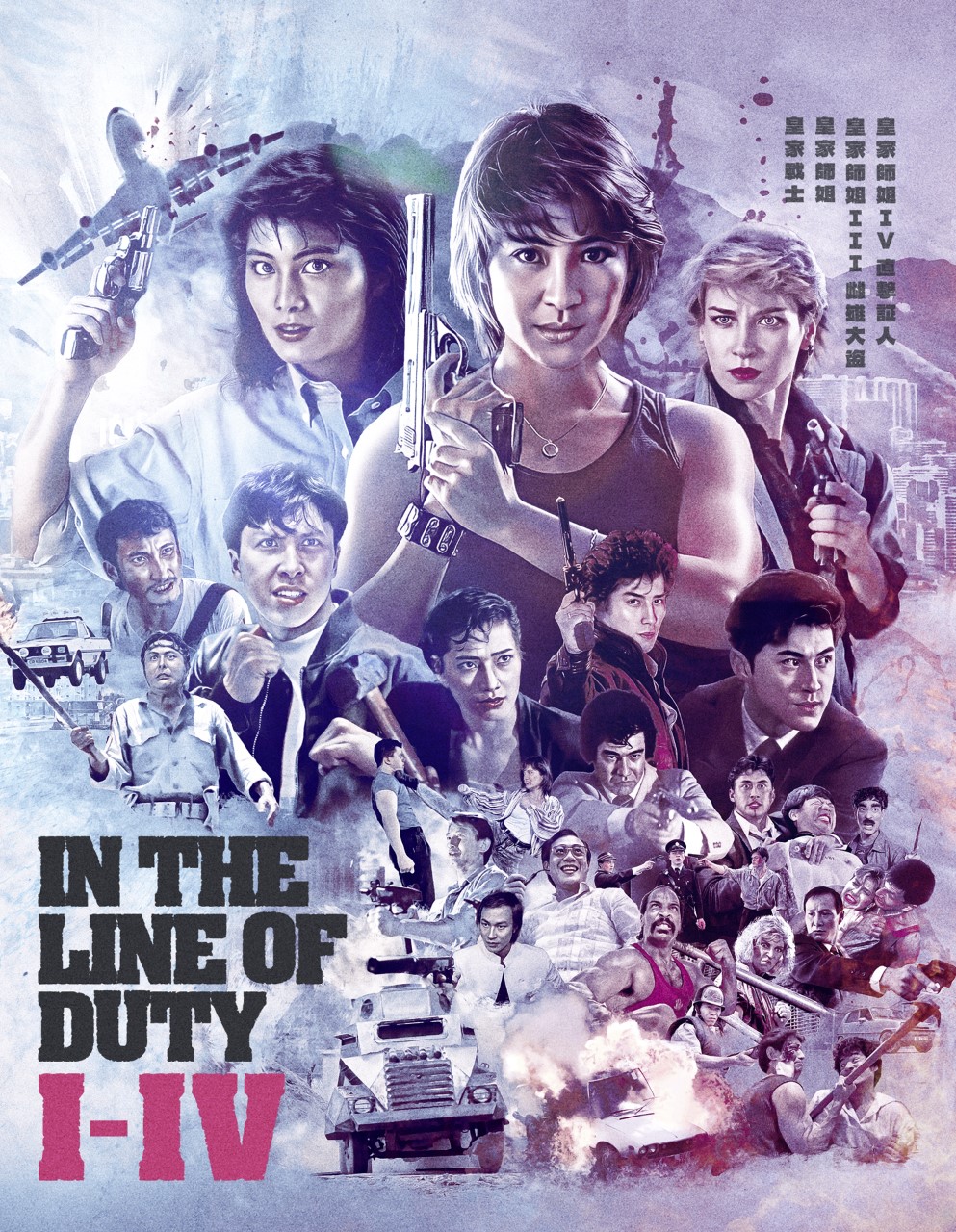 ROYAL WARRIORS – SPECIAL FEATURES:
2.0 Cantonese Mono Theatrical Mix
2.0 Cantonese Alternate Mix
2.0 Classic English Dub
5.1 New English Dub
Newly translated English subtitles
Audio Commentary by Hong Kong Film Expert Frank Djeng
Missing Aeroplane Inserts
Cantonese Trailer
English Trailer
English In the Line of Duty Titles
YES, MADAM! – SPECIAL FEATURES:
Hong Kong Cut featuring: Cantonese Original Theatrical Mix Mono & Cantonese (Home Video Mix) Mono Original Effects
5.1 New English Dub
Export Version with classic English Dub
Audio Commentary by Frank Djeng (HK Version)
Interview with Cynthia Rothrock
Select Scene Commentary with Cynthia Rothrock and Frank Djeng
Interview with Men Hoi
Archive Interview with Michelle Yeoh
Archive Battling Babes Featurette
Hong Kong Trailer
IN THE LINE OF DUTY III – SPECIAL FEATURES:
2.0 Cantonese Mono with English Subtitles
2.0 English Mono
Audio Commentary by Frank Djeng and Michael Worth
Interview with John Sham by Frederic Ambroisine
Hong Kong Trailer
English Trailers
English Credits
IN THE LINE OF DUTY IV – SPECIAL FEATURES:
Hong Kong cut, featuring: 2.0 Cantonese Mono with English Subtitles + 2.0 English Mono
Export Version of the film featuring the Classic English Dub
Audio Commentary with Frank Djeng and F.J. DeSanto (HK Cut)
Archive Interview with Donnie Yen
Hong Kong Trailer
English Trailer
Bonus Materials
Stunning new 2K restorations of all 4 films in 1:85:1 aspect ratio
Brand new artwork by Sean Longmore
100-page book by Matthew Edwards featuring interviews with Shan Tam, Michael Parker, Stephan Berwick & Michael Woods PLUS Archive stills, production imagery, posters & more
Reversible sleeves featuring original artwork
Double-sided foldout poster