If you want to make movie night a family tradition, then your living room must be ready. There are many factors to consider when planning the perfect movie night. It is for sure better than going out to the cinema, you have the whole place for you and your family, you are in charge of choosing the movie, and you can decorate the place as you like. Here are a few tips to help you transform your living room into the perfect home theater.
1.  Paint The Walls
A pro tip is to paint the walls of the room with a dark color; it can be dark blue or black. This will eliminate the light in the room so that all the attention is only on the screen and will enable you to have a better experience with good-quality images on display. However, these dark colors, like black, can be overwhelming for some people. Alternatively, you can only paint the wall where the screen is placed and the rest of the room's walls with bright or neutral colors to create a more relaxing atmosphere.
2.  The Position Of Your TV
Buying the perfect TV size and placing it correctly in your living room is key so you can have the best viewing experience. The size of the TV is essential to have the full experience of being in a movie theater. You might not be able to get a huge screen similar to the cinema, but a 75-inch tv would be ideal for you to have enough of a visual of the movie without being too close to the screen. In addition, the TV should be placed on a spot appropriate to the eye level or range of your sight according to your sitting area. This will make the time you spend watching your favorite shows or movie more comfortable and relaxing to your eye, back, and neck.
3.  Adding Lights
You need to keep in mind that if you are going to use this room for any other purpose, it's a good idea to get dimming lights in the room. However, if it is only for watching movies with your family, the next option to the dimming lights is to add a few sconces on the walls. In addition, some TV backlights can enhance the contrast ratio of the TV.
4.  The Furniture
The furniture you choose also plays a role in making your living room feel like a theater. First, you must choose the furniture you are going to place in the living room. You are using this room as a theater so having huge comfy seats is a must. These seats will take your home theater experience to another level. Make sure that you create a seating arrangement that allows every seating position to see the screen comfortably.
5.  The Volume
A good sound system is essential for a true movie theater experience. Having high-quality speakers should be one of your priorities; sound effects are a huge part of the movie itself. Make sure the speakers are also not that loud. Don't forget that you are still at your house, and you have neighbors that might complain. Nevertheless, if you can soundproof the room, you can have the volume as loud as you want.
6.  Prepare Snacks
The home movie theater you are setting up wouldn't be complete without snacks; it is the best part about watching and enjoying a new movie. Having snacks will also make your kids love the movie nights more as they are getting an unlimited amount of snacks next to a movie of their choice. There are common snacks that you must have, such as popcorn, sodas, and some sour candies. Of course, there are many other snack options that you can have at your place.
7.  Curtains
Starting your movie night a bit early can happen sometimes. Although doing so can be a problem when the sun is still out since you cannot enjoy a movie night without the room being dark. In these situations, having window coverings or curtains is very helpful. Make sure to have the type of curtains that block the sun completely to ensure that no light enters the room. As the room gets darker, the image quality on display will be better and clearer for you to enjoy.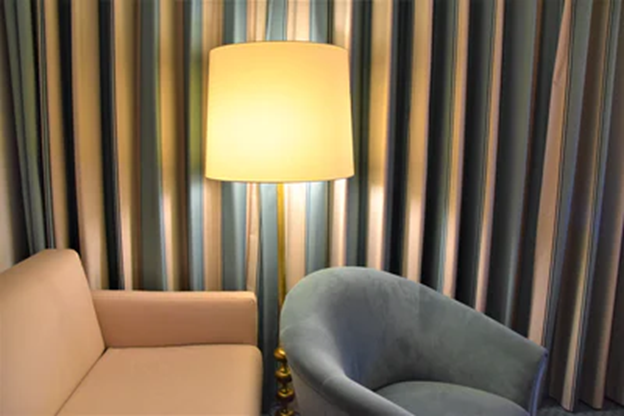 Having a movie theater at your house is everybody's dream. It will enable you to have a special experience whenever you are watching a movie, whether with family members or friends. Most of us now are staying home, and if you are looking to have a movie theater experience in your space, these seven tips will help you turn your living room into the home theater of your dreams. You will be capable of choosing everything too, starting from the decoration to the movie itself and all the snacks.