[EDITOR'S NOTE: This has been edited for time, quality and for a better overall flow. To hear the full interview, tune into The Jacked Up Review Show's episode later this year for the full, uncut audio.]
Known for his everyday man looks and diverse martial arts skills, McClung came to prominence working for latter-day Menahem Golan in various African and Philippines productions where he co-starred in AMERICAN NINJA 4 as well as a little seen cult movie called STICKFIGHTER (and the rest was history). He later became an established filmmaker, artist and producer to various success. Here I decided to tackle his crazy start both in and out of Hollywood, his indie festival films, documentary filmmaking, cult stardom and even his current projects.
So how did you get into the entertainment industry especially with STICKFIGHTER?
Kely McClung: Well, it had nothing to do with the story… it was "do you look real good? And can you kick high? Great, you're in!"
(playing along with producer's imitation) "Can you kick like Seagal? Do you look like Stallone?"
KM: Hopefully, you got a better body than Seagal. I did a movie where the guy was about 6'4'' but other than that, he was a Stallone clone! I mean his voice, everything he tried to do was just like watching a giant Rambo the whole movie. All I can remember is that they hired me as the choreographer -and as a stunt guy- and every time I would go to do something, the director would say "No no no no no! I want one-two-upper cut" (says while reenacting the fight coordination). And it didn't matter what you did; I mean someone would pull a gun, and he would say "NO! I think One-two-upper cut!!" (displays it more intensely this time). The whole movie was going that way and it was like "What are we doing? What ARE we doing???"
Was that AMERICAN NINJA 4?
No, that was actually my first film. It's called SAMURAI COP.
(notices this so-bad-it's-good film isn't even on Kely's resume) YOU WERE IN SAMURAI COP?
Hahaha, I get shot, get killed a couple times- there should be a shot somewhere… where one-two-upper cut(!), I go flying [into] a pick-up truck and I go over the build [of the truck]. And when I did that stunt, I don't know how I did it but I did actually go over the entire build of the truck just from an entire twitch and when I went over, my calves hit the bed of the truck which slammed my head into the pavement. You know, I came up and I'm [dazed] and they're like "Wow, that's amazing! We weren't ready, can you do that again?" I'm like "IMPOSSIBLE!" [Then starts to detail how the director wanted to line him up to get hit with 10 bloody hits and how he refused because it not only made sense but was not even close to safe as well as a grip gal getting injured in the eye and going to the hospital after a failed demonstration.]
Sounds like a [Albert Pyun's] Cyborg moment!
[Similarly,] I saw one of my friends get killed on a movie [later on] and that's why I left LA.
I'm sorry you had to go through that experience.
Yeah, I was there as he was doing stunts[.] I watched him die so I left LA that night[…] they turned off life support and I waited till his parents flew in from Bucks County, PA[…] and they turned it off, and I drove out that night. Just told my girlfriend "you know, whatever I have is your's, see you." Didn't go back for a few years.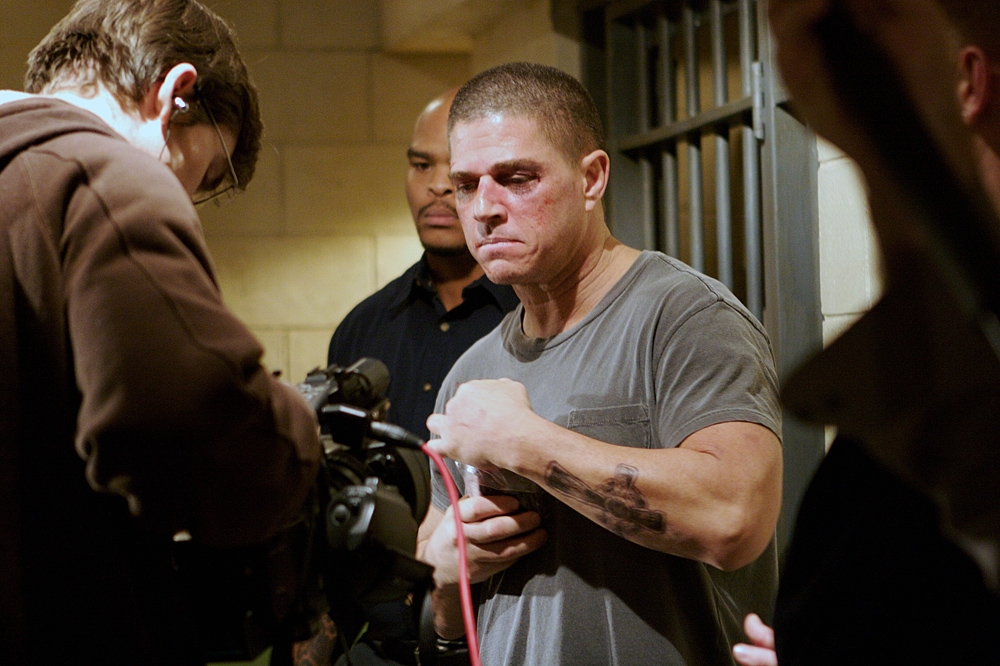 Onto your first film you ever did. It's one we all know.
My first film was American Ninja 4. We shot in South Africa, they had a decent budget[,' Cedric Sandstorm was our director, it had Dudikoff and Bradley, and I got to double them and played the main bad guy. [Then talks about how he doubled Bradley and Dudikoff in a scene where the two are fighting each other.] So theoretically there's spots in that movie where I'm fighting myself[.] [Then discusses wearing a wig for Dudikoff's character and where one can see it in the film.]
So how did you get involved with the '94 cult film STICKFIGHTER where you served also as writer and creative producer?
So Stickfighter's a fun movie[,] and hey that's my first starring movie so I'm just happy to be on the book.
It has a cool Commando-ish name: John Lambert, DEA agent!
Yeah, so it was fun… [then describes the chaotic editing, cheesy casio keyboard type music and under-the-table money] [I was] just trying to get through, day-by-day, trying to do what you [I] could do.[We both chat about BJ Davis, the infamous stuntman-turned-director of Stickfigher and Laser Mission]
Yeah, you watch that… [Laser Mission] just didn't do [Brandon Lee] justice.
Was Stickfighter supposed to be filmed in the Philippines?
[Originally,] it was supposed, the original story which they bought and signed me for, was to be shot in the Philippines and then literally *literally*, and it was a whole different story, it was about Kali, it was about the culture[,] and then literally 10 days before filming, *10 days*, Menahem Golan said "Hey, we lost our money in the Philippines, we're going to shoot in LA." And I'm like "Nah, there's nothing in this movie- I mean, there's shell-diving and fishing and the islands," – and he's like "Well, you have 10 days to rewrite it." So I was literally writing and turning in pages day-by-day, finding the locations, doing the casting [and] I insisted on the main bad guy, the martial art bad guy, who was a student of mine and became a world champion in shoot fighting, Scott Sullivan. And [he] ran my school with me in Indiana, [and then] my friend Robert Pralgo, who's been in a 100 projects since that time but that was his first feature film, and I brought him from Atlanta to play [the[] dark-haired cop who was always butting heads with me.
He's been in a lot of stuff- he's been in the Avengers movies!
He's done a lot of films. Rob's a real strong actor as well. Just a good guy.
Scott Sullivan, you know at that time he ran my school in Evansville, [but]- I didn't even know he had a high school education- he was a prison guard, had a stripper girlfriend and just went on and on. Well, now the guy's a PhD in Theology and teaches at a college, runs a huge martial arts school in Texas but he teaches at a college. He does have a PhD [at the Bam-Bam! martial arts school.]
[He was] predominantly Jiu-Jitsu [at the time of filming the movie]. And we had those two good fights; unfortunately[,] without a good director and putting some money, and you know there's no art direction, there's no lighting[,] so now you got two guys who have a pretty good fight. You actually watch the fight and the other thing, I mean this is just for you because I see [you, the interviewer] are a filmmaker too[.], If you turn off the sound- no sound at all- so let your mind put the sound effects in- take out that stupid music which is [imitates the cheesy score]. You take that out and the fights [are actually pretty good] and both the fights were done with him in one day. And they were pretty much directed by me, the kid. They're already quit the movie [and] the movie was done, and I begged Menahem to give me the camera for one day, and go back and reshoot those fights[.] But there was no money for crew, there was money for lights, there was no money for anything and so that ended up being a different cameraman who was fabulous. [He] was great, I think he shot [Lois and Clark.] [Then talks about how the original cameraman was like 80-years-old and so as a result refused to move it around and stay static!]
What was it like working with future sitcom star Alex Meneses (Everyone Loves Raymond, Jane the Virgin)?
She was beautiful! She was a face model, [she originally did] a cosmetic line [and she was the second pick for the love interest of Stickfighter]. [They told me to lay in bed asleep for the sex scene] so it […] wasn't until the edit that I saw her naked. So like I called her and said "Oh Alex, man, you look pretty good." And she goes "You were in bed with me, I mean, you saw, you were naked with me, you were there," and I'm like "I swear to God, I'm so stupid, they told me I'm supposed to be asleep, and I kept my eyes closed."
Low-budget production so different expectations…
[She was] a sweet girl, very nice and a really good actress as well. She's terrific.
So after that, your one big shot, you went back and did a bunch of short films and indie features under various names. What would you say people know you from now?
I've directed three films[, even] my first film was called Blood Ties and I shot it in Thailand. We literally shot the movie, Rob and I[.] I had a crew of one person[,] I went to Thailand, I recruited people as I went day-by-day. And that movie was made, counting cameras and computer, for $20,000[!] I would put that movie again Stickfighter or any of them, no problem at all. I mean[,] you have some funky stuff, of course, but, I mean, you have $20,000. But there's more action, it's better filmed, there's great acting, there's beautiful lighting, there's better effects.
You say in the trivia on the IMDb page that it was shot in locations in six cities, two countries with a crew of two people. That is very remarkable.
[After noting the accolades for Best Film, Best Director] [It] wasn't released real well… but it was re-released[,' but there's a lot of good stuff in the movie. Then I did another couple films that no one's ever got to see[.] My last film, which I'm really proud of, called Altered[,] did very well on the festival circuit. [But after being submitted to various festivals for one big simultaneous nationwide week,] my investor had a heart attack and died.
And his family [was] like "Listen, we don't know what our Dad did, we don't know what his investments are, our family fortune is big," so they put the brakes on everything[. And] so like four years have gone by, about a year ago, they were like "Ah, go ahead and release it," and I'm like "It's tough" because it's a four year old movie, it was shot beautifully but it was shot HD[.] And I'm really proud of it. It was made for a half a million dollars and again there's not one who's ever thought it was less than three of four million dollars. i still hope to get it out someday but, you know, like let's say you go to Netflix. Netflix won't even look at you unless you bring them 4k footage[.] Even not using Arriflex and things like that, Arriflex just stepped up to make a 4k camera, they were not taking productions [because] Arri was interpolating 2.5 to 4k and so they were disqualifying movies[.] I mean if you go to the Oscars, I don't know about last year, but the year before, out [of the] 20 films, I think 19 of them were shot with Arri so you would think that would be good enough for Netflix but they weren't. Now, they try to release a movie that's four or five years old, that's really tough you know?
Now I'm supposed to do another film [and] render budgets.
Looking at the future of your projects now? It's been a lot of reward in the making slowly but surely but it wasn't been easy.
No, it's been a challenge [but] the great thing is that martial art and film have taken me around the world- I lived in the Philippines, I lived in Thailand, I got to be in South Africa for most of the year. [Now, I've been to] Turkey[,] Kazakstan[,] Ukraine[,] England[,] Germany and getting ready to go to Africa again, and make a film [so] martial art and acting has just [given me] genuine friends around the world who I stay with and I can see and who can come stay with me. All of them are one or the other- they're make-up artists or composers or directors or actors or they're badass martial art people who respect me and I have their respect so that's it.
Thanks again for this lovely interview!