Philip Winchester may not be a name you recognize right away but to fans all over the world, he is a consistent face in quality television series like FRINGE and 24. He is perhaps best known though for two roles in particular. One is "Sgt. Michael Stonebridge" in the acclaimed Sky One/Cinemax international action series STRIKE BACK. The other role is the one that came after: attorney "Peter Stone" in the Dick Wolf-produced universe of television shows; including CHICAGO P.D., CHICAGO JUSTICE, and LAW & ORDER: SPECIAL VICTIMS UNIT. 
Philip's most recent project reunites him with one of his STRIKE BACK directors, M.J. Basset (ASH VS. THE EVIL DEAD), for a new action/horror hybrid film titled ROGUE. Here is the official plot synopsis:
Megan Fox (Transformers) tackles a thrilling new role as a battle-hardened mercenary in this explosive action saga. As team leader O'Hara, she leads a lively squad of soldiers on a daring mission: rescue hostages from their captors in remote Africa. But as the mission goes awry and the team is stranded, O'Hara's squad must face a bloody, brutal encounter with a gang of rebels—and the horde of ravenous, enraged lions they encounter.
I had a chance to sit down and talk with Philip Winchester recently about working with Megan Fox, filming on location in South Africa, the joys of shooting action, the annoyances of being covered in bloody effects makeup, and a lot more!
*Note: This interview contains mild spoilers for ROGUE. 
_________________
I know that you have worked with M.J. Bassett but how did you become involved with ROGUE specifically?
The relationship I have with M.J. Goes back past STRIKE BACK and a fantasy movie we did called SOLOMAN KANE and even before that, I auditioned for her and we were going to do a film together that fell apart, but we've had a long relationship and this was one of those dreams come true, in a sense, where M.J. Has called me and said, "Hey, I wrote a role for you. Do you want to read it and do it?" and I loved it.
she said, "it's quick and dirty. It's down in South Africa. There's no money. Let's go play". And I said, "all right, let's go". So, that's basically the long and short of it. And we knocked this movie out and fricking Megan Fox came to play with us, which was a game changer. And, and here we are lucky enough, it didn't just get shot and disappeared, but it's actually coming out now, so I'm really grateful for that.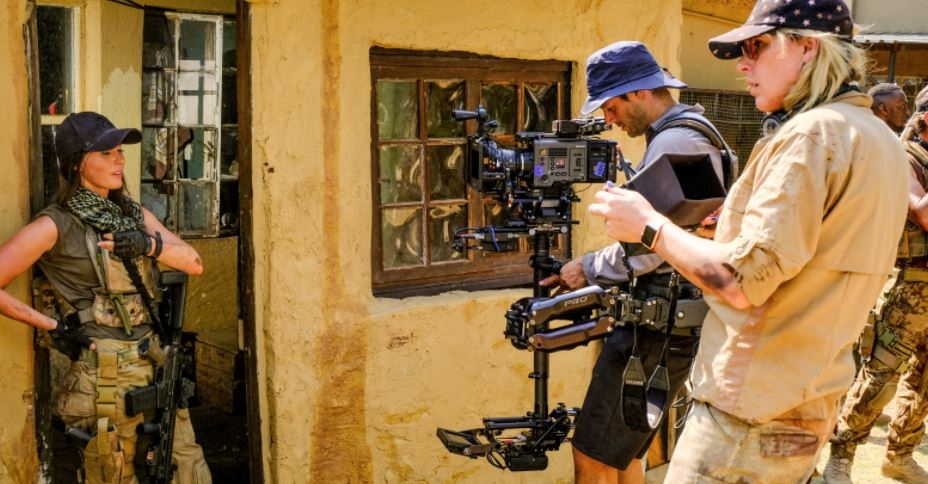 The South Africa location adds so much to ROGUE. Often, these "down and dirty" films reveal their budget constraints by the locations they film in. Here though, being able to be on location where the film takes place, it adds so much to the film. What was it like shooting there?
Well, South Africa is such a special place. The landscape lends itself is very diverse, from waterfalls falling into the ocean and, horrifically dry, brutal desert. It's an amazing part of the world. And with that comes crews and casts that are willing and ready to play in those environments. And so you go to South Africa and it brings something out. If people are excited about it, you're going to get an amazing product, I feel, because it's all there, the ingredients are there to make it and M.J. loves that. That's why she shoots in South Africa. She loves the vibe. She loves that the crews are ready to get dirty and jump in there with you, and the cast is ready to play. So, those were the positives of shooting in South Africa.
To talk a little bit more about filming, films are usually shot out of order and assembled sequentially in editing. Here though, the movie was shot in sequential order. Can you tell me a little bit about the process of shooting it basically in order from beginning to end?
I think part of the decision behind shooting it in sequential order was that we were doing night shoots and really there was no reason not to. Everyone was there. We were all on location. This is pre-COVID and isolating with each other. But that's kind of essentially what we were doing. So, we had access to all the actors whenever we wanted.
That approach was great because mistakes that were made along the way or things that happened that were unexpected, we were able to fix them in the story because we shot in order. It was four weeks of night shoots though, which is pretty grueling and brutal. Megan bore the brunt of that, because she was the lead of it. Some of us got breaks, but Megan just, she led from the front and, and jumped in with both feet and really kicked ass.
One thing I really appreciated about your role was that as the movie progresses, your character ends up as sort of the de-facto comic relief by the end, but it still gets to be very heroic.
Right?! I think M.J. and I had bantered so much in the years prior, on STRIKE BACK and other projects, that she knew that there was this kind of goofy side that she wanted to get out. So, she made the character of "Joey Kasinski" a little more like me, a little more goofy and kind of, a little more light.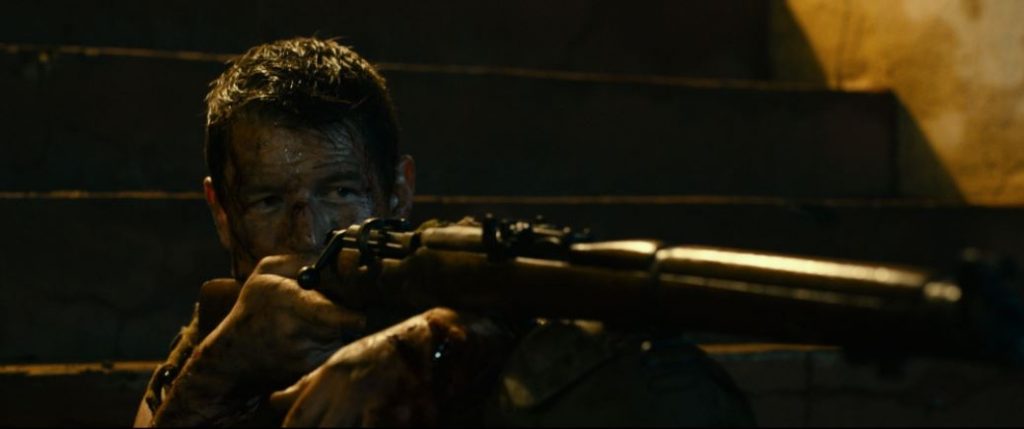 That is an important thing to break up the tension in a film like this. By the end of the film, your character has sustained a lot of injuries. Was that difficult having to be in the South African heat outside covered in what it looks like a lot of prosthetics and Karo syrup?
You've got a good eye, Matthew. You're exactly right. Yeah, the prosthetics on all the characters that have, shall we say, "run-ins" with the lion and the quality of makeup was incredible. I was being put in prosthetics for about an hour and a half every day. And that started about halfway through the movie.
So, you get to set about two hours before you shoot and you are in the makeup chair. It's not too bad.  We listened to good music and had a chin wag about the day. It was actually a little more comfortable than you would imagine because of the night shoots. The nights out where we were in Johannesburg, it actually cooled off a fair bit. And so I wasn't running around in this stuff in the midday heat, which I was so grateful for. The hardest part about it was, because we were doing nights was sitting in the chair when you were done with the day, which was also your morning or your time to go to bed. And I just wanted to get that makeup on as quick as possible, go home and get to my bed and sleep before the next night out there.  The poor people at the hotel, where we were staying, were horrified. My bed was just wrecked because I could never get it all off. It looked like I massacred somebody on my bed, it was terrible.
So, that was something hard about shooting ROGUE. What was your favorite memory from the shoot?
So because we had four weeks of night shoots, every night, inevitably you'd reach that point, we called it "the sillies". And you know, probably that sweet spot between three a.m. and four or five in the morning where people just lost their minds. Right? And you were either totally gassed, totally exhausted and you couldn't get another coffee in you for fear of just shaking to bed. People would just, there were these times where we would just dance and laugh and put on music on someone's iPhone and mess around and tell stories. And those, it's like life, it's the moments between the moments, right?
On set is a little microcosm of life. And you're forced together with these strangers to make relationships and make them look real. And those little things, when they happen, you go for it. We had so much in common and there's so much good in this group of people. And I just love seeing that. And in a tough situation, night shoots, covered in blood, doing action. There was always these moments of levity because there were good people involved. And I'll cherish those. It was really great.
What was it like working with the lions on set, both the fake special effects ones and the very real ones?
So, we had a CGI lion that obviously came out to play when it was time to attack, we had two little, red dials that they would clip on us, and we had to pretend. We had a puppet lion that was a head and a front leg that we had to learn to manipulate and work with in the close-up shots. And then we had the real lions that were used for the wides. And then in the end, we had those cubs.
The cubs were adorable. Did you get to interact with them?
We did! And let me tell you, they are still fierce. I mean, these animals at three, four months can rip you to shreds. And so to think about them in their full grown state, I mean, you wouldn't stand a chance. They're just perfect killing machines.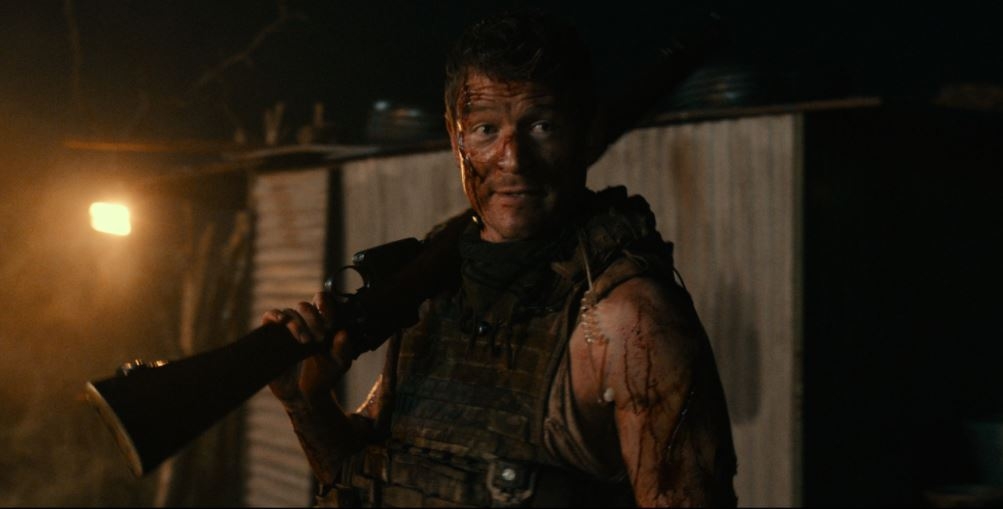 So, your role here takes you back to territory you dealt with in the TV series STRIKE BACK. Was that an intentional choice?
I guess it has sort of gone in that direction. I took a good chunk of time out from doing action roles. And I worked with Dick Wolf on his series, CHICAGO JUSTICE. And then I went over to LAW & ORDER: S.V.U and worked with [actress] Mariska Hargitay. So, it was nice to build that dramatic need for a while and put on a suit every day. But when I walked off of S.V.U, I thought, what do I love doing? And I love working really hard and I love getting my butt kicked, and I love working with people who are fun, and that sort of lends itself to the action genre. So, when this movie came along, I thought, yeah, let's try it. Let's go back to that for a while and see what it's like, and ROGUE was just… , it ticked all the boxes, the people were great. And so it was nice to get back into that familiar wheelhouse and play around with that kind of character again.
As we wrap up, who are your biggest influences as a performer?
So, I grew up in and around the theater in Bozeman, Montana. My father was going to M.S.U. And one of his courses was a theater course, and he was really good friends with a guy named Joel Janke, who started Montana "Shakespeare in the Park". My dad, Joel Janke, and the people that were around them were stoking that fire in me. I just grew up watching Shakespeare iand people would sword fight and people would joke around and build sets together. And I just thought, that's what everyone did. That was my life. And so when I was old enough to make a decision about it, I fortunately had parents who were really supportive. My mother's English. So I moved from Montana to London. I went to drama school. I made some really great friends at drama school, and it just kind of kept confirming this thing of like, "if you want to do this, you've got to work your ass off, but you can do it."
So I just kept going down that path and all the people along the way, there's big actors that I've worked with and been fortunate enough to work with, but there's also the grinders, the day players who come in and  bring it. These people inspire me to no end. I remember specifically on S.V.U and on STRIKE BACK, we would have the, quote unquote, day players, which is such a- it's a terrible term, but you know, these actors who would come in just for a little role and man, some of them just nailed it so hard, and that is such a tough thing to do. And I just have to offer those grafting actors out there who are just making it happen, paying the bills one role at a time, waiting for that break. That stuff, to me, is so inspiring. And so encouraging because you know, being fortunate enough to rock up and carry a show or rock up and be part of the lead ensemble. You're so lucky and you can get so lost in the work that you forget, yo, it was a grind to get here. And those people remind you of that and they remind you how much work and how much heart it takes. So I love those actors. They inspire me.
I love that. Thank you so much for your time today, Phillip. I enjoyed ROGUE and I wish you nothing but success with it.
Thank you, brother. I really appreciate your questions too. And thanks for taking the time, Matthew. Stay safe out there!
Rogue is available On Demand and Digital starting today and on DVD/Blu-Ray September 1, 2020.