This past Saturday in Burbank, California, Be Kind Video hosted an awesome night of 90's fun with a VHS screening of Surf Ninjas to celebrate the film's 30th anniversary! Complete with intro and Q&A with stars Ernie Reyes Jr. and Nic Cowan. For any 90's kid who grew up on martial arts movies, this was a rare and not to be missed celebration.
Reyes Jr. of course was the child martial arts prodigy under his father Ernie Reyes Sr. and made his film debut in the also cult classic, The Last Dragon. From there Ernie racked up credits opposite Arnold Schwarzenegger in Red Sonja and on television like Sidekicks and Secret Bodyguard. Many of us remember him as Keno, the smart mouthed and spin kicking pizza delivery guy in Teenage Mutant Ninja Turtles II: The Secret of the Ooze.
Surf Ninjas finds Ernie as surf boarding, skate boarding, Southern California teenager Johnny. Who along with his little brother Adam (Cowan) and freeloader buddy Iggy (Rob Schneider) give their hard working, single father Mac (John Karlen) extra heart burn as they traverse high school and homework while working at the family burger restaurant that has killer shakes. Turns out Johnny and Adam are long lost princes to the island nation of Patusan which was taken over by the evil Colonel Chi (Leslie Nielson). Rescued during the coup by head of the Warrior Guard Zatch (Reyes Sr.), the boys are sent to America with Mac to hide out until it is time to live out their destiny as a warrior and a seer and take their throne back.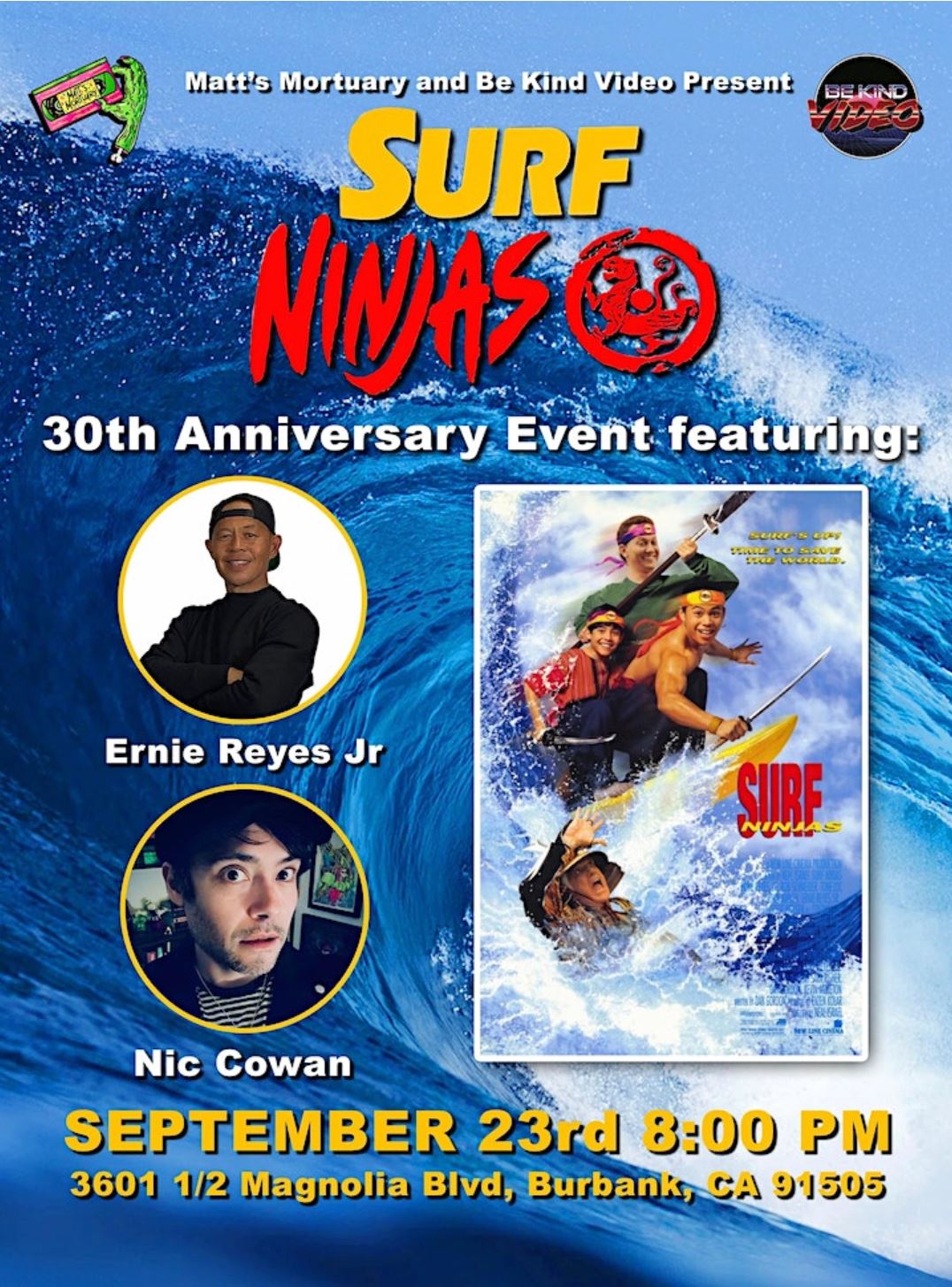 SoCal hijinks (Moto surf!), musical numbers, Tae Kwon Do multiple kick fights and one liners ("What if I lose these powers?!") follow in the fun, breezy and odd humored 87 minute runtime directed by Neal Israel from a script by Dan Gordon. Before the film, Be Kind did some light trivia then Cowan shared he hadn't seen the film with an audience in 30 years while Reyes Jr. said he passes the video store frequently on his way to get coffee and was surprised to see one of his movie posters in the window. Although TMNT II remains popular over the years, people always bring up Surf Ninjas to him.
After the film the duo sat down to dig deeper into the making and memories of this 90's classic. The Monday after Secret of the Ooze was released, New Line Cinema called Reyes Jr. wanting to be in the movie business with him. This was a dream come true as Reyes Jr. and Sr. had been lifelong martial arts practitioners looking to bring their passion to the world through family-oriented MA entertainment. Dan Gordon had written for Reyes Jr. on the television project Sidekicks and was brought in to work on the script which was originally titled Surf Warriors of the South China Sea. It was a whirlwind six week shoot in LA and Thailand with many a remembrance of how hot, uncomfortable, and remote the locations were with no trailers and only a bus for the cast to take a break in.
Cowan recalled going through the audition process, this being his first big project and how Rob Schneider zeroed in on him being a built-in audience throughout the shoot. Tone Loc (playing a detective protecting the kids) was cool but got sick during the Thailand shoot and between takes would fire off improv lyrics about the heat and bugs. Reyes, Jr. recalled how stressful the prep and shoot were given how much responsibility was on his shoulders being a producer, star and having a stake in the film. Where on TMNT II, he choreographed his own fight scenes, in Surf Ninjas, his father and trusted stunt crew planned out the feet and fisticuffs. Both Reyes' are in great shape (pumped and oiled up, 90's style) and show off their flexibility, athleticism and martial arts mastery with beautiful but high impact kicks and punches with a comedic, non-lethal flair.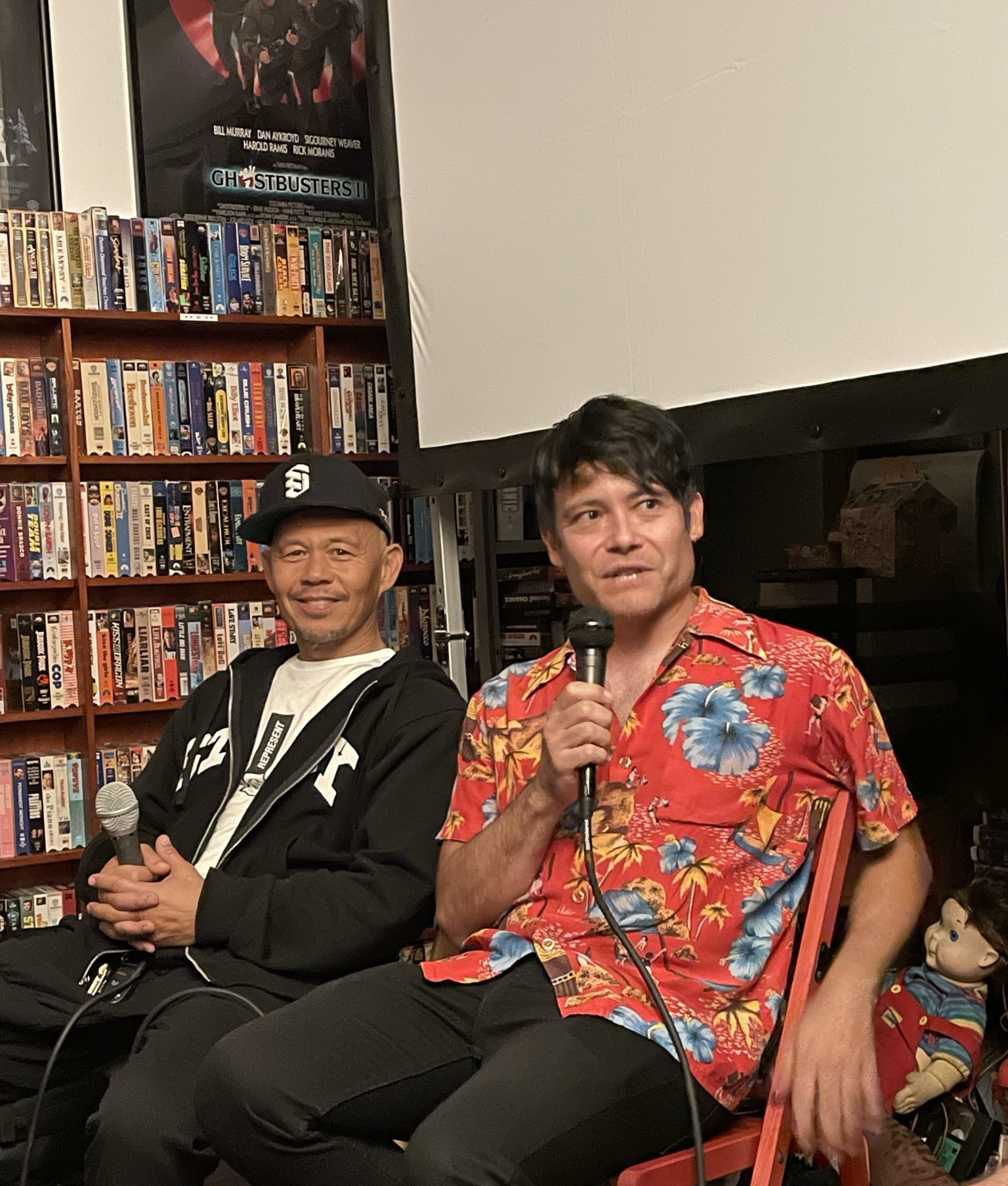 After strong test audience reactions but a murky marketing campaign, Surf Ninjas died at the box office in August of 1993 with much of the blame (unfairly) falling on young Reyes Jr.'s shoulders. But ever the optimistic and positive star knew it was a home video hit and would always hear about the film at packed martial arts events so he's happy after all these years the film found its intended audience. Several audience members remarked the importance of the film in their childhood, one person even came down from Washington for the screening!
After the film, Reyes Jr. and Cowan hung out to take questions and autograph with Be Kind having a few VHS copies of Surf Ninjas and TMNT II available. The person in front of us shared that they grew up in Nebraska and how representation mattered. I full heartedly agree as one of the only Asian kids in a small town in Ohio, seeing Ernie and his dad running around, laughing and kicking butt on the big and small screen was a true inspiration.
Nic Cowan runs The Surf Ninjas Shop which has a special edition 30th anniversary shirt available for pre-order so grab one while you can. Kwanstu dudes!