Comicons are a unique phenomenon.  They are a haven for collectors of pop culture items and iconography.  This year's Toronto Comicon is a vibrant example.  It actually acts as a gateway event for the major show of the year, Fan Expo, which takes place annually in August.  Fan Expo is a gigantic juggernaut of an event, which attracts visitors from far and wide.  And they arrive in their thousands.
What is interesting to note about the Comicon this year, is how huge this event has become.  People of all ages were here in their droves, probably filled with an eagerness to leave the COVID-19 pandemic doldrums behind them.
The Action Elite is a supporter of Comicon and Fan Expo and it is so great to be back.  One of the most amazing aspects of these events are the visits from prominent celebrities and artists from across the globe.  Stars of film and TV take time to share moments with fans and give out autographs and have photos taken.
Eoin and I met three prominent actors at Comicon 2023:
Andy Serkis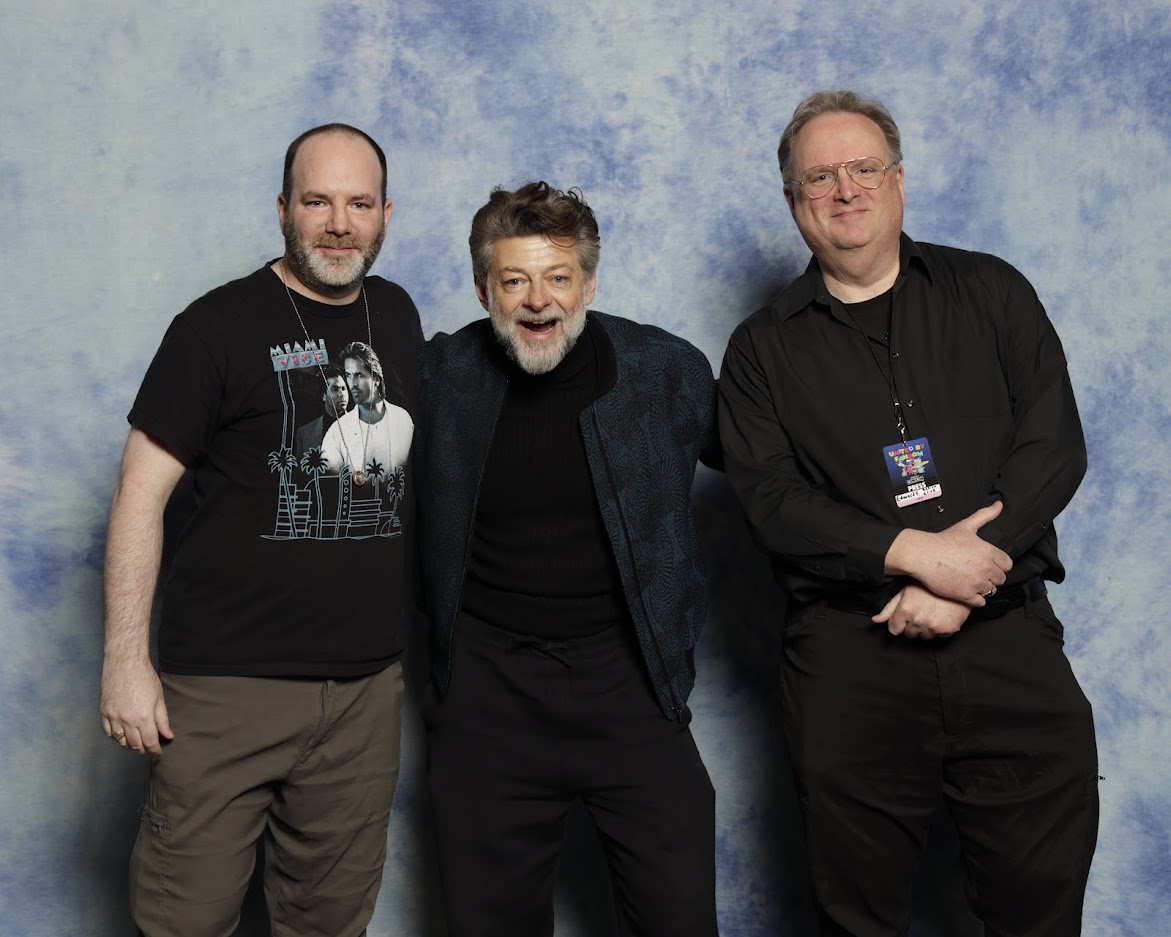 This man needs little introduction.  Initially known for his pioneering motion-capture work as Smeagol/ Gollum in Lord of the Rings and also King Kong and Caesar in the recent Planet of the Apes pictures, he has displayed immense range as an actor in productions such as Star Wars:  The Last Jedi (he played Supreme Leader Snoke) and more recently with a memorable turn as a tormented prisoner of the Empire Kino Loy in Star Wars: Andor.  He now has an enormous legion of fans and they all seemed to be at Toronto Comicon this year!  It was great to meet this legendary talent.
Karl Urban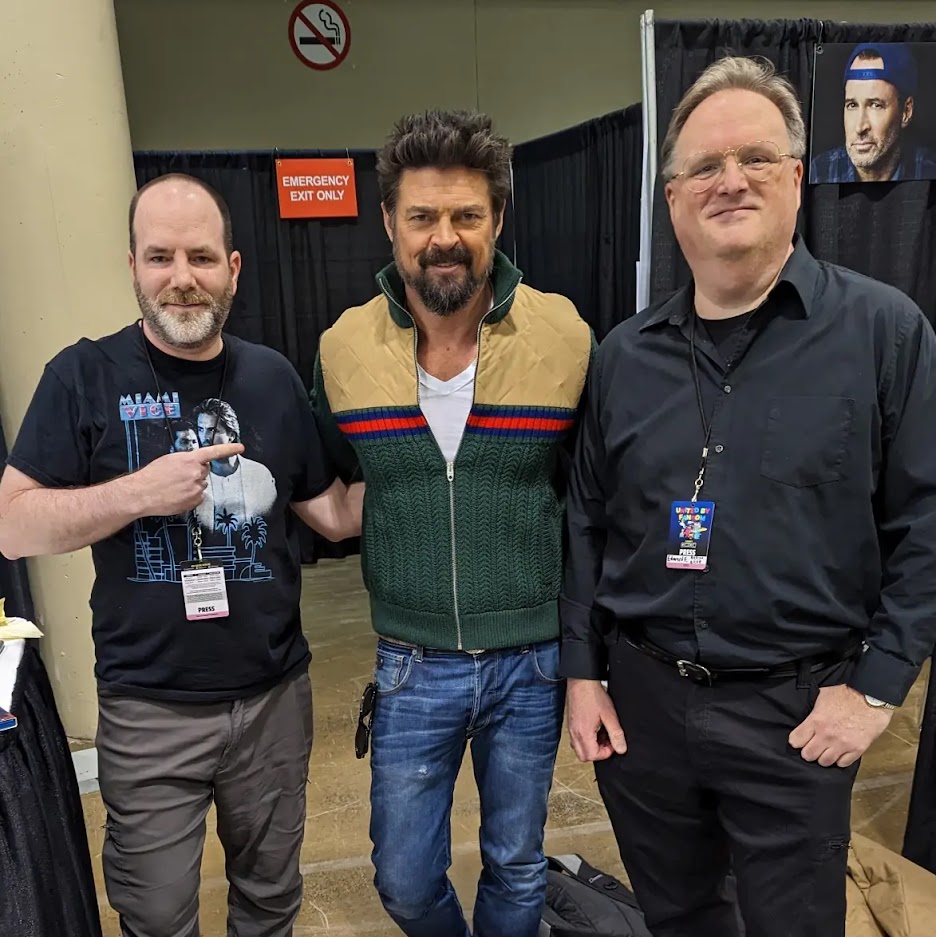 This New Zealand actor is a firm favourite of The Action Elite.  I was greatly impressed by his outstanding performance as Eomer, leader of the Riders of Rohan in the Lord of the Rings films.  His credits include a wide range of genres.  He was lauded for his role as Dr. Leonard "Bones" McCoy in J.J. Abrams' Star Trek films.  Urban recently revealed that Leonard Nimoy's wife Susan told him that Nimoy had been moved to tears by Urban's interpretation of the character, as it reminded him of his late friend, DeForest Kelley (the original Dr. McCoy).  High praise indeed.  Karl is currently playing Billy Butcher in Amazon's hit The Boys, which is filmed here in Toronto and the surrounding cities of Mississauga and Hamilton.
Emily Swallow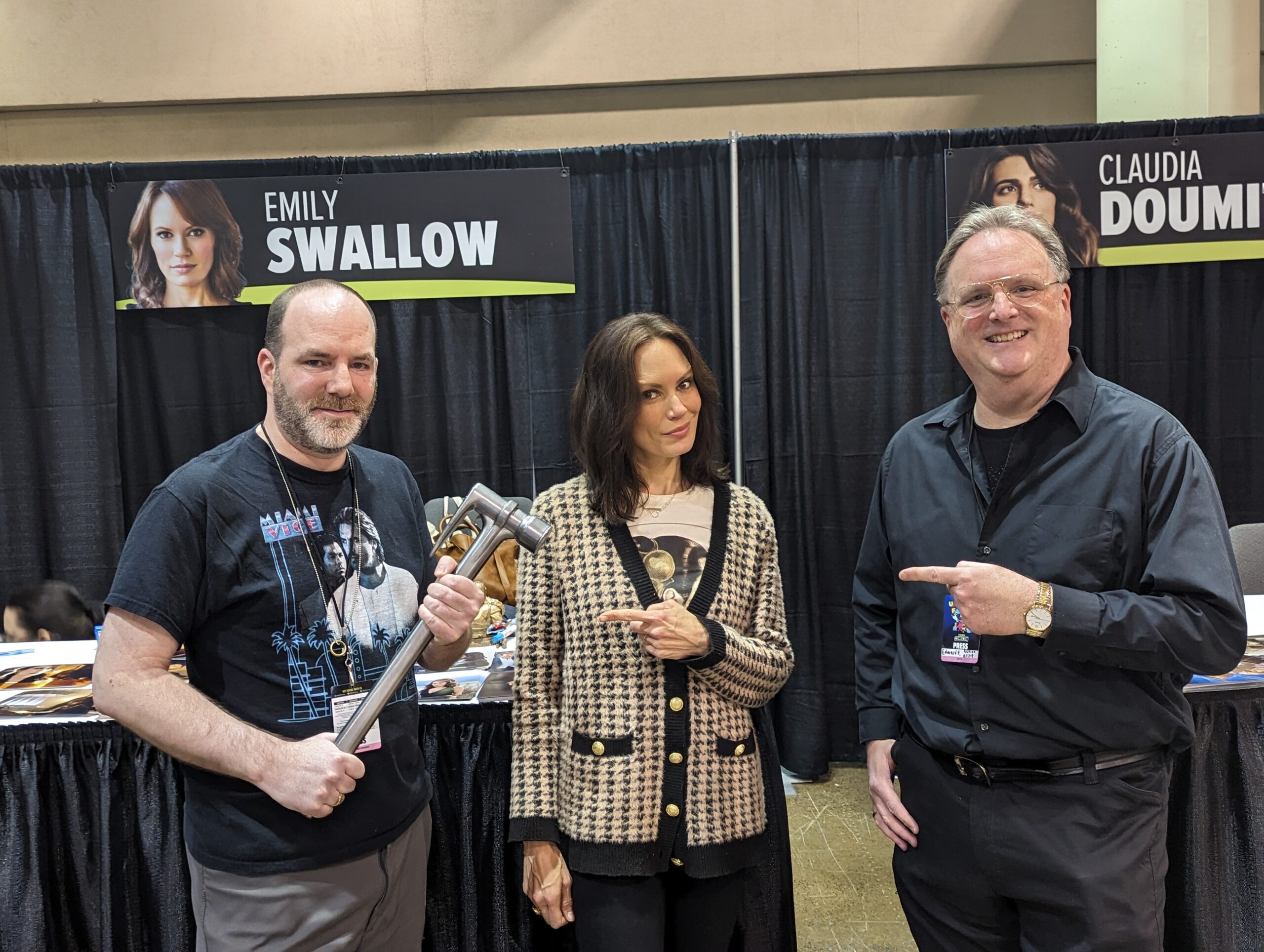 I have loved watching Emily play the role of The Armorer in the Star Wars series The Mandalorian, currently streaming on Disney+.  Despite never having revealed her face, due to the strictures of needing to wear a helmet as part of the creed of the Children of the Watch, a Mandalorian sect, her performance shines through.  The Armorer is fearsome and authoritative, and Emily uses a pitch-perfect British accent for this role.  I complimented her on this fact as a Brit myself, when we met at Comicon.  Emily is American, born in Washington D.C.  She has numerous television and film credits, but is also recognized for her awesome role as Amara / The Darkness in 14 episodes of the underrated and excellent Supernatural series.  She was a joy to meet, and Eoin and I greatly appreciated chatting with her.   Eoin even got to wield the Armorer's (rather heavy) hammer!