It's time to take a look at an instant favorite among cinema lovers and Action fans. His name alone assures on that even the worst film is worst sitting through for his presence alone. But let's focus on his easily most enjoyable Action entries instead of his bottom 10 films.
10. Spider-Man
In still easily his best-known SciFi/superhero movie role to date, Dafoe is still internationally renown and recognized by many due to his growling voice, appropriate physique, playing along with the camp humor and even proving believable in the dramatic reveals of this 2002 installment.
9. Victory
Early 20th century set adventure/suspense tale is the third adaptation of the Joseph Conrad novel depicting an unexpected romance set on an Indonesian island later besieged by three treasure raiders. Dafoe livens up the character's everyday man confidence and the film's tone and adventure even feels like a subtle nod to Dead Calm (we even get that movie's star Sam Neill in a villain role here) at times.
8. Roadhouse 66
This road movie provides a healthy mix of racing action, sexy romances and uncanny escape from typical reality, this low-brow film is surprisingly anything but inept. It's also far from being stupid as well with some well-inserted drama and acting (especially Dafoe's wild racer) keeping it from feeling like schlocky drive-in trash and the charming tone maintaining the story's focus.
7. John Wick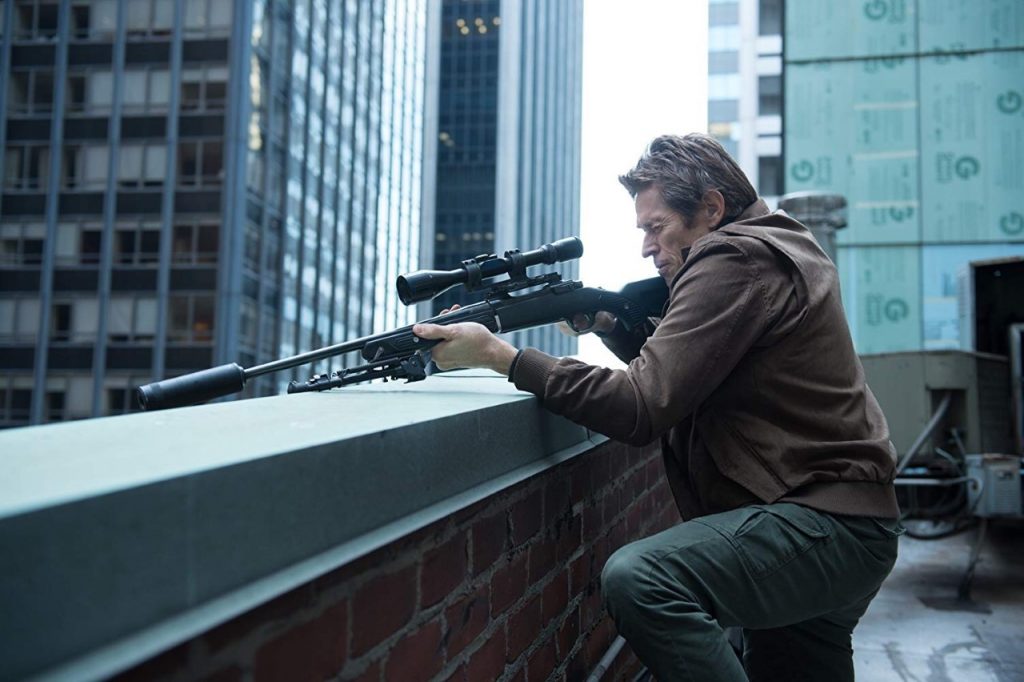 In this clever, straightforward underground tale of assassin guilds in New York City, Dafoe proves up to the task of being one of the most deadly professionals. Despite not being incorporated in any of the numerous action scenes and sadly missing from the sequels, Dafoe's assassin serves as the best intro to the title character's innumerable obstacles where he must navigate to find allies who's trust and loyalty is still intact.
6. Streets of Fire
Despite not having as much screen-time, Dafoe proves a natural choice as the town gangleader who gets to participate in the final fight while also embellishing the updated Western movie genre themes.
5. White Sands
This twisted Noir-inspired mystery is well-cast to suit both its crime drama aspect and unusually done mystery. Dafoe stars as the main character who starts becoming trapped in a web of deceit after impersonating a dead man who leaves a suitcase full of money. Dafoe helps become one with the film's deceptive web of lies and second-guessing (or double-guessing if that's even a word).
4. Off Limits
Part buddy cop action movie, part Vietnam war mystery, this film has its testosterone-fueled ambitions fully geared up and unleashes that element alongside the unfolding story with ease. Dafoe is no stranger having previously appeared in Platoon but never makes this sink into being the exact same type of role, nor does the film feel formulaic.
3. The Boondock Saints
Dafoe steals every scene by providing the best dialogue as the lead FBI agent investigating fraternal twins in their unusual takedown of the Russian mob. Similar to Tarantino type action-crime films, the film spins a fun Irish perspective on all the crime underworld chaos and Dafoe's character even gets to be apart of the vigilante chaos and plot twists.
2. Platoon
In his various well-deserved nominations and attention he received as Sgt. Elias, Dafoe squares off with a "good cop, bad cop" type attitude against Tom Berenger's psychotic Sgt. Barnes. Mentoring his fellow enlisted men and headstrong, Willem is one if the film's many strong components.
1. Clear and Present Danger
Well-cast as the Tom Clancy character John Clark, Dafoe instantly makes this Rainbow Six character an entirely different type of military leader by choosing a more rocksteady mood and stealthy operative type. Complimented by the political intrigue, fascinating corruption themes and rousing battles, Dafoe effortlessly stands out despite being only a supporting hero.
If this list entertained you greatly, please inform us or even request another Action performer for us to spotlight on this site.