Nothing says "Christmas" like shoot-outs, explosions and badass one liners featuring some of the greatest action heroes so it's time to take a look at some of our favourite holiday-set action flicks. As you can imagine most of them feature the writings of Shane Black as practically all of his movies are set during the festive season.
10. First Blood 
Plot: Vietnam veteran and drifter John J. Rambo (Sylvester Stallone) wanders into a small Washington town in search of an old friend, but is met with intolerance and brutality by the local sheriff, Will Teasle (Brian Dennehy). When Teasle and his deputies restrain and shave Rambo, he flashes back to his time as a prisoner of war and unleashes his fury on the officers. He narrowly escapes the manhunt, but it will take his former commander (Richard Crenna) to save the hunters from the hunted.
This is indeed set around Christmas and what better way to celebrate the birth of Christ then battling for survival against a slightly obsessive Sheriff who really wants you dead. God bless us, everyone!
9. The Long Kiss Goodnight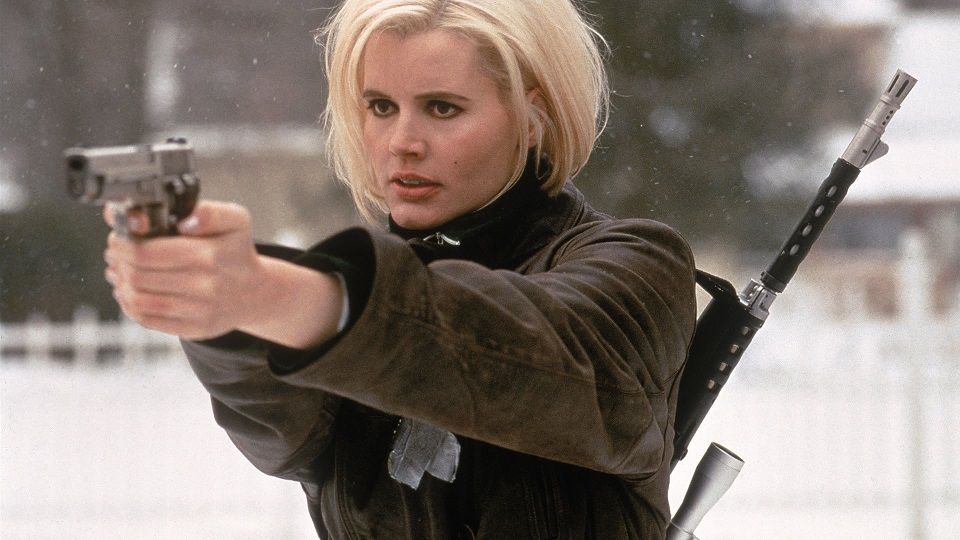 Plot: Schoolteacher and single mother Samantha Caine (Geena Davis) lives an average suburban life — until she begins having strange memories of unexplained violence and discovers that she has physical skills that she never imagined. Hiring private detective Mitch Hennessey (Samuel L. Jackson) to probe into her past, Samantha discovers that she's a well-trained government assassin who went missing after suffering a bout of amnesia and that her former handlers want her back in their employ.
Geena Davis would love Christmas, if only she could remember when the hell it was. But that's alright because she's gonna kick the ass out of anyone who gets in the way of her or her family. She's also gonna do it with the help of a wise-cracking Samuel L. Jackson.
8. Kiss Kiss Bang Bang
Plot: Two-bit crook Harry Lockhart (Robert Downey Jr.) stumbles into an audition for a mystery film while on the run from the cops. Winning the part, he lands in Hollywood, where he's flung into a tangled, murderous conspiracy with his childhood sweetheart, Harmony Lane (Michelle Monaghan), and hard-boiled private eye Perry van Shrike (Val Kilmer).
The Underrated Christmas gem is more of a comedy than an action movie but who cares? It's Val Kilmer and Downey Jr. on sparkling form. "Are you still gay?" "Nah I'm up to my knees in pussy, I just love the name."
7. Batman Returns
Plot: The monstrous Penguin (Danny DeVito), who lives in the sewers beneath Gotham, joins up with wicked shock-headed businessman Max Shreck (Christopher Walken) to topple the Batman (Michael Keaton) once and for all. But when Shreck's timid assistant, Selina Kyle (Michelle Pfeiffer), finds out, and Shreck tries to kill her, she is transformed into the sexy Catwoman. She teams up with the Penguin and Shreck to destroy Batman, but sparks fly unexpectedly when she confronts the caped crusader.
The Penguin and Catwoman can't put a dampener on Bruce Wayne's Christmas, despite their best efforts. At the time this was considered a disappointment but it has stood the test of time very well and Michelle Pfeiffer remains THE best Catwoman. Sorry Anne.
6. Invasion USA
Plot: Retired CIA agent Matt Hunter (Chuck Norris) is forced back into the business when a villain from his past re-emerges. Soviet Mikhail Rostov (Richard Lynch), a terrorist whom Matt once caught, wants to exact revenge. After failing to find Matt at his Everglades home, Rostov and his army of Communist guerrillas begin carrying out terrorist acts all over southern Florida. Millions of innocent lives are at risk, and it's up to Matt, the National Guard and the FBI to save them.
We all enjoy Christmas, a time for families to rejoice in love and happiness, unless you're one of those damn Commies, in which case you hatch a ridiculous plan to invade the good ole US of A. Unfortunately they failed to realize that Chuck Norris may have a problem with that. So he decides to spread some Christmas Cheer (and their brains) all over the sidewalk.
5. I Come in Peace
Plot: Renegade cop Jack Caine (Dolph Lundgren) is intent on snuffing out a dangerous gang of drug traffickers known as the "White Boys." When the gang makes off with a cache of heroin from federal custody and destroys the building to conceal evidence of their crime, Caine investigates with straight-arrow FBI agent Arwood Smith (Brian Benben). But bizarre new clues reveal that the Boys' criminal enterprise extends much further than anyone had previously imagined.
Dolph Lundgren exterminates an evil alien (played by Matthias Hues) and carves his ass like he was a turkey in this underrated Christmas gem which remains one of Dolph's best movies.
4. Reindeer Games
Plot: Just released from prison, all Rudy Duncan (Ben Affleck) wants is to start a new life with Ashley (Charlize Theron), the girl of his dreams, whom he met through pen pal letters in prison. But between them and happiness stands her crazy brother, Gabriel (Gary Sinise), and his motley crue of deadly criminals who think Rudy has some inside information about a casino where he once had a job — a casino Gabriel and his short-fused posse plan to take down.
I just did a piece the other day about this underrated Ben Affleck starring action thriller with more twists and turns than a twisty turny thing. Darkly comedic, packed with tension and Charlize Theron naked, yule love it… sorry.
3. The Last Boy Scout
Plot: Once a first-rate Secret Service agent, Joe Hallenbeck (Bruce Willis) is now a gruff private investigator whose latest gig is protecting a pole dancer (Halle Berry). When she's murdered, he grudgingly teams up with her boyfriend, Jimmy Dix (Damon Wayans), an ex-quarterback with a gambling problem, and the two go after her killers. Before long, they stumble onto a plot by a well-known football magnate (Noble Willingham) to bribe federal legislators into legalizing sports gambling.
Bruce Willis's other Christmas movie doesn't get enough love but when Satan Claus is always watching then I guess you'd better be careful; Shane Black has an obsession with Christmas and all of his movies are set during it. The script is on sparkling form here and Willis has never been cooler.
2. Lethal Weapon
Plot: Following the death of his wife, Los Angeles police detective Martin Riggs (Mel Gibson) becomes reckless and suicidal. When he is reassigned and partnered with Roger Murtaugh (Danny Glover), Riggs immediately clashes with the older officer. Together they uncover a massive drug-trafficking ring. As they encounter increasingly dangerous situations, Riggs and Murtaugh begin to form a bond. Riggs' volatile behavior might just help them apprehend the criminals — if it doesn't kill them both first.
The best buddy movie ever has awesome one-liners, gratuitous violence and Mel Gibson and Danny Glover at their absolute best. This is joint number 1 with Die Hard for me.
1. Die Hard (1987)
Plot: New York City policeman John McClane (Bruce Willis) is visiting his estranged wife (Bonnie Bedelia) and two daughters on Christmas Eve. He joins her at a holiday party in the headquarters of the Japanese-owned business she works for. But the festivities are interrupted by a group of terrorists who take over the exclusive high-rise, and everyone in it. Very soon McClane realizes that there's no one to save the hostages — but him.
"Now I have a machine gun. Ho, Ho, Ho." John McClane makes sure Hans Gruber's Christmas is anything but a silent night by being a "fly in the ointment, the pain in the ass." And we all love him for it. No matter what any naysayer's argue this is a Christmas movie and remains the true king of Christmas actioners. See also Die Hard 2: Die Harder which is every bit as Christmassy.
Honourable Mention: Behind Enemy Lines. Everyone wants to be home for Christmas but poor Owen Wilson just wants to be alive in this underrated actioner. Owen plays US Navy helicopter pilot Lt Chris Burnett who is part of the NATO force observing the peace treaty during the conflict in former Yugoslavia. Bored with routine duties, he flies off his designated route and spots Serb forces breaching the peace agreement, but they spot him too and down his craft. Behind enemy lines and with the Serbs on his trail, his only hope is that his commander sends in a rescue mission.
I'm taking a couple of days off for the holidays so Merry Christmas, everyone.