Explosive
Summary
300: The Complete Experience is the ultimate version of the film with a plethora of special features for even the most die hard fans of the movie. As for 300 itself I enjoy every second of it and Leonidas remains one of my favourite Gerard Butler characters to this day.
Plot: In 480 B.C. a state of war exists between Persia, led by King Xerxes, and Greece. At the Battle of Thermopylae, Leonidas (Gerard Butler), king of the Greek city state of Sparta, leads his badly outnumbered warriors against the massive Persian army. Though certain death awaits the Spartans, their sacrifice inspires all of Greece to unite against their common enemy. Based on the graphic novel by Frank Miller (Sin City) and Lynn Varley.
Review: It had been a while since I last watched 300 but I saw the Complete Experience Blu-ray book for $6.99 the other day and decided to pick it up and revisit it.
Zack Snyder is one of the most polarizing directors working today but 300 for me is his finest hour and it bothers me that I will never be as manly as Leonidas or frankly any of the 300 Spartans; in fact, I think I have more in common with the hunchback Ephialtes instead.
Anyway, we all know the story of 300 Spartan men facing off against the God King Xerxes endless armies and it's a tale of standing up for what's right and as writer Frank Miller states in one of the interviews on this disc not all heroes get a medal at the end.
This is one of the shoutiest movies you'll ever see with Gerard Butler at his grizzled best spewing classic lines like "THIS IS SPARTA!" amongst many others.
Most of the movie was filmed in a warehouse if I'm not mistaken and although you can tell it's greenscreen it still pulls you into this fantasy world and is fast paced with plentiful scenes of bloodshed and action. The visuals are still mesmerizing, and the music score is epic with huge choirs and percussion during the many battle scenes.
300 is really more style than substance but there is still heart to the story especially the relationship between Leonidas and his wife Gorgo (Lena Headey). She knows he is going off to his doom, but she wants the Spartans to send reinforcements, so she spends most of the movie trying to meet with the council while also dealing with the sleazy traitor Theron (Dominic West).
It's got a great supporting cast including a long haired Michael Fassbender and David Wenham (who also provides the narration) but Lena Headey is one of the best characters proving to be tough yet loving at the same time.
If you're a fan of this movie then this special edition is a must-have really delving into the creation of the film with in depth interviews with Frank Miller who wrote the original graphic novel as well as Zack Snyder and the cast and crew.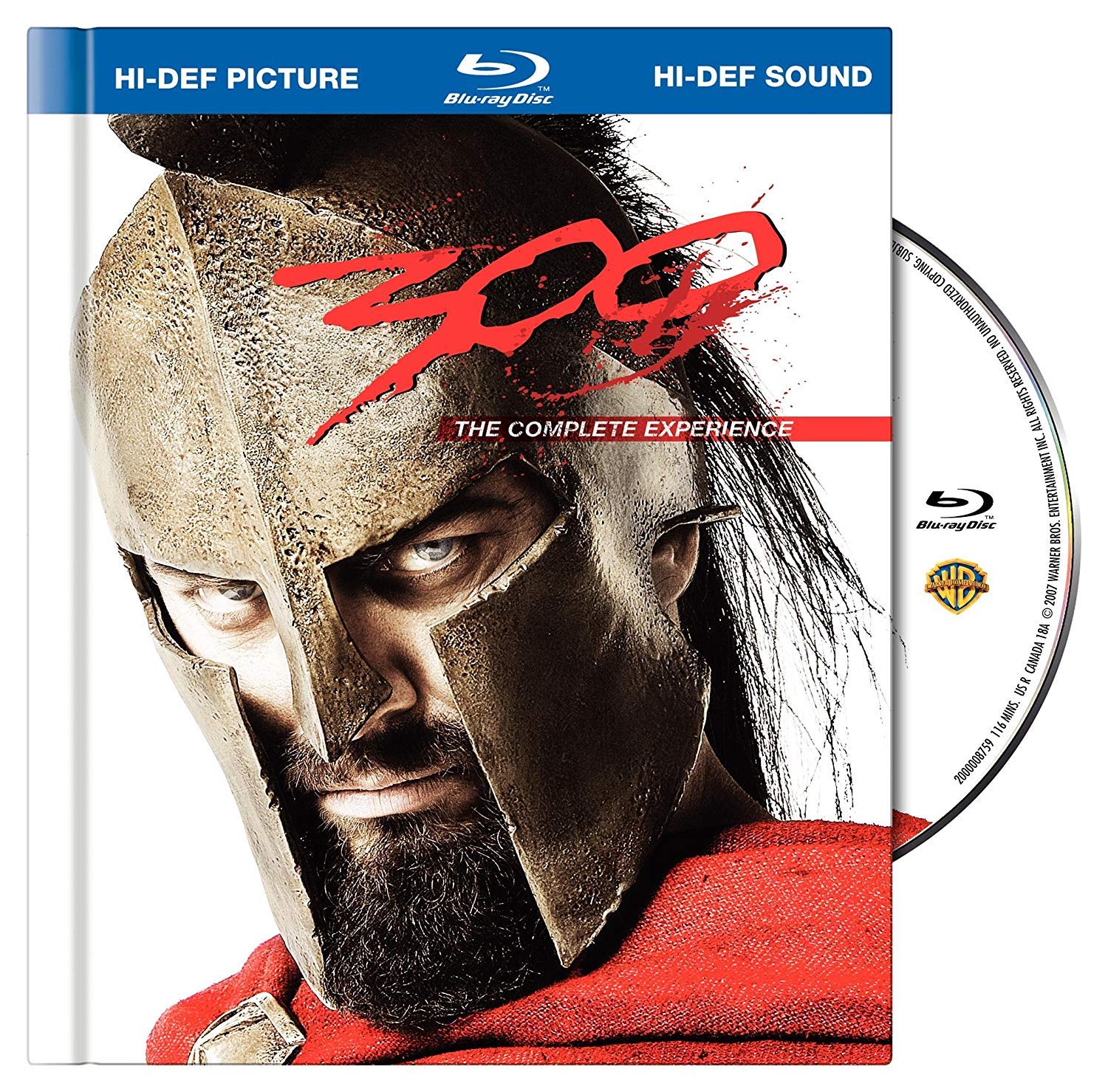 Special Features:
THE COMPLETE 300: A COMPREHENSIVE IMMERSION – This NEW interactive picture-in-picture experience provides 3 unique perspectives to explore while you watch the film: * CREATING A LEGEND: Frank Miller and Zack Snyder Interpret a Classic Tale – Holding true to Frank Miller's love of history and the importance of bringing a pure adaptation to screen in this tale-based account. * BRINGING THE LEGEND TO LIFE: Building a World From a Comic – Blending the most talented and creative minds together to bring Frank Miller's art to life in cinematic form. * THE HISTORY BEHIND THE MYTH: The Real Story of The Hot Gates – A rich and historical perspective on the Spartans and this legendary landmark.
Overall, 300: The Complete Experience Blu-ray is packed with all kinds of fun special features and the movie itself is as endlessly entertaining as ever so if you're a fan of the Spartans then you should pick this up.