Pageman Productions is thrilled to confirm that following their hugely successful UK Premiere at FrightFest Glasgow, the gory, action-horror Here For Blood will be now heading to London for Pigeon Shrine FrightFest on 25th August.
Directed by Daniel Turres, Here For Blood stars Shawn Roberts, best known by horror fans for his role as Albert Wesker in the Resident Evil film franchise, as well as Joelle Farrow (Under The Banner of Heaven) & Maya Misaljevic.
When his girlfriend, Phoebe, is swamped with college exams; Tom O'Bannon, a rowdy pro-wrestler struggling to make ends meet, agrees to fill in as a last-minute replacement for her well paying babysitting job. Tom arrives at an isolated family home where he meets the precocious 10-year-old Grace. What starts off as a quiet night of pizza and video games quickly spirals into bloody, violent chaos as Tom and Grace find themselves fighting for their lives when an otherworldly cult of masked intruders descend on the home.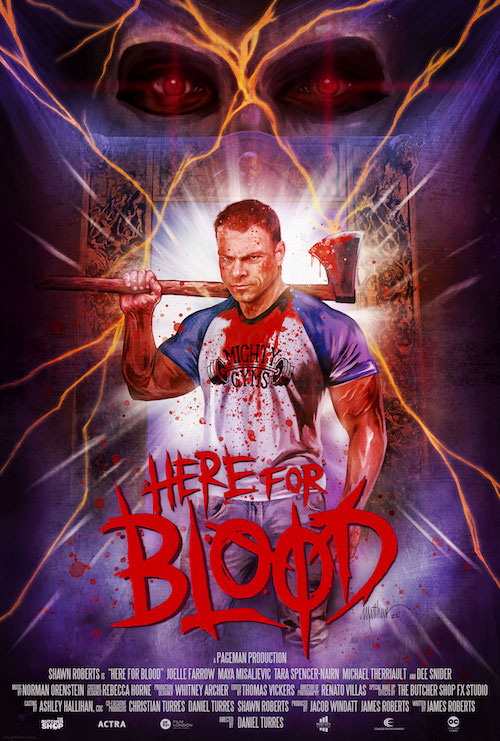 Talking about the film, Director Daniel Turres said; "Here For Blood was a labour of love brought to life by the hard work and (no pun intended) blood, sweat, and tears of many talented individuals. We found a way to make a completely independent feature film in a fledgling film community without the assistance of any bursaries or film grants. Here For Blood is the culmination of years of hard work; knocking on doors, pounding the pavement, finding creative solutions and carving our own unique path to production and beyond. We hope that by taking on such an ambitious project that we can help open new doors in the Canadian film community, create opportunities, and change the perception of what is possible on an independent level."
Here For Blood will have its English Premiere at Pigeon Shrine FrightFest on Friday 25th August