'A Tribute to Fighting Games' is an homage to fighting games like Tekken, Street Fighter, Dead or Alive and Mortal Kombat , this action scene was initially meant to be a small action reel for actress Ting Sue who studied Screen fighting with Ron Smoorenburg (Jackie Chan's Who am I ?). In the process, Inspired by video games and creating character they decided to make the project bigger while experimenting with new action angles and trying to improve Action Directing and Dop/Cam work. Niccolo (Dop) was totally up for it to shoot the final version and it was amazing teamwork.
Ting Sue is a Thai-American Actress who was born in Thailand and grew up in Seattle, USA. She followed her passion for acting and pursued it as a career when she returned to Thailand in 2017. Due to her natural athletic talent and her love of physical movement, she decided to branch out into action genre by training in martial arts.
Ron Smoorenburg holds the world record record highest kick (11 feet) is mainly known for the end fight in Jackie Chan's 'Who am I?' (1998) Over the last 20 years Ron worked with a lot of well known martial art action stars and developed himself in the last 23 years as an actor which with a versatile and experienced action background. After having played lots of villain roles Ron is carrying bigger acting roles as a good guy, and he personally aims at showing more action in a more 'unlimited version'
Niccolò De La Fere
A DOP with a martial artist's background. Grew up in Venice (Italy), working in the international movie industry for years, based in Bangkok and active in Asia since 2013, between Japan and Thailand. In 2021 he will be involved in many interesting productions, including an action film and a TV series that will be shot in Thailand. Stay tuned !
_______________________________
Ting Sue about the shoot: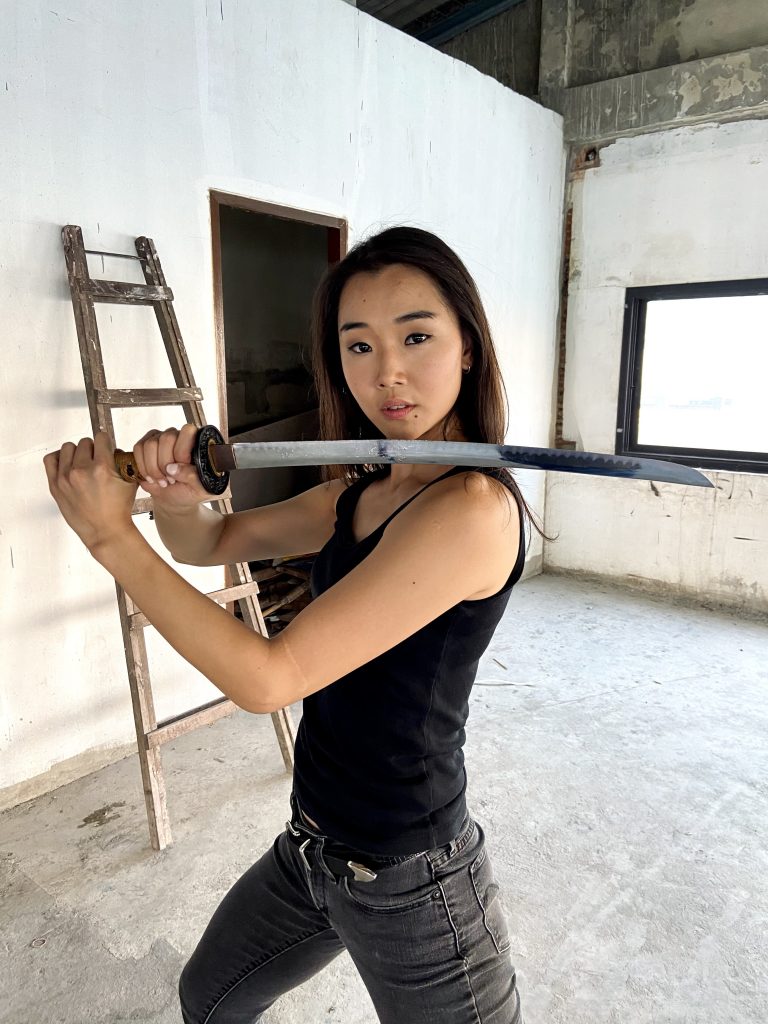 "This shoot was a lot of fun and very stress-free. Working with people who listen to and respect your opinions always make it a great working atmosphere. Ron and Niccolo were both very patient and open to trying new ideas. We respected and supported each other throughout the whole shoot.
Working with Ron Smoorenburg has been a great experience for me. He is an extremely patient teacher and a fight partner, he is very supportive and encouraging, which enabled me to grow quickly and gave me a lot of confidence. He has taught me so much about movie fighting and what would look good on camera and what wouldn't. Ron is always open to suggestions and creates an atmosphere that is not only productive but creative as well.
I would say to anyone who is pursuing their dream to become an action actor is to keep dedicating your time and effort to develop your skills to a level that will progress your career. When opportunities arise, you are ready to grab them. It is also a great idea to be proactive in creating your own fight videos so you could show the world your talent."
Niccolò De La Fere About Independent Action Movies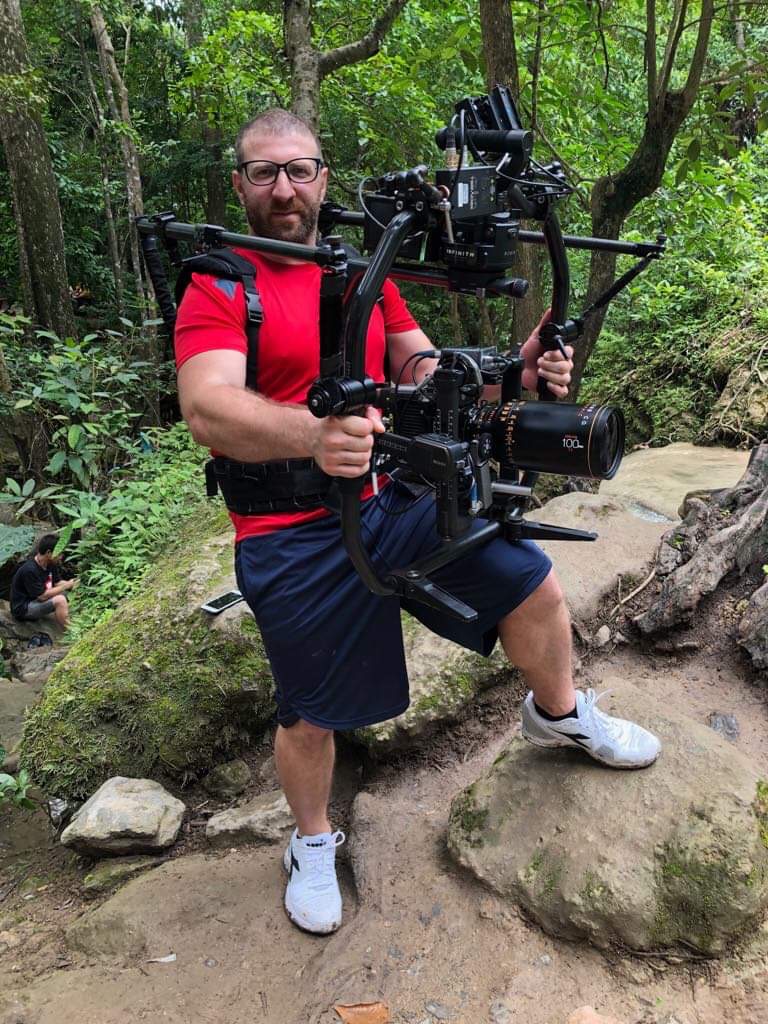 I have often noticed that many independent action movies show enormous potential. Great manpower, terrific stunt-men, and talented martial artists able to crate some stunning choreographies. As a cinematographer though, I always felt the boundaries could have been pushed further. Of course, I totally understand that focusing on the martial art side of things is crucial. Thus, the devil is in the 'details' as they say.
Paying attention to simple things, like the sun direction, or to move complex ones like the quality and placement of the lighting gear, or camera moves just to name but a few, would incredibly enhance the production value. It is not only that, really. I guess that a feature film can unleash its full potential only if taken to a certain height in terms of production value, and get distribution.
The bar is set high these days, you really must ask yourself where the 'standard' in a defined movie genre is at. Believe me, I would really love to see many more martial arts-oriented projects come to life. Like the ones we grew up upon and inspired me so much. I remain hopeful that a new, true 'renaissance' of these genre will take place -and it totally could.! From where I stand, I can genuinely say that as a devoted cinematographer I am, and I will be, fully committed to make it happen.

Final words from Ron Smoorenburg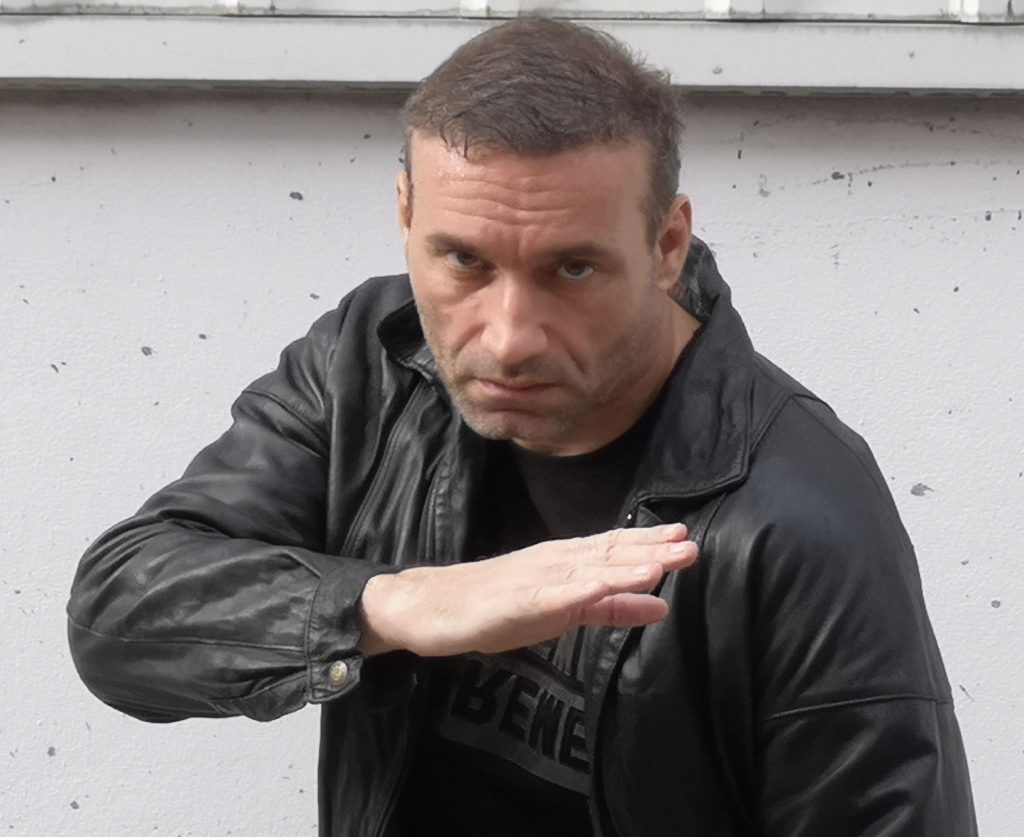 I hope you all enjoy the fight scene, It is amazing working with Ting and Niccolo and we love to share the passion and the love for the art the way we are motivated ourselves. For me Fighting games made me realize that as an action actor, it's good and important to define yourself and create a character with style and Gimmicks. Else you will be always in the background Gamestyle / Gamestyle Combos are how I call the training and developing of these moves (Based on video games)
A great example of defining yourself as a unique style is my friend Mark Stas who I fight in "English Dogs in Bangkok', Mark created his own unique fighting style called Wing Flow, which besides its super effectiveness also looks good on screen. We we'll add more character in a new upcoming movie 'Borrowed Time' with Alan Delabie and another movie with my friend Byron Gibson we are currently shooting called 'Bet Dead Casino'. Finally I will shoot my life project which is a very special drama and action movie. It will bring back the great feeling from the 80's Bloodsport and Rocky movies while mixed with new concepts and YES, fighting game elements.Thats why this fight scene is another step closer towards my final goal.
I want to keep creating and encourage everyone especially in these difficult Covid times to keep developing and believing in yourself, also defining yourself and become the person who you really want to become. The worst thing is, is when talent disappears in the expectations of others/society while you can make a difference in this world. That's why I always say…. LIFE IS ACTION
__________________________________
Social media:
Ting Sue – @tingstone
Ron Smoorenburg – @ronsmoor
Niccolo de la Fere – @de_la_fere_cinematographer
Produced by:
Ben Galazzo, Founder & Director of Primo Pictures Pte. Ltd.
@bengalazzo @primo_pictures
www.primo-pictures.com
Special thanks to:
Marc Parisel (Cam Assistant) – @marcparisel
Stephen Renney (Pre viz) – @stephenrenney
Liam Anderson – (Pre viz) – @liamanderson2000
So Nalina Mua (Make Up) – @so_nalina_sfx
Heawon – @h1films