Alexander Nevsky stars in the upcoming Maximum Impact alongside Tom Arnold, Mark Dacascos, Matthias Hues, Kelly Hu and many more. 
I got to chat with Alexander about the movie the other day.
Your new movie Maximum Impact is out soon; how did it all come about and what appealed to you?
I am a huge fan of the Rush Hour franchise and I've known the creator of the series (and the writer) Ross LaManna for many years;  he's a great guy and I like him a lot. I was also excited to work with director Andrzej Bartkowiak who I've known for many years. I've loved the movies he's worked on especially as Director of Photography with the likes of Sidney Lumet on Verdict with Paul Newman. He was also DP on Lethal Weapon 4 and Speed but he also worked on what I consider the last great Steven Seagal film – Exit Wounds. He also helped to establish Jet Li in the West as an action star with Romeo Must Die and Cradle 2 the Grave. Of course he also directed Doom with Dwayne Johnson; I loved that movie! There are some questions but in general I really enjoy it in total. I am a big fan of the videogame too.
So I was looking for an opportunity to work with Ross and Andrzej together for several years; I think I got the idea in 2014 when I approached Ross and I suggested he write the script and we work together. That's what he did; we created the story together but the script was written completely by him and then polished by him and Bartkowiak right before we started shooting. I always wanted to do an action comedy; I never did one before. We had some funny moments with Casper Van Dien in Showdown in Manilla but I had never done a full on action comedy and that's what Maximum Impact was. As a producer I didn't expect so many challenges as this was my biggest project to date.  It was also the first independent film in Andrzej Bartkowiak's career. He and Ross have always done Studio movies before.
I had the idea in 2014 about Russian guys working with Americans as they try to save the granddaughter of the Secretary of State during a secret summit. It was a different time then where we didn't have the Cold War at all but now this movie is suddenly very timely which is funny how it works in real life.  It was great to work with Ross on the script and developing everything with Andrzej Bartkowiak. Again it was challenging but it was huge fun to work on and it took up several years of my life and it's a long, long road but enjoyable.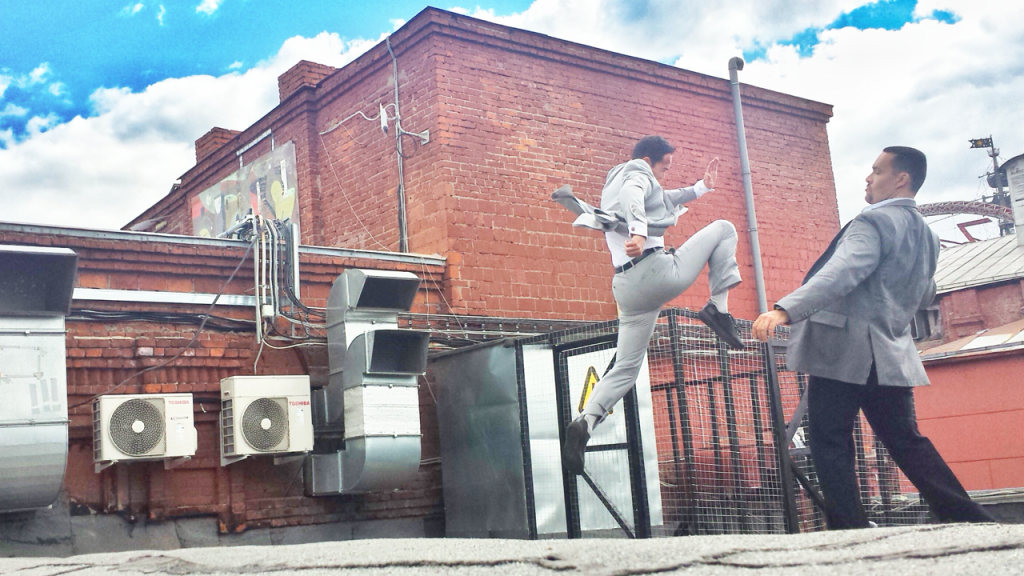 What is your favourite part of the whole process?
For me it's just every movie I work on is this unbelievable magical moment. In most of my films I'm involved in the story or script so when you have just an idea and several months or even years later you watch it all come alive on screen is still a magical moment. I love it since my first movie which I produced and edited (Moscow Heat). That is my favourite moment when you see it all come together for the first time on camera.
Tell us a little about Andrzej's directing style?
One of the great things about Andrzej is that he knows so many things about moviemaking as he is a fantastic DP but also he is a great action director. He is also a big fan of cinema; not just action cinema but the great cinema. He has worked with so many great people. He's a great guy; he is also a tough guy and will fight for his opinion. We never fought though as I was completely supportive and so was he. The finished version of the film is his director's cut and nothing got changed so it is entirely his cut which is rare. He's very talented and experienced; to work with him was easy as an actor but as a producer no as you are always pushed for bigger. On independent  films that can be dangerous as there are like some rules and again Andrzej had never directed an indie film before. I hope you saw the production value on the screen though as it was a lot bigger than my previous films. He was also a great producer on Showdown in Manila, kind of like a consultant on the film but this one is his comeback project and I just hope he will do more movies because he is a great guy and a great director.
You are working again with a great cast that includes Mark Dacascos and Matthias Hues; how would you describe your relationship with them?
When you're doing something you want to work with your friends; it doesn't matter what you're doing but you want to work with them. Mark and Matthias especially are my friends. For Matthias this was our third movie together and with Mark it's our second. They always support me and actually I was a big fan of their movies in the 90's and I used to find a way to watch them in the Soviet Union. I loved them and their work; I was always a big fan of Matthias because he was always huge but could also do amazing martial arts. Mark is an amazing martial artist but he's also a great actor. I think this movie is their first comedy; I don't think Mark or Matthias had done a comedy before. Basically what they show in movies are great action abilities; it's not easy for tough guys to be goofy and funny. They really make fun of their tough guy personas so it's great to watch them.
It's funny you mention the great cast as we had so many people on the Russian poster, then more for the international poster and on the American poster we have almost everyone! (laughs)
Everyone was supportive and great to work with; I never got to share any screen time with Danny Trejo but got to speak to him many times. I hope you also enjoyed the chemistry with Kelly Hu because she is a tough girl but she is not just a black belt but also a really good actress. It was great to work with her.
Tom Arnold in unbelievable; he's a great actor but he's also very funny and supportive. This was also a reunion for Tom, Andrzej, Kelly and Mark from Cradle 2 the Grave. Tom kept asking when Jet Li was going to show up (laughs).
Another person from Cradle 2 the Grave is Anthony Anderson who plays the President. In one of the scenes there's a portrait of the President and it's Anthony Anderson (laughs).  He was supposed to be in the film but he couldn't do it as he was working on Black-ish. So Anthony sent a photo of him and President Obama to Andrzej and Andrzej had the idea to make Anthony the President, at least in that portrait.
Actually I'd vote for him…
Exactly! (laughs)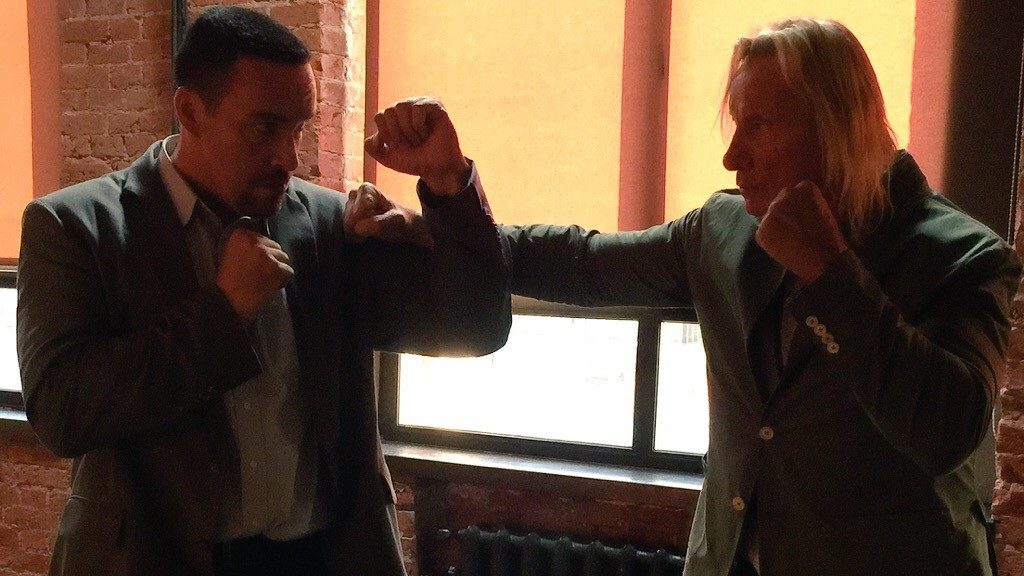 You have some fights in Maximum Impact with Matthias Hues and Mark; can you talk us through putting them together and the challenges you faced?
It was tough as we only had a few days however, it wasn't that challenging because Mark is an amazing martial artist and Matthias is also great. They both are also my friends and we've worked together and they supported me. I did boxing for many years but I never did any karate. I tried kickboxing when I was younger but it was mostly boxing. So they helped me do those things but the other reason the fights look good is the addition of James Lew who was the fight coordinator. He won an Emmy recently for his work on Luke Cage. James is a great guy and Andrzej worked with him before I believe on Lethal Weapon 4. Some of the fights we had James direct them while Mark was co-directing which was amazing. So it wasn't challenging because they're my friends, they're experienced guys and James Lew was always with us. Of course we rehearsed a lot too.
What was the atmosphere like on set? It looked like it would be fun…
Not really because sometimes we had 24 hour shooting days (laughs) so we didn't joke much. Mostly Russian actors and American actors get along very well. It's like having an orchestra; it doesn't matter. You have musicians from different backgrounds but when they start to play music (if they're good) you will enjoy the music. That's kind of what we had with the film; we had a lot of Russian actors actually, established stars in my country and they were all great. We did have a lot of jokes especially from Tom Arnold who joked a lot. At one point we were waiting to do a scene between Russians and Americans but the translators were late. So I was not only the producer on the movie but I was also one of the main actors and now I had to translate everything (laughs). I think I was the one who had most of the fun.
Were you able to improvise a lot of humour or was it all scripted?
Most of it was scripted; actually Ross gave us great material which is also why it worked. It's hard to balance action and comedy. I think we achieved that hopefully because again it was great material from the writer. Don't get me wrong, Andrzej wasn't against improvising especially with Tom Arnold involved, he also liked what we had on the page. I would maybe try and change some of my lines because of the English language spoken by a Russian character who would likely say something different. Andrzej said to me "Alexander when you do the dubbing for Russia you will change it anyway"…  and he was right! (laughs)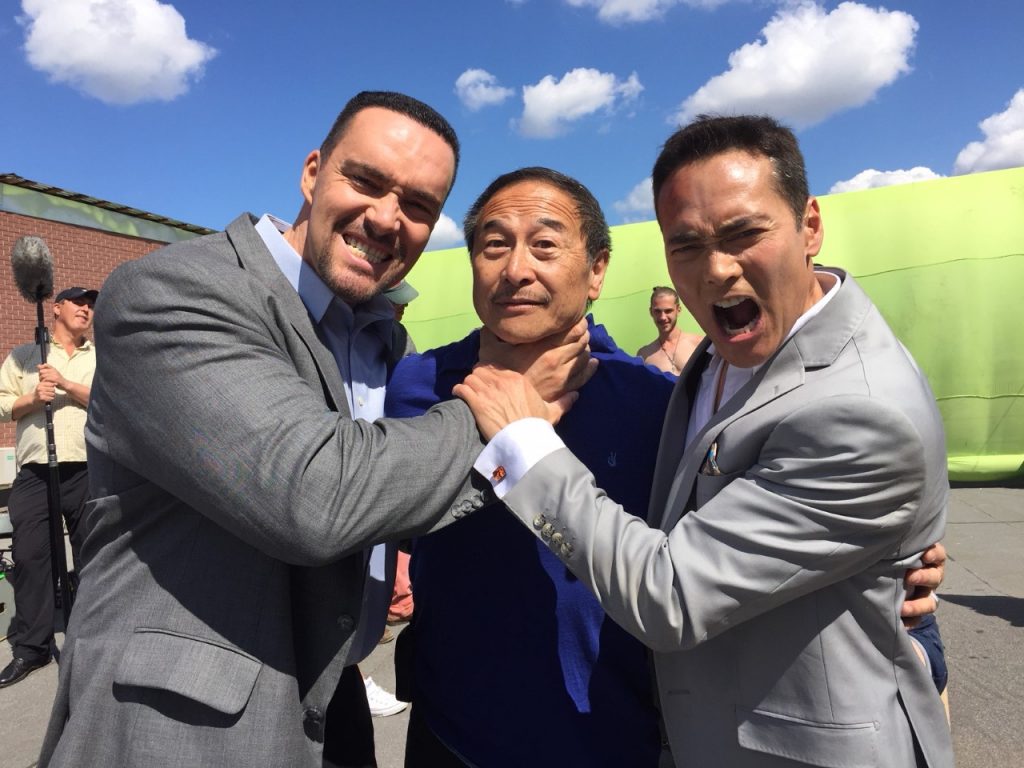 Finally, what do you want audiences to take away from the film?
I would tell you I want the audience to be entertained, I want them to enjoy a great Andrzej Bartowiak comeback movie which is true. But with everything that is going on now in the media between Russia and America; all the Cold War crap which wasn't the case when we initially created the film. Now it's really timely and in real life the Secretary of State should go to Russia and try to fix our relationship. I just hope Maximum Impact will show audiences that Russians and Americans can work together. We should all work together and like each other.
I just shot another movie in Russia called Wild League; Adrian Paul is in the movie and William Shockley from Showgirls and RoboCop. I'm just producing and not acting in the film which is a historical action drama. My real next project is my book because my last book Bodybuilding and the Secrets of Success was published in Russia at the end of last year and became a big bestseller. It's my 10th book in Russian actually but I hope it will be my first one which will be translated and released in the United States. Half of the book is about me and is an autobiography about a Moscow skinny kid who was inspired by Arnold Schwarzenegger's movies and started bodybuilding. The other half is a bodybuilding encyclopedia; how to build muscle without drugs and growth hormones. So my point is with that book I hope I will be introduced to English speaking audiences more properly. I don't want to be seen as the bodybuilder and filmmaker but the guy who is trying to become a bridge between Russian and American because I like Russia and I like America. In my movies it's the same kind of thing; good Americans and good Russians come together against bad people. Of course it's just movies but I think right now we need more movies like that. I hope that will be the main message people take away from it.
The first person who watched Maximum Impact with me was Arnold Schwarzenegger and Ralf Moeller who is an idol of mine; we watched it together. Arnold had also worked with Andrzej before on Twins with Andrzej working as the DP. Arnold loved the film and after watching it he said "Alexander, this is a timely movie". Yes it shows people in a funny way but the idea of Russians and Americans working together, not killing each other is what's important.