Hong Kong's highest grossing director, Dante Lam, will soon be releasing his next action-packed film, The Rescue. Arriving in theaters just in time for the holiday season, the film chronicles a Chinese rescue team's death-defying mission to save survivors of a fiery offshore catastrophe. Comprised of men of women from various backgrounds and led by a maverick captain (played by heartthrob and action star Eddie Peng), the unit must set aside their differences to face escalating challenges across air, land and sea. In addition to Peng, the film's ensemble cast includes Xin Zhilei (Crosscurrent) and Wang Yanlin (Operation Red Sea).
The Rescue is, to date, the largest Chinese film production set at sea. Many water scenes were filmed at Mexico's Baja Studios facilities, which was first built in 1996 for James Cameron when he filmed his epic "Titanic." The Rescue used the studios' largest tank, which has a water capacity of 640,000 cubic meters and can become an infinite horizon pond that joins seamlessly with the Pacific Ocean.
To ensure that every shot was as realistic as possible, the visionary director worked with seasoned filmmakers such as Production Designer Martin Laing (Pearl Harbor, Titanic and Clash of the Titans), Special Effects Supervisor John Frazier (Spider Man, Transformers and The Pirates of the Caribbean series) and Academy Award-winning cinematographer Peter Pau (Crouching Tiger, Hidden Dragon, The Forbidden Kingdom) to bring this audio-visual spectacular to the silver screen. The production included real helicopters, rescue vessels, and a retired A320 airbus to ensure the film portrayed authentic scenes of rescue missions. In addition, The Rescue's epic visuals were achieved through some of the world's leading digital effects companies including Scanline VFX (Avengers, Godzilla), Digital Domain (Avengers: Endgame, Ready Player One) and Macrograph VFX (The Wandering Earth, Operation Red Sea).
Watch the latest trailer here and a behind-the-scenes look at the production of the film here.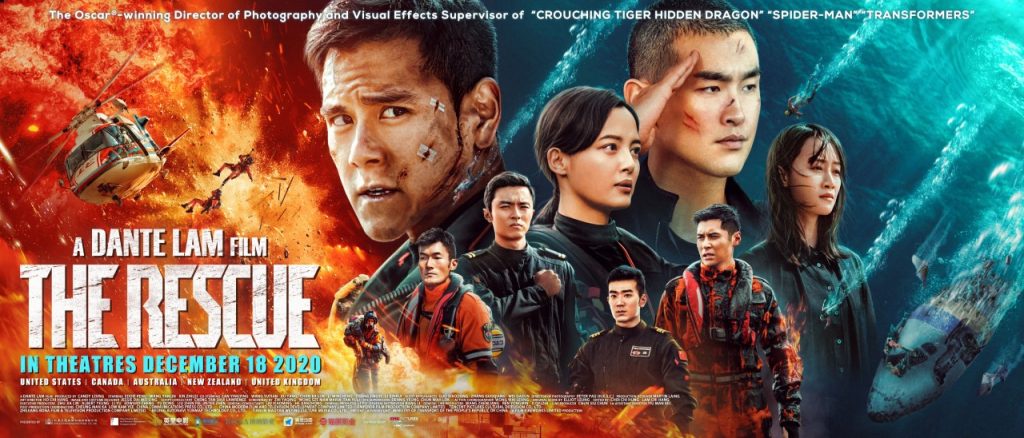 The Rescue is the first film to showcase the China Rescue & Salvage (CRS), a lesser-known division of the Chinese Coast Guard. Founded in 1951, the unit is charged with responding to all maritime emergencies on Chinese waters, which range from shipwreck salvage missions to marine firefighting. After learning about the CRS five years ago, Lam became determined to bring the stories of these unsung heroes to the big screen in a very big way.
"CMC Pictures is proud to release The Rescue in North America where we believe there's an underserved audience for expertly-crafted action movies made by masters of the genre," said the CEO of CMC Pictures. "From the film's breathtaking aerial stunts to its jaw-dropping underwater scenes, connoisseurs of action cinema will be blown away by Dante Lam's breakneck direction and spectacular set pieces."