Bren Foster stars in the upcoming Deep Blue Sea 3 and he also worked with Steven Seagal on Maximum Conviction and Force of Execution; he stopped by to chat with us about them.
---
How have you been keeping fit and sane during this strange period?
It's been a struggle at times, by that I mean motivational, but I have the discipline to ensure I do it daily.
I have a small training area in the back of my house where I train both my martial arts and strength training programs.
Deep Blue Sea 3 is coming soon; what can you tell us about it and your character Lucas?
I don't wanna say anything to spoil the movie for anyone. But the movie looks great, beautifully shot. The South African crew were amazing. All the actors worked hard and honored their characters.
My character Lucas is an extremely focused person. Loyal and committed to his job, and a formidable person in all ways. He's there for the greater good, but no price is too high for him to get his job done.
What appealed about the script?
It was pretty exciting, and I've always wanted to do a shark movie. But I promise people are going to be pleasantly surprised at how good this movie is.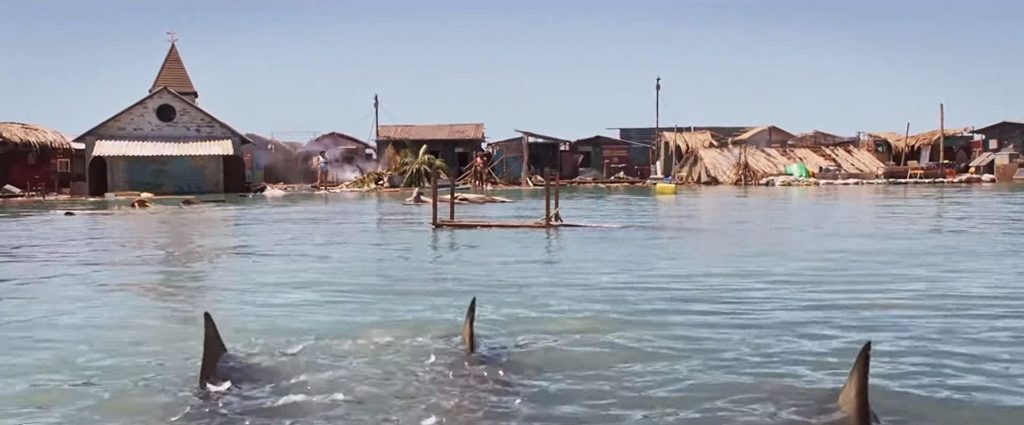 Did you have to learn any new skills for it?
Not really, I can say I did A LOT of scuba diving preparing for the role, but I have done scuba diving before, just not this much of it.
What can we expect in terms of action this time around?
You can expect some great action overall. Some super intense shark action.  And you WILL see some good martial arts action, so people are gonna have to watch the film to ensure they don't miss it. It will be well worth it.
How did you find working with director John Pogue?
John Pogue was an absolute pleasure to work with. I found him to be a caring director, taking great pride in his work. John worked closely with each of his actors and genuinely listened. I feel John's passion greatly contributed to making this movie a success.
What would you like audiences to take away from it?
It's got some deep rooted messages about climate change and human ethics. But I would like the audience to just let themselves go and just come for a great fun ride which this movie is, and if they do that, they will really enjoy themselves. I also think each individual will probably take away something different depending on what resonates with them.
You worked with Steven Seagal on two pictures – Maximum Conviction & Force of Execution; what did you take away from those movies?
Mostly that I have good memories of working hard with good people, that I still remain in contact with today and will hopefully work with again soon.
On a scale of 1 to Awesome how did it feel to provide the voice for Max Rockatansky in the Mad Max videogame?
Haha come on it's mad Max, that's gotta be a 10!
You worked the fight choreography on Bad to the Bone; are you interested in coordinating more fight scenes in the future?
That was a one off and a student film. But moving forward I've gotta be honest and say that I mostly choreograph all my own fights. I won't really choreograph fights unless it's for myself as an actor.
Any plans to direct in the future?
As of lately it's something I'm becoming more interested in, so yes quite possibly in the future but not right now.
Are there any major big franchises you'd love to be a part of at some point?
There are some great franchises out there- Marvel, DC, Fast & The Furious and if the right part came along and I fit the shoe size then hell yeah. But either way I love to work. So if it's a big franchise, a TV series or an independent movie, I'm happy and I'll be giving it 100%.
What future projects do you have coming up?
I was set to be filming a new movie in July in Australia but due to the Corona Virus production halted and was set to be rescheduled. So until the industry opens back up I won't know exactly what comes next. But I'm sure some exciting things are on the way.
Thanks for stopping by and all the best with the movie.