After DC's Wonder Woman, The CW's Supergirl and more recently Marvel's Captain Marvel became huge successes, there is no denying that audiences want to see more stories of female empowerment. While these examples are aimed at an older demographic, Warner Bros. Animation is targeting a younger generation with the reboot of DC Super Hero Girls. The relaunched series by the Emmy-winning Lauren Faust recently premiered with DC Super Hero Girls: Sweet Justice and currently has new episodes airing every week on Cartoon Network.
Bringing new musical life to the beloved characters of Wonder Woman, Batgirl, Bumbebee and Supergirl is composer Michael Gatt. You may have heard Gatt's work on Syfy's fan favorite Blood Drive, for which he garnered recognition for his eclectic score. In the below exclusive interview Michael discusses everything from the character's signature sounds to scoring the series like a film.
-Did you ever go back and listen to the themes from the original Wonder Woman series or recent film to get inspiration for the Wonder Woman character in DC Super Hero Girls?
The show is such a fresh take on these characters, the goal was to do the same with the score. For Wonder Woman, the idea was to play in to her Amazonian Princess heritage as a warrior as well as royalty. Additionally, in the movie we find out that Diana is "only" 317 years old! Thus for her scenes, we are often leaning into ancient instruments like the Shofar, Duduk, large drums and often use high flute to sting her moments and play her theme. There are no direct references to existing musical takes on her character with the exception that the eminently talented Rupert Gregson Williams also used Duduk in the Gal Gadot Wonder Woman film.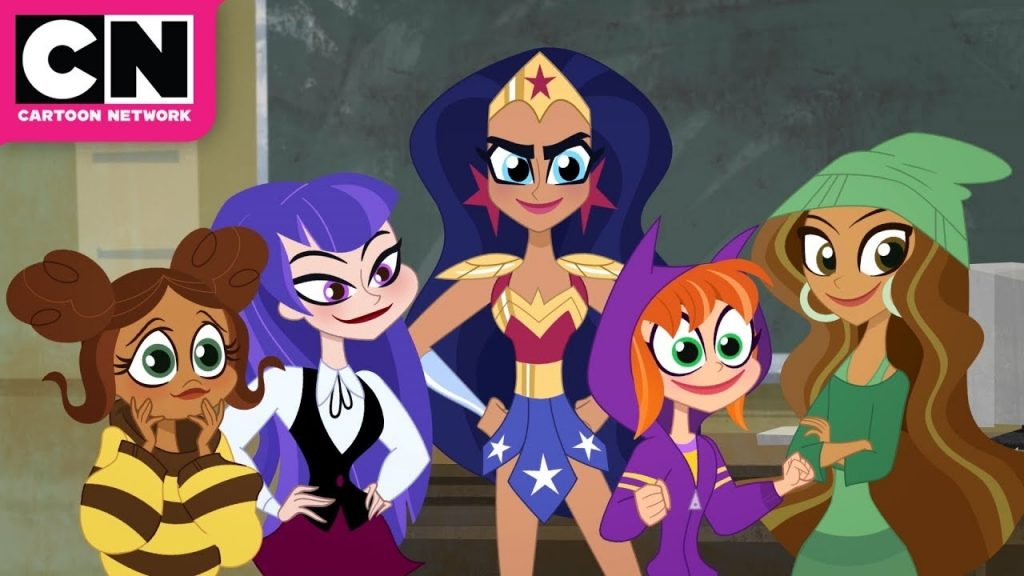 -The same for The CW's Supergirl. Do you ever watch that show just to listen to the score and see how the other composers are scoring these same characters?
Kara/Supergirl has a ton of attitude in the show, a rebel and a rocker, so she is scored with rock, pop punk vibe…loud guitars, drums and bass. In the Sweet Justice movie she even plays a flying V guitar…Again no reference to existing scores for her.
-You are currently scoring the DC Super Hero Girls series and you also scored the film DC Super Hero Girls: Sweet Justice. Musically, did you approach these two projects differently even though on is a tv show and the other is a film?
There was a lot of collaboration between myself and Lauren, Jenn and other creatives in service of Lauren's overall vision for the show and the score. Along with each character having their own theme, they also have their own signature instrumentation and genre. We would spot a scene or just talk about the characters and throw out ideas for how to approach them. Then I would send back music and we would start again, with new ideas or revisions, repeating the process until we felt like we had it just right.
This actually started with The Late Batsby, a theatrical short that played in front of the Teen Titans Go To The Movies film. In it we hear what has become Batgirl's signature 60's surf band sound, with big brass stabs and lots of fun guitar. For Bumble Bee we do 8 Bit Electronica, Zatanna, EDM and so on.
-Is there some sort of DC guidebook that everyone who works on DC projects shares, so the brand stays cohesive?
I don't personally know of any guidebook, with that said, my experience has been everyone involved with the show is extremely well versed in all the back stories and crossovers of the DC Universe canon. Having been a longtime fan of DC comics before working on the show, I thought I was already pretty knowledgeable, yet every time I go to an episode spotting session, I learn something new.
-Did you have any input on the opening credit song of DC Super Hero Girls?
I did not have any input on the opening credit song, that said, I love it!
Kay, Michelle and Dan knocked it out of the park.
I have historically always scored the main title for any film or series I do the underscore on, so I was really keen to hear what the show decided on for the opening credit.
I was an instant fan when I heard the track.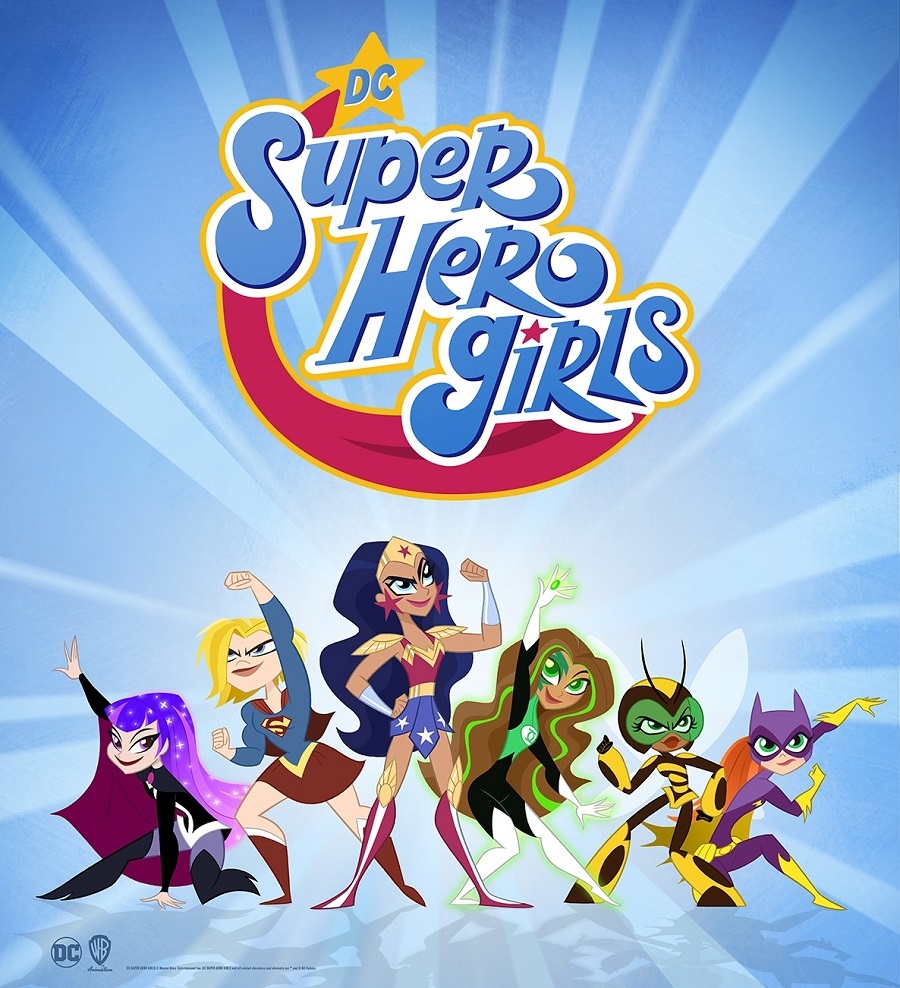 -In the episode "Meet the Cheetah" there is everything from synths to what sounds like an African flute. What is that Amazon sounding instrument that is the cheetah's theme? Is it ever hard to transition these very different sounding instruments/tones without it being to jarring?
I loved that episode and it's a great example of how each episode of the show is like a standalone film. While I'm always leaning into the themes and sounds that we've established for the show, unlike most serial television scores there is very little or no reuse of score from one episode to the next, each one is a blank page. The Cheetah episode is a great example, calling for everything from haunted horror, to exotic world instrumentation and hero moments in their individual themes. For example, during the scene when the score is playing up Cheetah on the hunt and Bumblebee has her "hero time!" moment, the score breaks into her signature 8 bit electronic sound.
As for the instrument you asked about, when Barbi is inside her Dad's trophy room, I leaned into all kinds of world instruments like the Dundun, Dholak and there is a wood flute sting as well which gets revisited throughout the episode.
-DC Super Hero Girls is aimed at a younger demographic. Does this affect your score at all?
The show is very smart, funny and for me tracks across all demographics.
I score the show like a film…sometimes we are playing things for comedic purposes, like a soap opera esque cue, but overall we stay in a very cinematic space, with epic fight music and dramatic/emotional underscore that is very sincere for heartfelt moments. As well, I do plenty of "source" music for the show, music that sounds like a song but is actually score to picture.
Speaking of songs, I also get awesome opportunities to write songs with Lauren at certain points in the series. Such as the "Greatest Team" song that appears in the Sweet Justice movie. It comes on the radio while Babs is reeling from what seems like the dissolution of the team. She goes on to sing along with track and really fun.
-Each of the character's themes are very different. Do you have a favorite?
It's funny, I have a new favorite each week, I really do enjoy them all. They're so well written and the character design and art direction are just amazing and then there's the incredible voice acting. Everyone on this show just brings it, so it's hard not to just be totally into whatever characters I'm currently scoring. The same goes for the score in each episode. For the #HateTriangle episode there is a demonic choir underneath Star Sapphire, her character is already so outrageous, scoring her that way was super fun and makes me laugh every time, conversely I had a lot of fun scoring Hal portraying another version of himself in the same episode. Cut to the #Beeline episode, which is all about Bumblebee and playing up her 8 bit sound….that said, in that same episode, I got to score a villain role call, a band Kara was seeing at a club, some chill music Z was listening to while reading, Jess picketing a restaurant, and even the music coming from inside the restaurant and on and on making for an extremely rewarding experience. Then there's #BurritoBucket which is all about Batgirl and her surf music sound/theme only in this episode we also went full mariachi with her sound as she is trying to balance being a super hero with keeping her job at the Burrito Bucket restaurant.