Craig Fairbrass is the award winning (Best Actor at the Marbella Film Festival for London Heist, Best Actor at the National Film Awards for Rise of the Footsoldier III) actor who has starred in many hard-hitting action movies including the classic Cliffhanger with Sylvester Stallone, the Rise of the Footsoldier franchise, Villain, the upcoming Muscle and many more. He stopped by The Action Elite and we chatted about his career and the Footsoldier series.
---
I just watched The Footsoldier series on DVD and loved it; how much did you know about The Range Rover Killings beforehand?
Well it's funny; I remember very vividly I was driving my kids to school to drop them off and I always remember listening to the news that morning because it was unusual and it wasn't every day that 3 guys were murdered in Essex in a Range Rover with their heads blown off. So I think everybody's sort of fascinated by it; I remember going home and turning the news on and watching the live news cast from Essex and thinking to myself "I wonder what's happened there?"
The funny thing was I had friends that lived that way and years later and they always use to say to me "You know, if they ever did a film about them 3 you'd be great as the big one, Pat Tate!" (laughs) I was a lot younger then and all of a sudden, I think about 5 years later they did a film and I couldn't get seen for it and they obviously cast Sean Bean in the first one they did. It was based on the Range Rover killings called The Essex Boys. Fast forward many, many years later I was in Vancouver shooting a film and a friend of mine said to me "I've got this script that's just crossed my desk; it's about those murders in Essex. I've read it and you would be absolutely fantastic as the Pat Tate character." So I asked him to send it to me; "I'm flying back tomorrow from Vancouver to LA for another 2 weeks and I'll have a read of it." It was one of those roles where I would pay or kill to play this role because it was just such a standout character. I remember flying home and luckily enough purely through the people I knew I ended up getting a chance to meet Julian Gilby who was going to direct it. He said "you were the first person who sprung to mind for this character"; we had a couple of meetings, read the script and met some more people and then they asked if I wanted to do it. I said "just give me the chance to show you what I can do!" (laughs) and it all worked out funnily enough. Sometimes it does and sometimes it doesn't but on this particular occasion it really worked out.
What do you think the appeal is to audiences about this story in particular?
You know what? I've asked myself the same question; I don't know but there is a massive fascination for it. I think it's the same fascination I had when I was listening to the news driving the kids to school. It was a time when anyone getting murdered in the UK was quite a big deal. When you have 3 guys murdered together in a car all with gangster backgrounds, all heavily involved with the drugs, the E's, the cocaine, all their own separate characters. I just think that's the whole fascination the mystery and to top it all the cream on the cake was they never really knew (even though people got nicked for it and went away to prison) who actually did it. There was no actual concrete evidence who actually killed them. I know there's been many films played about them; I've been offered most of them but I'm proud to be a part of (and I can hold my hand on my heart and head up high to say that) the best ones. I think Rise of the Footsoldier was a ground-breaking film surrounding the actual subject.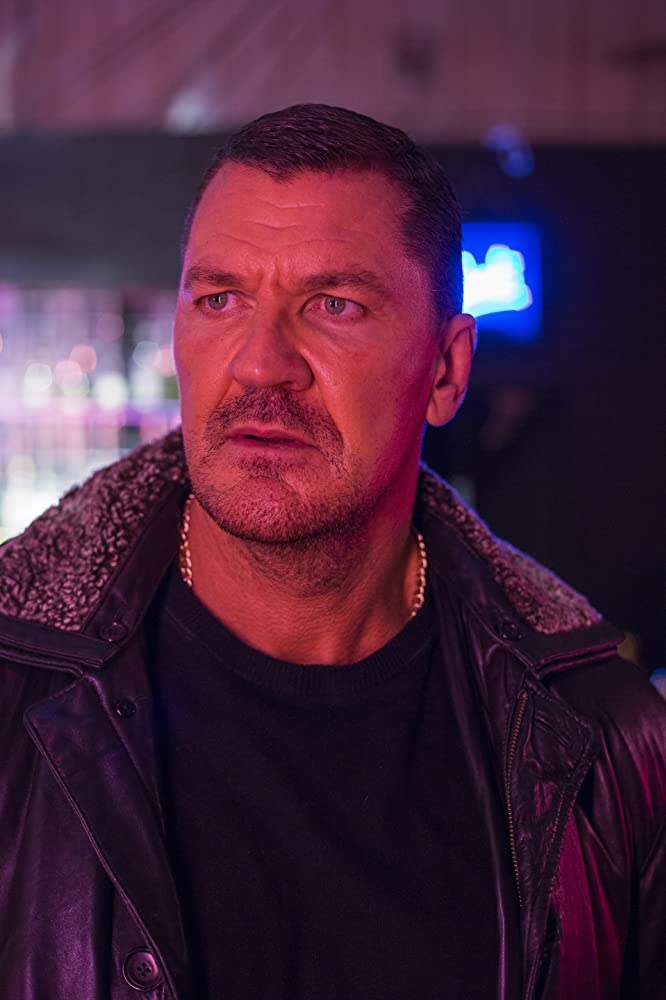 Did you do a lot of research on Pat before filming?
Yeah I did, I mean I read the book Bonded by Blood and there were a couple of other books that Julian gave me because I purposely went a different way when I got killed in the film. I sort of sprang it on everybody because I knew in the book the way he died. So even though he was this aggressive, larger than life character when you watch the film, he died how they said he died in the book. I sort of went against it cos everybody's expecting me to be this big tough geezer but I think that really worked well in the film. He basically died like a coward pleading for his life.
You worked the doors on some nightclubs in your younger days; did your experience help make the club scenes more authentic?
My family had their own problems growing up; my dad's brothers did their prison time and so on. I grew up in a part of London where all my mates were either banged up or working on doors. It was as simple as that; that was the part of London that I grew up in. Then you go through the football stage and all of that then you sort of turn a corner when you're 22/23 and I always went to the gym. All the mates I knew run doors and as I got into my early twenties I just did it and I had to do it because I had no other means of money; I was tiling roofs or laying asphalt in the daytimes and going to Gordon's gym in Woolwich with the fellas I work for and they all worked on the doors in the evening. So it was just a natural progression of people you knew saying "do you fancy earning an extra few quid on Thursday, Friday and Saturday night?"
My best mate was running the Camden Palace at the time with Lenny Maclean and all the other faces up there; we were just working in circles. To be honest with you I had two babies at the time and that saved my life that job. To answer your question, it did sort of help; you do see a lot of sights on the door in the days when it wasn't regulated like it is now.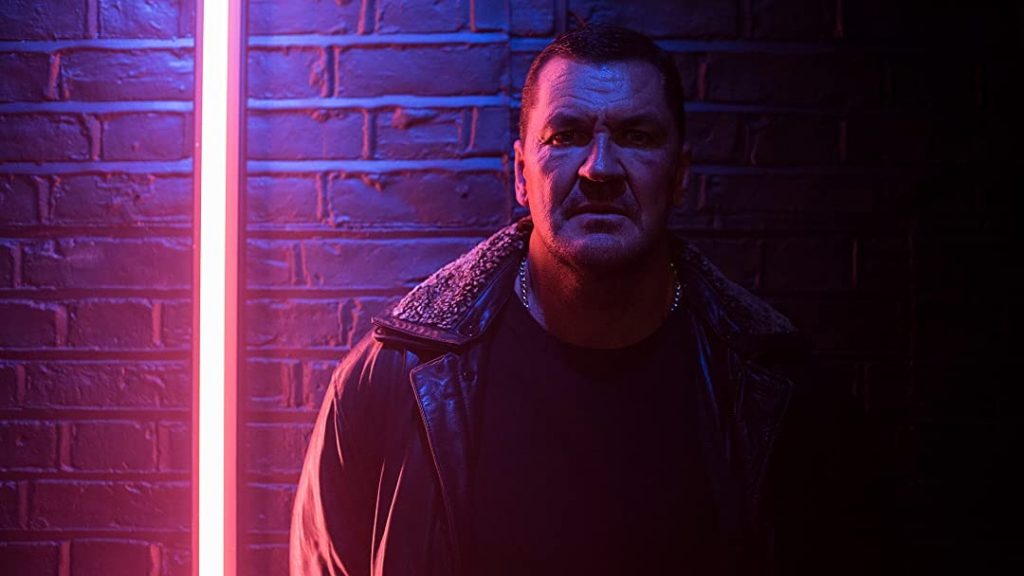 It's a series that could keep going; if there's a story that can be worked out would you like to return as Pat in some way?
To be honest with you after the last one I came away from it and said that's it; I was really pleased with the film and I was really happy with number 3 and obviously number 1 speaks for itself. I turned around and I said to everybody "that's it for me". I'm really, really grateful. I've have some other films due out Villain and Muscle and my career is moving well in the indie film World; I've been offered some other films. But due to what going on with the corona virus they are all on hold. Saying that I'm really good friends with producer/Director Andy Loveday who is a very smart producer – filmmaker. We were playing golf in Marbella recently and always talking and he came up with two different ideas and I was like "hmm yeah, yeah that could maybe work" so we're in conversations now funnily enough, so never say never. It's just gotta be right.
Do you have a personal favourite scene from the series that stands out for you?
I think in the first film it's the pizza cutting scene; Julian Gilby is amazing at shooting violence and action. He managed to capture that ferocity of Pat in a very disturbing visceral way. For me it was a standout scene and I still get people messaging me about it even now. As the films went on as they asked me to do number 3 I got a chance to do some really good scenes. I always gravitate more towards the character driven stuff where you can show us a different side. In number 3 I liked the scene where my girlfriend came to the prison just to disturb people. If you can do scenes where you can actually disturb people and affect them in some type of way, then it shows you're doing your job as an actor and the scene with me and Kenny in Marbella doing drugs in the Hotel – totally improvised off the cuff was Andy Loveday's idea and it worked, really showed the nutty side of Pat. So yeah, those bits I really liked. I ended up winning Best Actor at the National Film Awards for number 3 so it worked out. They gave the character just a couple of more layers; he is a one-dimensional guy Pat, but I tried to show some emotional side to him as well as the fucked up side.
It's funny, you like him but at the same time he's utterly terrifying.
(laughs) It's true isn't it? It's a very fine line playing that stuff; without sounding too lovey-ish I do take the acting very seriously. I care about it and I love it. It's such a fine line as you can so easily overdo it or you could so easily underdo it. You'd hate to play a part like that and not be terrifying in some shape or form. I remember one of the reviews saying that some of the stuff I did in the first film was some of the most unsettling stuff they'd ever witnessed on film because Pat was just such a force. He was just a psychotic turn-on-a-sixpence type of man. It was nice to actually get to do that on film and for it to work. Very rewarding. The fans have always showed the appreciation of how I played role and that means the World to me.
I've been telling my friends about it here in North America and anyone who has watched the series has really enjoyed it.
All the films have been picked up in the US but they are for a specific audience and if you do love that visceral gritty violence especially in the first one; we touched on it in number 3 but number 4 is a little bit softer and lighter and fluffier in tone with more humour. But if you do like that style of film and allow yourself to say "fuck it, I'm gonna watch it!" people who love that type of film I think will like it.
Yeah fans of this site tend to really enjoy the series but maybe we're just weirdos that love violence…
(laughs) I agree with you a thousand percent when I saw that piece you wrote; I thought it was very observant piece. You've touched on some things and you noticed things that I appreciate.
Thanks very much. I'll keep spreading the word!
Moving on to one of your other recent films; you played Scott Adkin's brother Lincoln Burgess in Avengement; what was that like to work on?
Yeah, it was great to work on; I'd met Scott at a premiere and have always been a fan. I think he's great at what he does and is very underrated.  He's gonna massively have his time I think; we met briefly and he said "Oh Craig we should so something". Scott's very talented at what he does; only a handful of actors can do what he does; he's so eloquent in the way he moves he's like a ballet dancer. Watching him fight and kick and punch it's actually really enjoyable and amazing to witness firsthand. Some time passed but then Avengement came up; I liked it because the last thing I wanted to do is try and do is that style of fights. I can do a little bit of that stuff but my gear tends to be more vicious violence than choreographed action . So when I read that script I thought "I'd love to do that; to play his older brother who's dark, horrible and not to be trusted."
I jumped at the chance to be in the film and Jesse Johnson is a lovely,  smart, switched on, film literate man and knows what he's doing. I only did a week on it but I really enjoyed every day. I stood there watching Lee Charles and Mark Strange the stunt team with Scott overseeing and Dan Styles overseeing everything; I mean he does that fighting stuff like he's wiping his arse; it's like second nature. I watched the film and I just think it's incredible how they did that, that was one massive fight scene; it went on and on and a lot of sweat, pain and effort went into those fights and the film spoke for itself the fans went crazy for it.
What do you normally like to jump off the page when you read a script?
For me now it's more about character; I'm looking for someone who's interesting. I love finding them tough characters who've got a little bit of an Achilles heal, anything that makes them interesting. Anything I can get my teeth into as an actor where I get to show what I can do physically or preferably more on the emotional front. With Villain I mean talk about smashing it; that little independent British film did great business. The  I've had from people and even the reviews I've read on IMDB it's been such a positive experience. The messages of  gratitude and appreciation have been truly overwhelming, from me to be able to be given the chance to play that character. I always saw it as a cross between Shane and A History of Violence. You can somehow find those big strong characters who are just that little bit damaged and are just so great to play. If the writing is good and it's got a gripping story you're halfway there.
I really enjoyed Villain; is it one of your favourite roles?
Oh without a shadow of a doubt. It's a funny thing because Bart Ruspoli who produced that film gave me a role years ago in an action/horror movie called Devil's Playground after being introduced to Bart by Jonathon Sothcott who said to me I have the perfect role for you ; I played a character called Cole who was a mercenary, a similar type of thing but not as full-on as Eddie. He was a mercenary who had a weakness and you get a little more chance to act as opposed to just tough character who's on autopilot.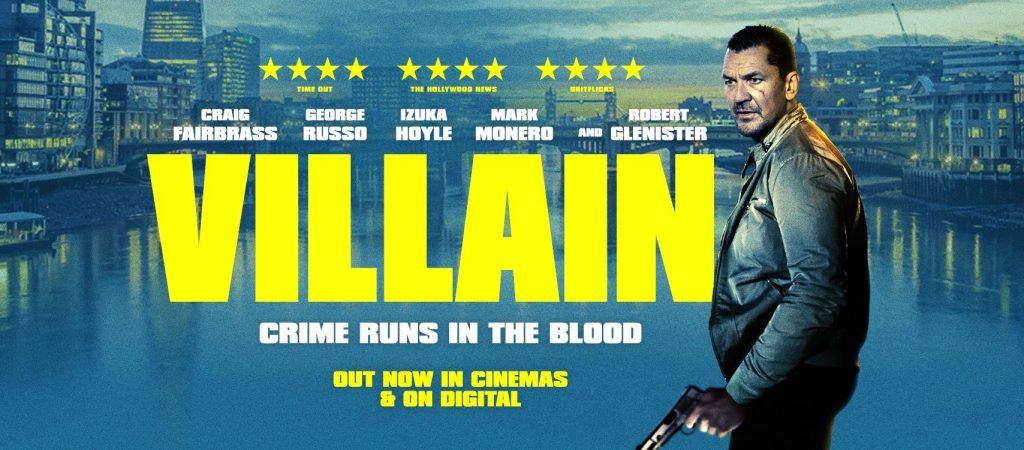 What do you like audiences to take away from Villain?
I would love them to take away that there are still solid independent British thrillers that are just entertaining, got a great story and people appreciate it. I know for a fact that regardless of budgets whether they're big giant American movies or tiny shoestring foreign films if you've got a great script and some good actors and a good story and it's executed well with good music you can make a little gem. I am so proud of Villain and it's a good film. At the end of the day no matter what you say it's a fuckin' good film.
Where can we catch Villain?
Villain is currently doing great business and is available to buy and keep on Sky Store. Also showing on Amazon Prime and iTunes. Let me know what you think… good or bad ( laughs).
You've been doing some voicework on videogames; what were they like to work on?
Yeah I was lucky enough to do 5 Call of Duty games voicing various characters. Very enjoyable. I did  Battlefield V which is motion capture in a chapter called Under No Flag where I play a character called Mason. It's kind of a two-hander with me and a young soldier which is really enjoyable but hard work. Motion capture is really long-winded and takes forever and I went over to Sweden to do that. Then I did another one called Star Citizen: Squadron 42 which has Gary Oldman in it, Henry Cavill, Gillian Anderson, Ben Mendelsohn, Mark Strong and just full of massive stars. I was just pleased to be asked (laughs). I was so pleased to be involved in a game with people like that; it was really amazing as I'm a huge fan of all those actors.
I saw the trailer recently to Muscle which looks great; what can we expect from that?
Muscle is a superior film I gotta say; I was very, very lucky and fortunate to be offered that role. Gerard Johnson is an absolute genius, incredible writer and storyteller and an incredible director/film maker. Really deep fucked-up psychotic character called Terry who is the personal trainer from Hell. It was one of the most enjoyable periods of my life as an actor. One of those jobs I couldn't wait to get up in the morning, brush my teeth, get out the door of the hotel and get to work; it was phenomenal. The material was so dark  and so original and fresh and just so exciting to do and I'm so proud of the film. I mean it took my breath away when I saw it at the London Film Festival. I was so proud; I mean I'm not a lover of watching myself but every now and again you do something where you're like "you know what? I smashed it there!" like Villain. You know in your heart and your gut that you've done your job; you've done what you were paid to do. So yeah, great script, really different and I'm hoping that people look at it and look at me in a different light.
Going way back to 1993 here and Cliffhanger which is one of my all-time favourite movies. How was that experience?
It was absolutely incredible; funnily enough someone messaged me and I put it on Twitter the other day about the 10 things you don't know about Cliffhanger. I watched it and thought to myself I remember the first time I turned up on the set there; I flew to Italy as I had just finished shooting Prime Suspect in Manchester. I had the day off, got on the plane and flew to Venice. A car picked me up and I remember driving cos I had to go straight down to production. I remember seeing just the whole setup and facilities for the film with all the trucks and trailers just everything about it. The scale of the film with the helicopters going backwards and forwards it was quite overwhelming to be honest with you. It was an incredible experience because it works in a strange way in America; I was there from the first day to the last day which was about 4 and a half months in Italy. It was an amazing experience as I was a massive Stallone fan at the time, so it was a dream come true to work with him and just meet him. It was also a dream come true to meet and work with Renny Harlin as Die Hard 2 was my favourite action movie of all time at that time. I just loved action films set in the snow like On Her Majesty's Secret Service and Die Hard 2; I just love those films. I ended up having a very small part in a massive film, but it was an incredible experience that I'll never ever forget. I'll be eternally grateful for it.
It moves me when I see the people in the NHS who have put their own lives on the line to save others.
What other projects do you have coming up?
I got a bunch of things coming up, but this fucking poxy virus has kind of put a hold on things (laughs). I got a nice little thing that popped up across the pond where I had a meeting with the director and that's looking really good. There are about 4 or 5 things here in the UK that are bubbling but I don't like talking about stuff until it's all signed, sealed and done. I'm very superstitious like that. Some really good stuff though. If we can just get rid of this COVID19 so we can get on with things that would be great. It's really just changed everybody's life; I keep using the word "surreal" but this is just like living in a  pandemic film. All of those things that you watch in movies about pandemics have sort of happened. You look at New York it takes your breath away and then Italy it's just so sad. People are now starting to abide by the rules and they are in lockdown; I know it's difficult for everybody but somehow we've gotta get through it. It moves me when I see the people in the NHS who have put their own lives on the line to save others. It puts your faith back in human nature. You think that times are bad but when shit hits the fan properly it's so beautiful to see people work together to become one.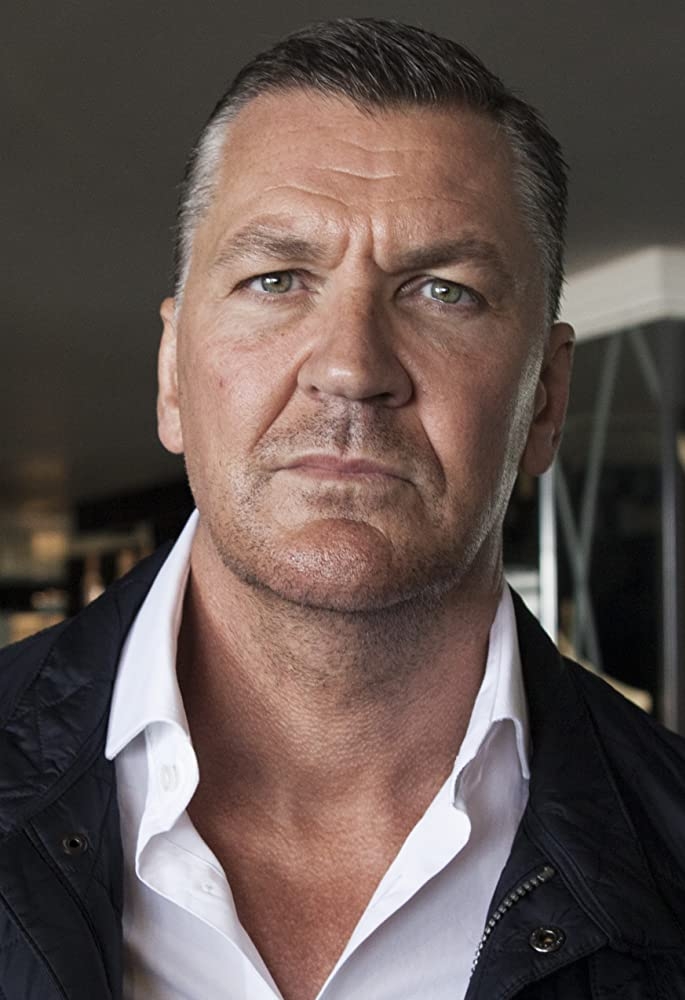 Fan Question – Peter Kane asks: would you still like to do a remake of Horror Express?
(laughs) It's funny I'm a massive horror fan and I love all the Hammer films. I love action horror most of all and I'm a Jeepers Creepers fanatic! I love that type of movie. After I did Devil's Playground Jonathan Sothcott said to me, "I've got a great idea; we should remake Horror Express, but we should concentrate more on making it mercenaries on a train like Dog Soldiers fighting this monster". I was like "Yes! That sounds amazing! I wanna do it now!" I think it's the action in a contained space with the monster locked down. Yeah, I'd be up for that all day long.
Fan Question – Cameron Sullivan asks: what's your favourite TV Guest spot as he was a big fan of Stargate SG-1?
That's a weird one (laughs); how I ever ended up on Stargate SG-1 I don't know. I got a lot of stick for that. The only Cockney in space (laughs). I enjoyed the Sarah Connor Chronicles actually with Lena Headey; I really enjoyed doing that. I should have stayed as the guest star roles were just starting to kick in because once you start nicking a few of them in the US you get seen by more more casting directors. But I had to leave LA to deal with some personal family matters.
Thanks so much for taking the time to chat and I hope you and the family stay safe and healthy in this frankly bizarre time.
You too, thanks very much and stay safe.
 All Photos courtesy of Craig Fairbrass