Scottish acting legend David Hayman (The Boy in the Striped Pajamas, Rob Roy, Vertical Limit, Fisherman's Friends) stars in the new hard-hitting British action thriller Bull where he plays mob boss Norm.
Bull stars Neil Maskell as a vicious mob enforcer seeking revenge on the gang that double-crossed him. Ten years after he was last seen, Bull (Maskell) returns home to methodically track down those who betrayed him and find his beloved son. With the ominous warning: "I'm coming for all of them," Bull stalks his former gang, leading up to a savage showdown between his wife and her mob boss father (David Hayman). 
I got to chat with David about the film which you can check out below.
---
I recognize that accent; where are you from? (laughs)
A wee place called Glasgow but I live in Toronto now.
Ah you can take the boy out of Glasgow… (laughs) great stuff. Toronto is a great city.
Yeah, I love it. So, my dad actually says he knows you from back in the 80s. I don't know if you remember as we're talking 40 years ago – Eddie Friel from the Glasgow Tourist Board.
You're joking!?!?! Is that your dad?
That's my dad.
Oh, wow, I do remember Eddie, how is he?
He's doing great, he recently turned 80.
Oh good for him; please give him my very best!
I will do.
So today we're going to be chatting about your new film Bull. What was it about the story which grabbed your attention?
Well, the script which is a terrific story and it just grabs you by the short and curlies and hurtles you along. I think it's uncompromising. I like Paul Andrew William's work as a director. He was putting together a terrific cast. It was a no brainer. But yeah, the first in the beginning is the written word. The script has to leap off the page at you. The character has to slip off the page and you have to have find something that you think, "Yes, I can bring him alive". Once that goes, it's a big, exciting process where you think "yes, I can do it. I could do it!"
When I was speaking with Neil Maskell the other day about the film, I was asking him how he reacted when he first read the ending. He said the director ruined it for him and said it's basically High Plains Drifter. Did he tell you that too or did he let you read it?
(laughs) No, he told me after I read it. I think, yeah, I think he told me after. It was a fantastic ending.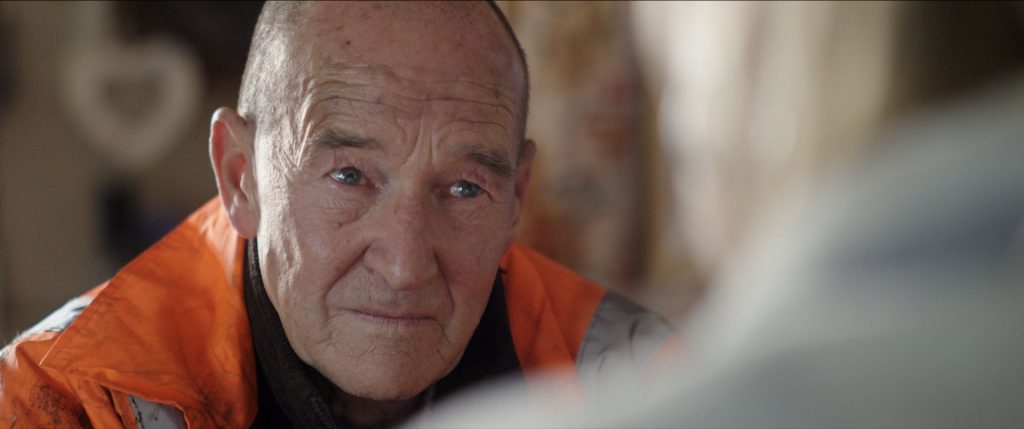 How did you find working with director Paul Andrew Williams?
I love that he's very relaxed on set, he gives you great freedom as an actor but still knows what he wants, but it's always very gently done. It was lovely and relaxed with just a bunch of really hard-nosed professionals getting together to do it under difficult circumstances because we were one of the first movies under the COVID lockdown to begin production. It was a very low budget. I think we shot it in two and a half to three weeks, or so. So yeah, there were a few challenges in there, but Paul is a joy and is one of my favourite directors. He knows how to cast. He got a good cast of actors together. Yeah, there was not a lovey in sight.
How did you research a character like Norm?
You learn the lines. In a sense, you do. It didn't need much, I completely understood where Paul was coming from and what he was trying to get from Norm. I have explored these areas of human activity before as an actor, so I didn't really have to do the research in that sense. It's just about feeling it and just being empathetic towards the story and who he was and tried to create this full, rounded man who yes, of course he's on the surface very evil and he's capable of extreme acts of violence. But he's also driven by love for his grandson and is extremely protective of it. So that's a lovely challenge to get that balance.
One of the main themes of the film could be seen as family, because both Norm and Bull are doing everything for their families. Bull will want to do anything to save his son from the choices he made as well.
Yes, and I'm wanting to protect my grandson, he wants to protect his son. So they are practically the same person. That creates a wonderfully powerful family dynamic which is there for us to explore.
What do you think makes for a truly memorable antagonist?
I always loved Humphrey Bogart as an actor because he was totally, utterly uncompromising. You look at something like The Treasure of the Sierra Madre when he's playing a bad guy, he doesn't compromise at all. He doesn't open up any chink in the armour to say, "Hey, you guys really deep down, I'm a good guy. You've got to love me, you've got to like me, after all, I'm a movie actor". He didn't give a shit about any of that and I think we never, ever ask for sympathy and you cannot be judgmental about your characters.  Not sure if I'm answering your question (laughs).
What techniques do you like to use to create a believable character?
When you've been doing your job as long as I have; there are 40,000 actors in the United Kingdom so there are God knows how many in the States. So 40,000 actors, so you've got 40,000 methods. Each method is different for each job of work. It's a totally different discipline if you're doing a piece for radio or a piece for television, which is very different for different disciplines, for doing a movie or a piece of theatre. So, your method changes to adapt to whatever you're doing in the pitch level of what is required for doing it. It's easy for me to slip into that mindset where you create the thinking behind the character. Then you just mull it over and let it boil and you try different things in your mind's eye and then you just let it go in front of your fellow actors.  Neil was just a joy to work with, all of them were and when you're acting that just lifts you.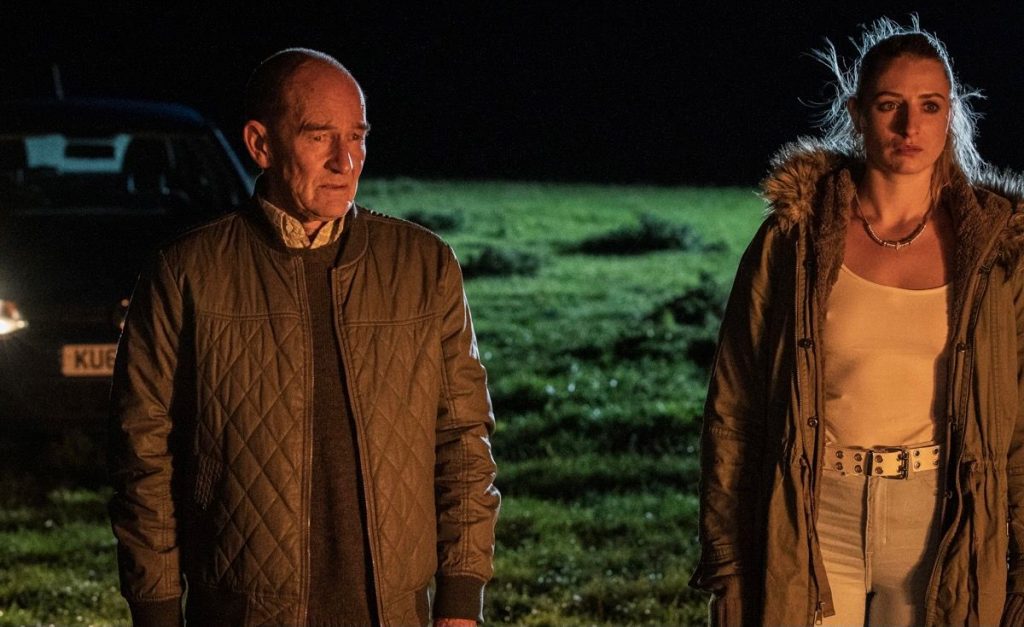 Having worked in theatre, movies and television, do you have a preference, or do you think they just all have their pros and cons?
They all have the pros and cons, but my great love is theatre and any actor worth his or her soul would say that because it's instant, it's live. There's no hiding place if you fail, if you screw up. You sort it the next night; you don't have another take. It's there. It's a full and total commitment to two hours on a stage getting a character. Now in a few months, I'm going to be doing a one man show at the Edinburgh Fringe, and then I'm going to take it on tour around the country and I will love that challenge. So that's just me on stage, on my own in front of hundreds of people. So it's very exciting and separates the men from the boys, or the idiots from the sane. Terrifying at the same time (laughs).
Oh, I can imagine, it wouldn't be me (laughs). Do you have any plans to direct again?
Yeah. Interesting you asked that. You may remember in 1972 the Clyde shipbuilders working with Jimmy Reid and Jimmy Airlie leading these extraordinary men to take over the yards and do a work in. They kept working. They kept producing ships against the wishes of the Tory government of Ed Heath. So that's the 50th anniversary this year. We've got a script that's quite well into development, and I would love to get that made. So yes, that's the next thing I'm planning on doing.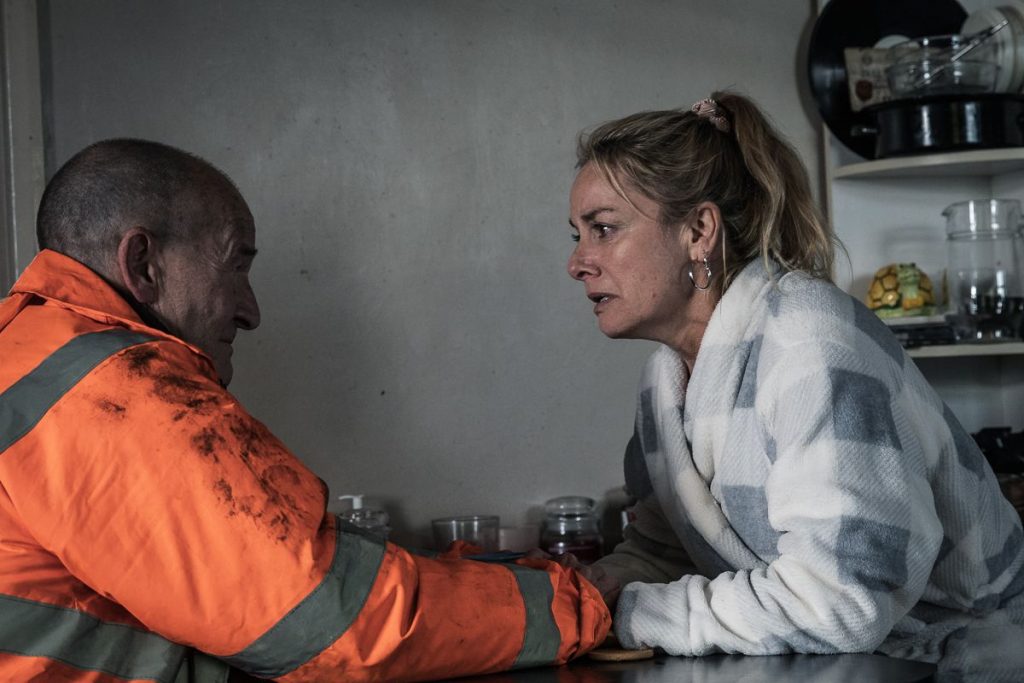 What would you like audiences to take from Bull?
(laughs) Oh I don't know, be afraid, be very afraid. The world is a different place. I guess I want them to be changed. I think when people leave a movie theatre or a drama theatre, the world should be a different place from when you went in, because of the 90 minutes you watched and experienced you've been taken out of your own reality. When you hit the fresh air again, it's like, "Wow, where am I? It'd be lovely if people challenge their own morality, they question aspects of their own lives, because one of the great things is self identity. You're sitting in an audience, you look at a character and say, "God, that's me up there on that screen. Those are my prejudices. Those are my failures. All my triumphs and my challenges. They can be inspirational, and they also can be revealing at its best. So just go see the movie! It's great guys.
Thank you so much for taking the time to chat. It's been great to talk with you.
And to you! Please do say hello to Eddie and I hope you stay safe. Thanks!
BULL will be in Theaters April 1th, and On Demand and Digital April 5th.