Explosive
Summary
Dragons Forever is even better than ever in this amazingly put together Blu-ray package with multiple versions of the film as well as a plethora of special features making this a must have.
Plot: Hotshot lawyer Jackie Lung (Jackie Chan) is hired to defend the owner of a factory which, unbeknownst to him, is the centre of a clandestine narcotics syndicate. He enlists resourceful acquaintances Wong Fei-Hung (Sammo Hung) and Dung Dak-Biu (Yuen Biao) to assist in the case, but loyalties begin to falter when romance blossoms between both sides.
Review: Jackie Chan, Sammo Hung and Yuen Biao star together in this martial arts classic packed with stunning fight choreography and slapstick comedy.
I recently got the 88 Films Blu-ray of Dragons Forever and it really is the definitive edition loaded with special features including multiple versions of the film. The Japanese cut (or Cyclone Z as it's also known) is my personal favourite as it reincorporates some deleted scenes featuring Yuen Biao's slightly crazy but still lovable Dung Dak-Biu. It's only two extra scenes but it gives him more characterization as we find out he is seeing a psychiatrist who suggests what he really needs is to talk to his friends to get over his existential crisis.
Jackie Chan plays lawyer Jackie Lung who considers himself quite the ladies' man and ends up falling for a lawyer on the opposing side. Sammo Hung directs but also stars as Jackie's friend Wong Fei-Hung who also falls for a woman he is meant to be spying on as they all try to take down a local gangster who is running a drug ring through a chemical plant.
The main villain is Hua Hsien-Wu (Wah Yuen) who smokes a cigar the entire runtime and even during the climactic showdown he is twirling the cigar like it's keeping him alive. He is a nasty piece of work making for a solid antagonist.
Bloodsport's Roy Chiao shows up as the likeable Judge Lo Chung-Wai who takes Jackie's side when he asks his lady in court if she loves him.
There isn't much in terms of story and frankly anything outside of the action scenes doesn't really matter as it's just an excuse for these three martial arts legends to show off their onscreen chemistry together as well as their incredible physical prowess and comedic chops.
It's the final 20 minutes which make this movie as entertaining as it is with a final battle at the factory giving us some jaw dropping fights and stunts that still wow to this day. Benny "The Jet" Urquidez appears for the climactic fight with Jackie Chan and doesn't disappoint as they kick and punch each other through shelves, glass and more in arguably the film's best fight scene.
The short documentary The Legacy of Dragons Forever includes interviews with the likes of Ross Boyask, Mark Strange and many more filmmakers and actors who have been greatly influenced by this movie. We also get interviews with Hong Kong Cinema Expert Mike Leeder who talks about his first viewing of this film back in the 80's on VHS but still fell in love with it straight away; he also provides a commentary for the movie.
You can check out the full list of special features below: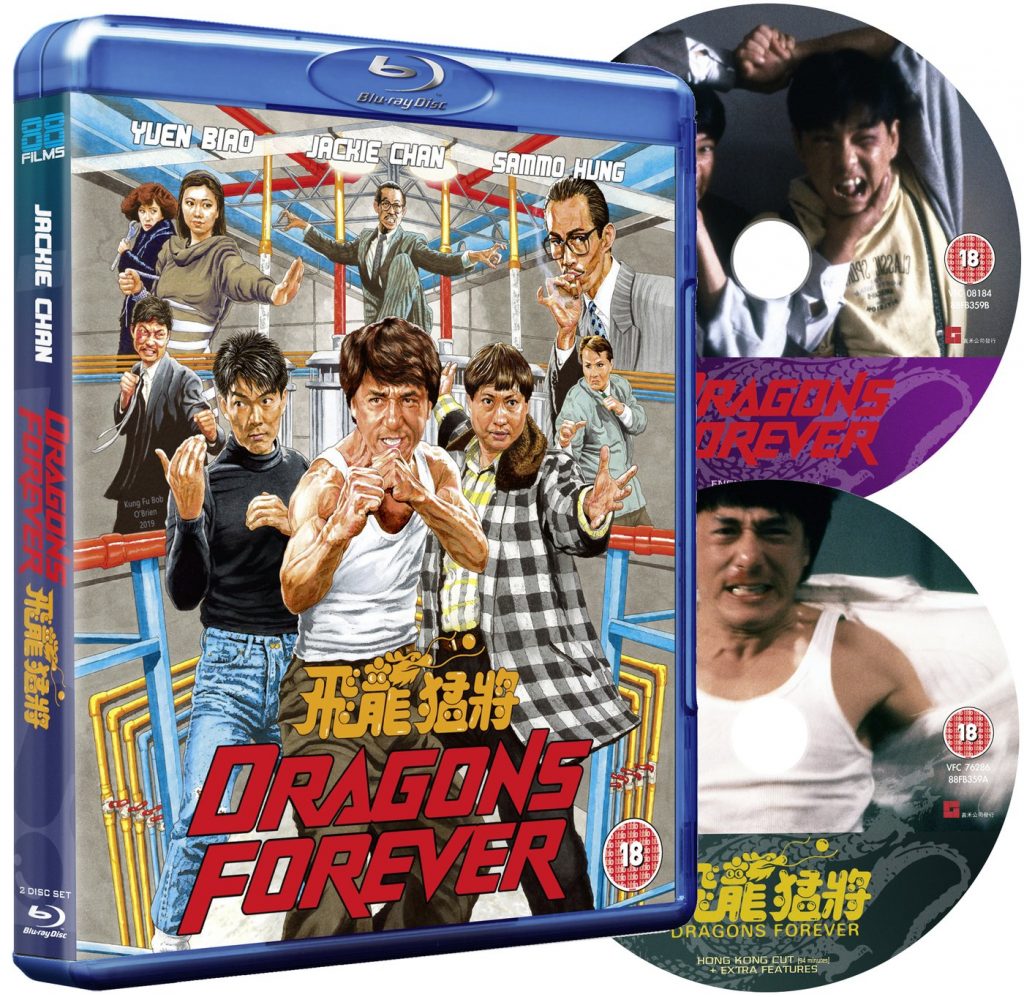 SPECIAL FEATURES (DISC 1)
Brand New 4K Remasterof the Original Hong Kong Version
Remastered Cantonese Mono with Newly Translated Subtitles
Remastered Cantonese 5.1 DTS-HD MA created exclusively for this release with Newly Translated Subtitles
Classic English DubHybrid Audio [Golden Harvest soundtrack, filled with Fortune Star's for sections not present in export version]
[New] Audio Commentary by Hong Kong cinema experts Mike Leeder and Arne Venema
[New] Benny Forever: Interview with Benny "The Jet" Urquidez
[New] Discussing Dragons Forever: Interview with David Desser
[New] Hong Kong Cinema Forever: Interview with Mike Leeder
[New] Working with the Dragons: Interview with Jude Poyer
[New] The Legacy of Dragons Forever Featurette with todays actors & martial artists including Troy Sandford, Chris Jones, Ross Boyask, Maria Tran, Mike Leeder, Jean-Paul Ly, Mark Strange, Mike Moeller, George Clarke, Jude Poyer & Steve Lawson
Double Jeopardy: An Interview with Brad Allen
Beyond Gravity: An Interview with Joe Eigo
Kick Fighter: An interview with Andy Cheng
Thai Breaker: An Interview with Billy Chow
Deleted Scenes [newly restored]
End Credits from the Japanese Version [newly restored]
Behind the Scenes Footage
English Trailer [newly restored]
Hong Kong Trailer
Reversible Sleeve
New artwork from P. "Kung Fu Bob" O'Brien
SPECIAL FEATURES (DISC 2)
Full CYCLONE ZCut of the Film [98 mins] [Produced exclusively for the Japanese market, this Cantonese-language version includes two extra scenes and an ending with outtakes]. Newly restored Cantonese Soundtrack in Mono or 5.1 options and newly translated English Subtitles
Recreated Export Versionof the film [94 mins] [Commissioned by Golden Harvest for international audiences outside Asia] with the Full Classic English Dub and optional English SDH subtitles
TECHNICAL SPECS
Region Code:B
Audio:LPCM Stereo / 5.1 DTS-HD Master Audio
Picture:1080p HD 1.85:1
Runtime:94 mins approx [HK Cut]
Runtime:94 mins approx [International Cut]
Runtime:98 mins approx [Japanese Cut]
Language:English / Cantonese
Subtitles:English
Overall, 88 Films knocked it out of the part with this release of Dragons Forever which has never looked or sounded better having been wonderfully remastered and the special features will entertain for many hours. The film itself has its flaws but the fight scenes are still incredible and how can you not love seeing Sammo Hung, Jackie Chan and Yuen Biao taking out the trash together one last time?