Movie nights are a cherished tradition for many families and friends. They offer a chance to relax, escape the stresses of daily life, and bond with loved ones. But what if your movie night is anything but relaxing? What if picking a film is more stressful than fun? Or do you end up feeling restless and bored halfway through the feature? Don't worry! With a little planning and these easy suggestions, you can ensure that your next movie night is enjoyable for everyone. Read on for some helpful tips.
Invest in the Right TV Package
Navigating the world of television services can be overwhelming – with hundreds of packages and channel selections to choose from. Instead of feeling overwhelmed by the vast selection of options, focus on finding a provider that offers the best deal for what you want—like premium add-ons and local channels. If you are a Spanish speaker, be sure to find a provider with bilingual programming that is designed to provide an affordable, high-quality multi-language entertainment solution for both English-speaking and Hispanic audiences. As you can see here, with content that includes premier channels like ESPN Deportes, Univision, Galavisión, and more, there is something for everyone. Keep in mind before buying any package that you'll need reliable internet for streaming or accessing video-on-demand services.
Set up a Comfortable Viewing Area
If you've got a movie to watch, why not turn your living room into the ultimate cozy retreat? Just grab a few serviceable pillows and a good-quality blanket, then relax as you find yourself lost in the comfort of your own home. The pillows will provide a much-needed cushion for your body, and the blanket can serve as an ultra-soft barrier from any outside drafts. And if the atmosphere is feeling a bit too cool, throw on an extra blanket for added warmth. With just the right combination of pillows and blankets at arm's reach, you may have trouble remembering that you're not in fact at the cinema!
Order Takeout or Make Snacks Ahead of Time
If you're planning a night in to watch movies, it's worth taking a few minutes to plan. Ordering takeout or making snacks ahead of time will save you both time and energy during the movie. Not only can you choose something delicious without leaving your comfy spot on the couch, but you'll also avoid any potential mid-film hunger pangs! It may seem like an extra step at first glance, but the reward of not having to disrupt your cinematic experience makes it worth the effort. You should also stock up on your favorite drinks, too—just make sure you have enough for everyone!
Consider Investing in a Projector and Screen
Investing in a projector and screen for viewing movies and shows is an excellent way to create an immersive experience. Whether you're entertaining family or friends, watching sports events, or playing video games, no other equipment will give you the same level of engagement as this technology. With high-definition images and up to 12 times the size of a regular television, it amplifies sight, sound, and even your emotions. You won't believe what you can see on the big screen until you try it – it's a must-have addition to any home entertainment center.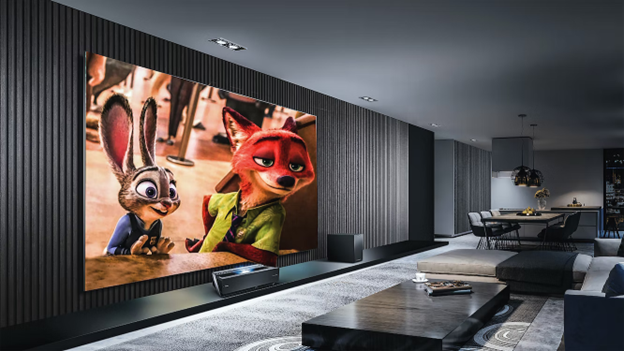 As you can see, movie night doesn't have to be a stressful affair. With the right preparation and these helpful tips, you can make every movie night one to remember. Invest in the right TV package, set up a comfortable viewing area, order takeout or make snacks ahead of time, and consider investing in a projector and screen—all of these will ensure that your next movie night goes off without a hitch! Now all that's left is to grab some popcorn and enjoy the show!
Happy watching!