Classic!
Summary
Escape From New York remains one of my favourite movies with an amazing cast, stunning set design and Kurt Russell at his badass best. The Studio Canal Blu-ray is stunningly remastered making it the definitive version of this classic movie.
Plot: The year is 1997 and in a police state future the island of Manhattan has been turned into a maximum security prison. The rules are simple: once you're in, you don't come out. But when the President of the United States (Donald Pleasence) crash lands an escape pod into the centre of the city after fleeing a hijacked plane, a ruthless prison warden (Lee Van Cleef) bribes ex-soldier and criminal Snake Plisskin into entering the hazardous Manhattan and rescuing the distraught president from the twisted world of New York and from the demented clutches of its new ruler The Duke (Isaac Hayes) in John Carpenter's cyber-punk, action, suspense spectacular.
Review: I just realized that for some reason we have never reviewed John Carpenter's seminal sci-fi action classic Escape From New York on the site. I can only apologize for such a miscarriage of justice and will rectify that immediately. When I was back in Scotland a few weeks ago I picked up a few special edition Blu-rays and one of them was Studio Canal's restored Escape from New York. Packed with incredible special features I would have bought this for the movie alone which has been wonderfully remastered. The blacks and darker scenes are crystal clear, and the audio has also been touched up to make this the definitive version of this movie.
Escape from New York is essentially a Western set in the future with its tongue planted firmly in its cheek and Kurt Russell perfectly cast as Snake Plissken. Apparently, the studio initially wanted Charles Bronson or Clint Eastwood (either of which would have also been great) but Russell made the character his own and he is now one of the great icons of action cinema.
You couldn't ask for a more impressive cast with the likes of Lee Van Cleef, Donald Pleasence, Ernest Borgnine (nobody else could play Cabbie), Tom Atkins, Isaac Hayes, Adrienne Barbeau, Harry Dean Stanton and Charles Cyphers. It's a who's who of Carpenter favourites but having an action legend like Lee Van Cleef just makes it even more essential viewing.
Isaac Hayes couldn't have been better as the Duke (A-Number One!) and his car with the chandeliers on the sides was hilarious.
I love how Donald Pleasence plays the President (of what?) and doesn't really attempt an American accent but it doesn't detract because it's still Donald Pleasence. He is wonderfully cowardly and a bit of a sniveling mess but has his moment to shine at the end.
Filmed in St. Louis the set design for Escape from New York is flawless and is the stuff of nightmares as psychos, rapists and killers lurk around every corner filling the movie with unease and tension. The early 80's in New York weren't much different from this and the movie is a perversion of what the city was like at the time with things like the warped Broadway style show and the various gangs that roamed the streets.
Carpenter likes to put in references to other movies (or his friends) with characters called Cronenberg and Romero. Then there is the classic running joke of "I heard you were dead" which is a nod to the John Wayne classic Big Jake.
Escape from New York is tightly paced and at just under an hour and 40 minutes it is never dull with Snake kicking ass and taking names as he searches New York for the kidnapped President.
There are some great lines of dialogue and several memorable set-pieces and it all ends with a satisfying finale. Carpenter himself provides the synth infused score which has one of those earworm theme tunes which has been going through my head for days.
But what of the Blu-ray special features? Well the features are listed below: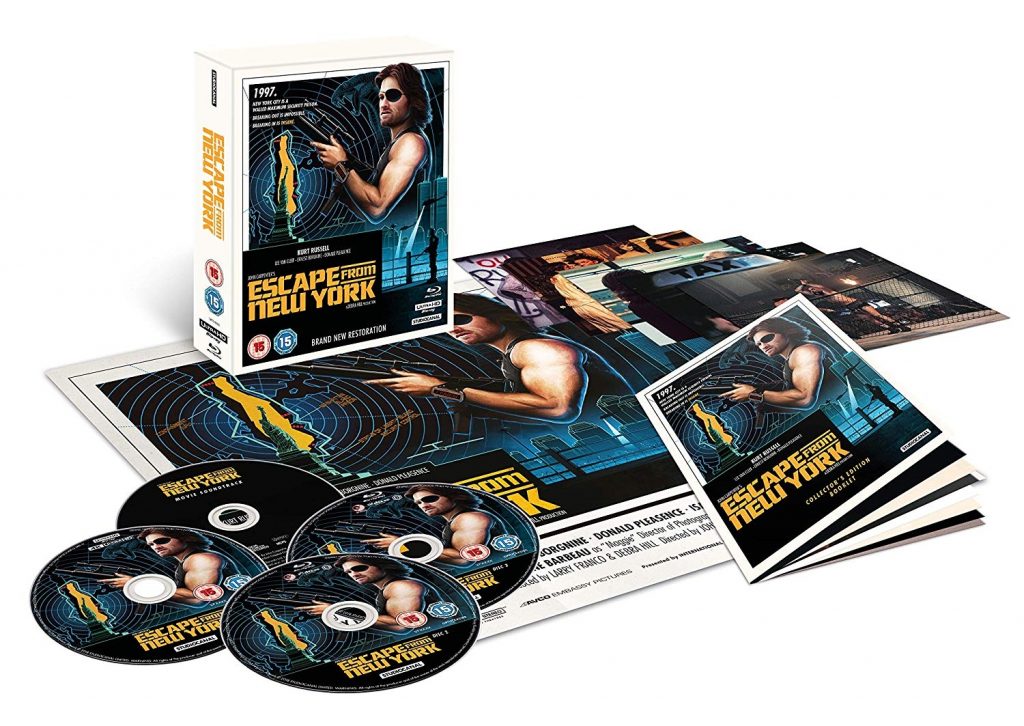 SPECIAL FEATURES
BRAND NEW 4K RESTORATION OF THE FILM
Purgatory: Entering John Carpenter's Escape From New York — a brand new feature-length documentary featuring interviews with Writer Nick Castle, cinematographer Dean Cundey, composer Alan Howarth, production designer Joe Alves, special visual effects artist/model maker Gene Rizzardi, production assistant David De Coteau, photographer Kim Gottleib-Walker, Carpenter biographer John Muir, visual effects historian Justin Humphreys, and music historian Daniel Schweiger.
Snake Plissen: Man of Honor – featurette from 2005 featuring interviews with John Carpenter and Debra Hill
Intro by John Carpenter — an interview with director John Carpenter originally recorded for a French DVD release in 2003
Deleted Opening Sequence "Snake's Crime" with Optional Audio Commentary
Photo gallery incl. Behind the Scenes
Original Trailers
Audio Commentary with actor Kurt Russell & director John Carpenter
Audio Commentary with Producer Debra Hill and production designer Joe Alves
Big Challenges in Little Manhattan: Visual effects featurette – from 2015, features interviews with both Dennis Skotak, Director of Photography of Special VFX, and Robert Skotak, Unit Supervisor and Matte Artist
I am Taylor — Interview with actor Joe Unger – from 2015
Audio Commentary with actress Adrienne Barbeau & DOP Dean Cundey
48-page illustrated booklet
Optional English SDH subtitles for the main feature
As awesome as it is to see the original opening scene featuring Snake's bank robbery I can understand why it was cut as it wasn't necessary to this story and a simple line of dialogue explaining what happened worked better. The interview with Joe Unger was fascinating as he was in said opening scene as Taylor so it must have been frustrating to film it and never have it make the final cut but these things happen with movies all the time.
The documentary Purgatory: Entering John Carpenter's Escape From New York gives us a look at the making of the film exploring its themes and casting as well as some behind the scenes stories from the movie.
The Big Challenges in Little Manhattan featurette was all about the special effects including some incredible miniature work that was done for the film.
The various audio commentaries are also essential and hearing Carpenter and Russell together just makes me wish we got Escape from Earth.
I also enjoyed the sequel Escape from L.A. which is every bit as fun even if its let down by the ropey special effects but that kind of adds to the charm of it all.
I still say we do not require any semblance of a remake as Escape From New York is just fine as it is and there is no one today that could match Russell as Plissken… so don't even try.
Overall, Escape from New York is a classic of the genre with Kurt Russell proving he could be a man of action with ease. There are so many memorable characters and lines of dialogue that it's no wonder people still talk about it today. The Studio Canal Blu-ray is essential if you are a fan as it has been wonderfully restored and the special features only add to it; this is why we should support physical media as you don't get all these features with digital downloads.