John Carpenter's classic sci-fi action flick Escape from New York is getting a 4K and Blu-ray upgrade courtesy of Studio Canal. Looks like it will be in the UK only but I have a multi-region Blu-ray player so I just might have to pick it up as it sure looks purdy.
Synopsis: The year is 1997 and in a police state future the island of Manhattan has been turned into a maximum security prison. The rules are simple: once you're in, you don't come out. But when the President of the United States (Donald Pleasance) crash lands an escape pod into the centre of the city after fleeing a hijacked plane, a ruthless prison warden (Lee Van Cleef) bribes ex-soldier and criminal Snake Plisskin into entering the hazardous Manhattan and rescuing the distraught president from the twisted world of New York and from the demented clutches of its new ruler The Duke (Isaac Hayes) in John Carpenter's cyber-punk, action, suspense spectacular.
This 4-disc limited Collector's Edition of John Carpenter's classic Escape from New York has been stunningly restored in 4K. This release is beautifully packaged with a stylish, newly commissioned illustration on the cover. It contains a 4K Blu-ray of the feature as well as a Blu-ray feature disc, extra features disc and the original soundtrack on CD. It also contains 5 artcards, a newly illustrated theatrical poster and booklet containing behind the scenes stills, articles and an essay from celebrated film journalist Kim Newman.
SPECIAL FEATURES AND TECHNICAL SPECS:
BRAND NEW 4K RESTORATION OF THE FILM
Purgatory: Entering John Carpenter's Escape From New York – a brand new feature-length documentary featuring interviews with Writer Nick Castle, cinematographer Dean Cundey, composer Alan Howarth, production designer Joe Alves, special visual effects artist/model maker Gene Rizzardi, production assistant David De Coteau, photographer Kim Gottleib-Walker, Carpenter biographer John Muir, visual effects historian Justin Humphreys, and music historian Daniel Schweiger.
Snake Plissen: Man of Honor – featurette from 2005 featuring interviews with John Carpenter and Debra Hill
Intro by John Carpenter – an interview with director John Carpenter originally recorded for a French DVD release in 2003
Deleted Opening Sequence "Snake's Crime" with Optional Audio Commentary
Photo gallery incl. Behind the Scenes
Original Trailers
Audio Commentary with actor Kurt Russell & director John Carpenter
Audio Commentary with Producer Debra Hill and production designer Joe Alves
Big Challenges in Little Manhatten: Visual effects featurette – from 2015, features interviews with both Dennis Skotak, Director of Photography of Special VFX, and Robert Skotak, Unit Supervisor and Matte Artist
I am Taylor – Interview with actor Joe Unger – from 2015
Audio Commentary with actress Adrienne Barbeau & DOP Dean Cundey
48-page illustrated booklet
Optional English SDH subtitles for the main feature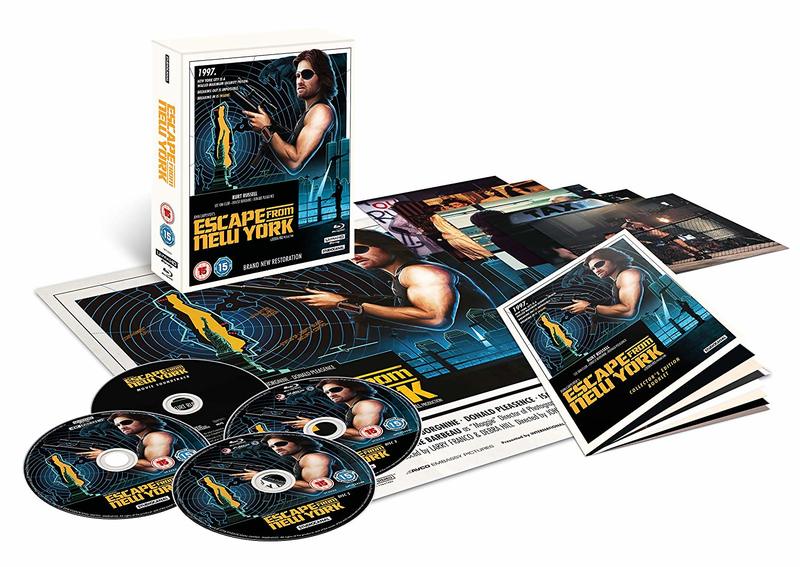 Source: Manly Movie