Verdict
Summary
Escape Plan 2: Hades was one of the best movie scores of last year and even if you weren't a big fan of the film this is still a must-have especially for your gym playlist.
Review: Escape Plan 2: Hades may not have been the most amazing film however, the one thing it had in its favour was the sci-fi tinged music score from The Newton Brothers. Clearly influenced by the likes of Tron: Legacy and Blade Runner 2049 the score has an electronic industrial sound that captures the atmosphere of claustrophobia in the prison setting but there are also plenty of exciting action cues too.
My favourite track is the End Credits Theme which I listen to at the gym all the time as it's a welcome dose of adrenaline. Chechnya, Russia starts off with a lone choral voice which immediately creates a feeling of isolation which then builds into hints of the main theme with some haunting percussion. The Zoo is another excellent track as it focuses on the fights that take place in the prison so you have some electronica infused badasssery.
Escape Plan is essentially our main theme and this is the one piece that's very much influenced by Tron: Legacy but still sounds unique enough to stand out mostly due to the lone female voice that comes back in which is a key motif to this score. Find a Way Out brings in the larger percussion and creates a sense of desperation building up nicely to an exciting final minute of action.
Breslin Fights is exactly what you want and is a bombastic action cue for when Sly finally gets to kick some ass. System Down is essentially the action-packed climax so the music is loud and exciting utilizing some truly awesome sounds while incorporating the main theme.
There really isn't a bad track on the score but whether you'd listen to it without the movie accompanying it is another question.
Overall, Escape Plan 2: Hades is very different from the music to the first movie but the bold new sci-fi style music really works and the end credits music is fantastic. If you liked the Tron: Legacy and Blade Runner 2049 scores then this is right up your alley.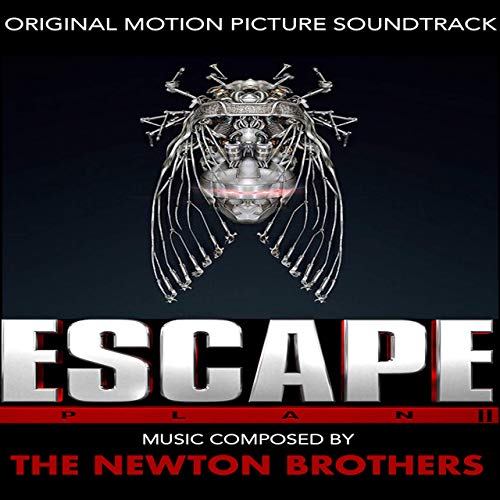 Track Listing:
1. Chechnya, Russia (2:52)
2. Alice Is Dead (2:30)
3. Off the Team (0:53)
4. Taken (1:09)
5. Welcome to Hades (1:34)
6. Pursuit (1:39)
7. The Sanctuary (1:50)
8. I'm Predictable (1:35)
9. Derosa (2:02)
10. The Zoo (5:18)
11. Inmate 1764 (2:39)
12. Escape Plan (4:02)
13. Kimbral (1:26)
14. Layout (4:12)
15. You Are Family (1:19)
16. Find a Way Out (3:16)
17. Breslin Fights (1:53)
18. We Move Together (6:59)
19. System Down (5:36)
20. End Credits (6:02)