Shogun Films and Bleiberg Entertainment have unveiled a first look sales poster for Daniel Zirilli's highly anticipated blistering action revenge thriller RENEGADES ahead of it being introduced to buyers at the upcoming American Film Market.
Renegades boasts a heavyweight international cast including Lee Majors (The Fall Guy), Nick Moran (Lock Stock & 2 Smoking Barrels), Danny Trejo (Heat), Ian Ogilvy (We Still Kill The Old Way), Louis Mandylor (Debt Collectors), Billy Murray (Rise of the Footsoldier), Patsy Kensit (Lethal Weapon 2), Jeanine Nerissa Sothcott (Nemesis), Michael Brandon (Dempsey & Makepeace), Paul Barber (The Long Good Friday), Michael Paré (Streets of Fire) and, in one of his final roles, Tommy 'Tiny' Lister (No Holds Barred).
Renegades sees a group of ageing Special Forces Vets (Moran, Ogilvy, Murray, Trejo, Barber) set out on a crusade of violent revenge when their friend, former green beret Major Carver (Majors) is murdered by a ruthless drug gang lead by Goram (Louis Mandylor). With Carver's daughter (Kensit) pushing for answers and the police (Sothcott) closing in, these old boys are determined to clean up the streets – or go out in one final blaze of glory.
Renegades is directed by action movie veteran Daniel Zirilli (Hollow Point, The Asian Connection) and produced by Jonathan Sothcott (Vendetta, We Still Kill The Old Way) from a script by Tom Jolliffe (Jurassic Island).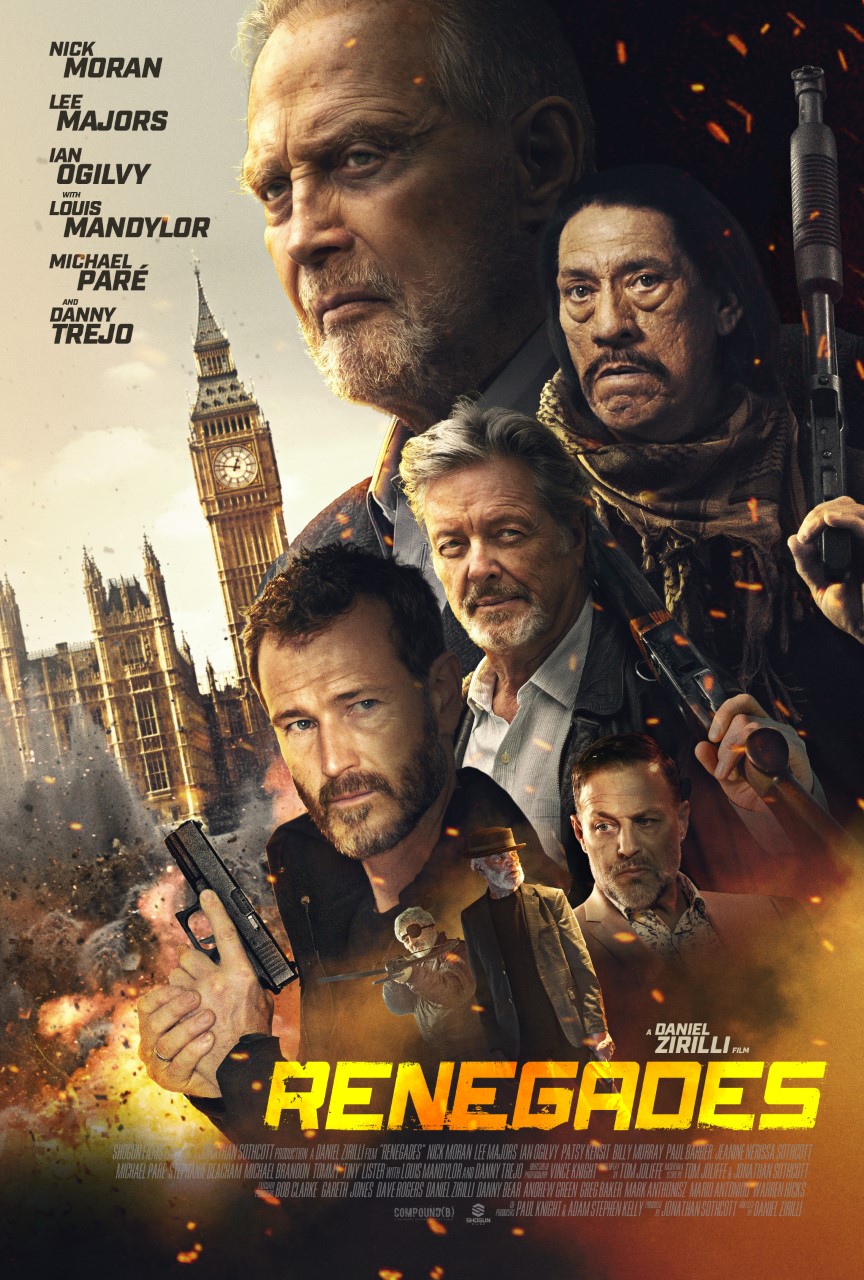 About Shogun Films
Shogun Films is an award-winning disruptive independent production company specialising in the action genre. The company's first film, gangland home invasion thriller Nemesis starring Billy Murray and Bruce Payne was recently released in the USA by Samuel Goldwyn Films. Renegades is now in post-production. Next up are mall siege thriller Crossfire (written by Chad Law and Josh Ridgway) and international action epic Crackdown (from a Tom Jolliffe script) both to be directed by Daniel Zirilli.