Esssential
Summary
The 4K of Gladiator is a must-have as the film has never looked or sounded better; it's my personal favourite Ridley Scott film with stunning visuals, an incredible score by Hans Zimmer and impressive action spectacle. There is also some iconic dialogue, Russell Crowe in a star making turn and an underrated performance from Joaquin Phoenix as the hateful yet pathetic Commodus. A must-have.
Plot: In this epic historical drama from director Ridley Scott, the death of emperor Marcus Aurelius (Richard Harris) throws the Roman Empire into chaos. Maximus (Russell Crowe) is one of the Roman army's most capable and trusted generals and a key advisor to the emperor. As Marcus' devious son Commodus (Joaquin Phoenix) ascends to the throne, Maximus is set to be executed. He escapes, but is captured by slave traders. Renamed Spaniard and forced to become a gladiator, Maximus must battle to the death with other men for the amusement of paying audiences. Determined to avenge himself against the man who took away his freedom and laid waste to his family, Maximus believes that he can use his fame and skill in the ring to avenge the loss of his family and former glory.
Review: Gladiator is my favourite Sir Ridley Scott film (closely followed by Alien and Blade Runner) and one of my top films of all time (it's my dad's absolute favourite) so I've been looking forward to sitting down and watching the 4K Blu-ray I recently picked up.
It has two different versions of the film – The Theatrical and the Extended Edition; what's interesting is that Sir Ridley gives a brief introduction before the Extended Edition saying that he considers the theatrical version the director's cut but the extended edition is merely showing the scenes that were removed (mostly for pacing reasons I imagine).
Like The Lord of the Rings however, I can't watch the Theatrical version anymore as I know there are those extra scenes which just add a little extra meat to the characters. We get a greater insight into Commodus and his (justified) paranoia as he has his own men executed for letting Maximus live, hacking away at a bust of his father and we also get more scenes between Lucilla (the wonderful Connie Nielsen) and Gracchus (Derek Jacobi). There are some other scenes like Maximums (Russell Crowe) walking among the wounded after the spectacular opening battle but we also get some more of Quintus which I feel is necessary as I hated him in the theatrical version.
The performances, visuals and pacing are faultless with stunning set design and costumes with Hans Zimmer providing arguably his finest music score to date.  The themes "Honour Him" and "The Battle" are perfect adding to the emotional core of the film as well as making the battle scenes more spectacular and Gladiator is never short on spectacle.
The opening battle immediately grabs the attention and watching some of the behind the scenes videos shows how it was created which is cinema at its finest. It is never too long between action sequences and this movie is hard R with blood, decapitations and violence occurring regularly throughout.
I think Maximus is Russell Crowe's best character to date where he is believably tough yet very human. Despite not being able to hide his accent there are little details which make his character so memorable, like him running his hands over the wheat fields and rubbing his hands in the soil, which helps to portray his history as a farmer and lover of the land. His father/son relationship with Marcus Aurelius (the majestic Richard Harris) is beautifully realized and far better than Marcus's relationship with his actual son Commodus (Joaquin Phoenix). You can almost sympathize with Commodus but only for a matter of minutes before we discover what a monster he actually is. Phoenix deserves more credit for his performance in Gladiator; Commodus' own father describes him as "not a moral man" and every scene between him and his sister makes your skin scrawl.
There is a fantastic supporting cast including Sven-Ole Thorsen as Tigris, Tommy Flannigan as Cicero and Ralf Moeller as the immediately appealing Hagen but Djimon Hounsou gives his finest performance to date as Maximus' loyal friend Juba.
I can't praise Connie Nielsen enough as Lucilla who has to act like she isn't terrified of her unhinged brother while also attempting to hide her love for Maximus; her scenes with Commodus make you want to take a bath afterwards as he is so unsettling around her.
It's funny how they were literally rewriting the script while filming and yet it contains some truly iconic dialogue which is endlessly quotable but it could so easily have gone the other way. Lines like this just give that extra depth to Commodus: "I search the faces of the gods… for ways to please you, to make you proud. One kind word, one full hug… where you pressed me to your chest and held me tight. Would have been like the sun on my heart for a thousand years. What is it in me that you hate so much?"
Then we get the crowd pleasing speeches like: "My name is Maximus Decimus Meridius, commander of the Armies of the North, General of the Felix Legions and loyal servant to the TRUE emperor, Marcus Aurelius. Father to a murdered son, husband to a murdered wife. And I will have my vengeance, in this life or the next" which to this day causes shivers down the spine.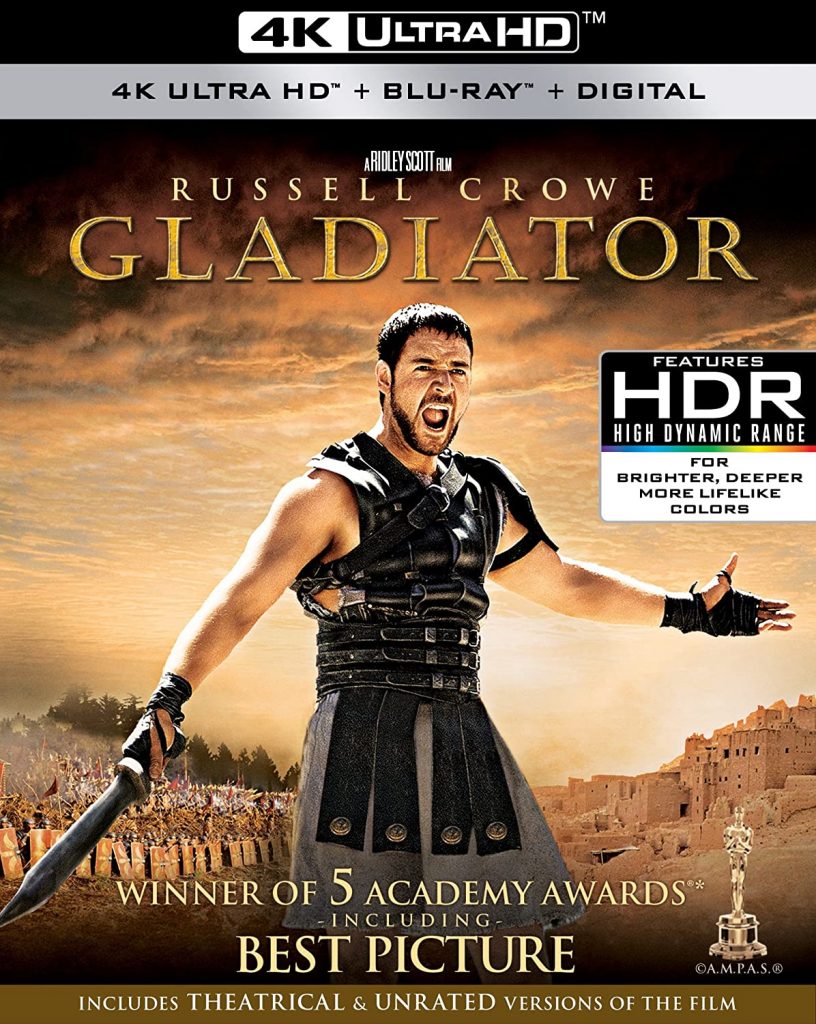 The 4K looks and sounds incredible and once again I don't need to have the subtitles on which is very interesting; I find the audio so much clearer on 4K so Gladiator has never been better. Special features include Strength and Honour: Creating the World of Gladiator; Image & Design: Storyboard Design, Deleted scenes, Storyboard Archive, Costume Design Gallery and Photo Galleries; Visions from Elysium: Topic Portal; and The Aurelian Archives: My Gladiator Journal by Spencer Treat Clark. These are all carried over from the Blu-ray so there aren't any new features on the 4K that I noticed but there is such a wealth of content here that it will take many hours to go through it all.
Overall, Gladiator is a masterpiece and remains one of my all-time favourite films with a cast who are all at the top of their game, stunning battle and fight scenes and Hans Zimmer's best score to date. The 4K is a worthy upgrade even if it doesn't have any new special features but the picture and sound are better than ever making this a must-have.