Chael Sonnen plays one of three brothers in Asif Akbar's new actioner Mohave Diamonds; the story follows a former MMA fighter and his brothers who must rescue their kidnapped family from a dangerous crime syndicate after $50M of illegal diamonds gets stolen.
Chael stopped by to have a chat about the film.
---
Hi Chael, thanks for taking the time to chat today.
I love that hat.
Thank you, sir.
You're rockin' Jean-Claude Van Damme. Correct?
The one and only.
Awesome! He was my childhood hero.
Oh, me too. So, today we're going be talking about your new movie Mojave Diamonds. What was it that appealed about the script to you?
So, here's the thing and I must tell you, I'm not a well-trained thespian. I just view myself as a movie critic and this is the first time I got to participate on this side of the screen. But when I was in college, 20 years ago, I used to work for a company called Wallace Theaters and I was just a critic; I would break down movies and I'd put a little dotcom out there. That was always very fun for me. I saw the script, and I saw the action, (and we don't have a whole lot of action anymore), plus, a lot of it had to do with the cast. I wanted to work with Rampage Jackson, I wanted to work with Cowboy and I wanted to work with Weston Cage. I heard nothing but great things about Asif who was the director and now I can attest to those things after I've done this. But my number one thing that appealed to me more than the script was just the fun. I thought we could go out and we could have some fun and we did.
Your character Joe has a complicated relationship with his brothers. Can you talk a little bit about that?
Yes, when you're the oldest brother there's a role that you have there and I only saw this from a distance. I came from a family where I have one sibling, a sister, and she's a little bit older. But when you are the oldest and you're the brother the responsibilities come to you, they are going to look to you, they're going to turn to you. You don't get to say "this is your problem", or "this isn't my issue"; if your brother's got a problem, you have got a problem and that's basically the way it played out in this movie.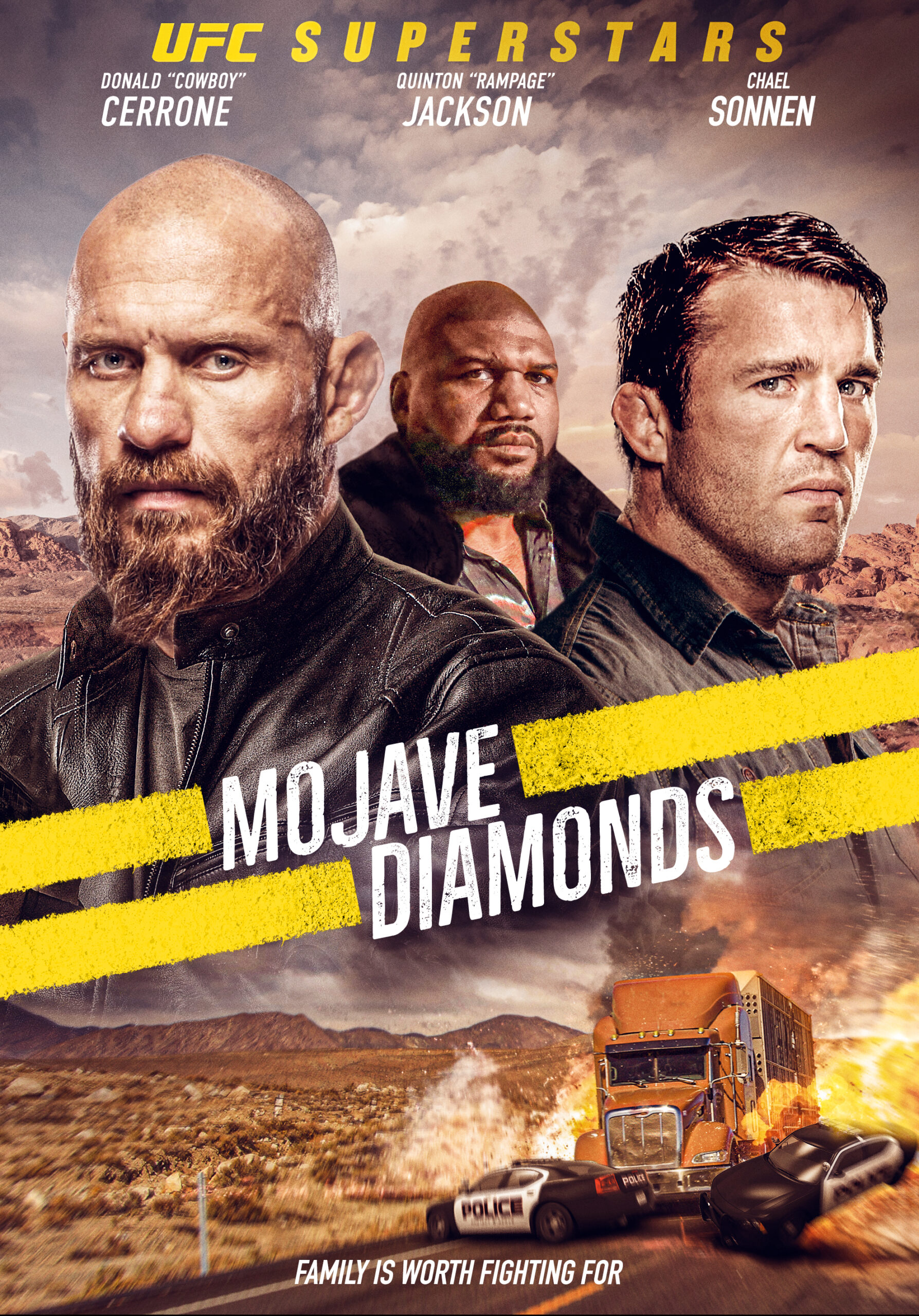 You mentioned Asif Akbar the director; how would you describe his directorial style?
He was incredible from a leadership standpoint. I mean, you got to understand a lot of this is herding cats. I've been in MMA locker rooms; guys like me and Cowboy and Rampage, people would put us into a category called alpha males. You've still got to have a leader, you've still got to have followers and I thought he did a really good job. Asif did a really good job. I had two brothers in the movie but he would do stuff that would force us to bond; we did an exercise where we were riding horses, for example. Every meal that we had, he would find a way to get us at the same table, like to do scripts or to do reads. When this was all done, I was able to look back and realize he was trying to get us to bond so the moment we went on camera it looked more believable, and I've got to give him a lot of credit for that. I thought he did an amazing job.
Do you see any of yourself in Joe's personality?
Oh, most definitely. Yes, most definitely. Now, as far as siblings, I'm the youngest. I've got one. It's a sister, but I'm very close to my cousins. There were four boys and my cousin Sid was the oldest and a lot of my inspiration came through him. How would he act? How would he behave with brothers? What kind of stance would he take not only against the enemy of his brother, but against his brother himself for getting these enemies involved in the first place?
How did you find transitioning from doing real life fighting to on screen fighting?
I liked it! Now, it is a little bit different. I gotta tell you, I fought Rampage Jackson in real life and now I get to fight Rampage Jackson on screen and there was something that was intimidating about that. He made me believe we were really going to fight; he has a certain look in his eye. He has certain mannerisms. He's a big scary guy to deal with. He kept telling me when we kept having to redo the shot because I was throwing this hook too wide or I was going too slow. He said, "Man, you got to make it look real". I said "But I don't want to hit you, Rampage!" and he said "if you hit me, it's my fault, now throw it and make it look real". I appreciated it and I kind of needed that confirmation from him that he understood that we're performing as opposed to competing.
How involved do you like to be in putting the action scenes together?
I will tell you; I stay out of it completely. We had a guy that wanted to work with the director or that he wanted to work with the stunt coordinator. He wanted to be heard and it was one of these things where it just slowed us down. I didn't understand that. There are some times that you've got to be the leader but there's some times you've got to be a follower; if they've already got it worked out and these are professionals and this is the script, then let's go out there and perform. I didn't get in the way at all, I didn't make any suggestions. I did what was asked of me.
How do you feel just a few minutes prior to becoming someone else on camera?
Well, what an interesting thing. Again, you gotta understand, I've never done this before I answer that. I mean, it really was new for me. So, I'm in the trailer, I'm putting on the wardrobe and whatnot. I'm getting the hair, the makeup done, or a little blood put over here, whatever it could be and I'm seeing this transformation happen. I'm seeing it happen in front of the mirror. I feel when I stand up out of that chair to walk to set, I feel as though "Okay, now I've got into the role. Now I have become that character of the oldest brother of three. Where's my gun?"
I feel like we need to have some more adventures with these brothers. Would you be interested in returning for a possible sequel in the future?
Oh, I would love it. I would love it very much. I mean, just because we had such a good time, I really got to tell you that. I don't really like it when people make something and they tell the whole world "Oh, go see it because we had so much fun". I feel like why should I give you both? Why should I give you my money and you got to go out and have fun? This was just one of those situations in my life. I don't get to have a lot of fun. Most of it is stressful, or these fight scenes that you talked about. I've never done a performance before. It was really stressful. It was not a good time in most parts of my life. This was a little bit different; instant gratification is something that's very special. I came from the world of construction. My father was a plumber but he became a framer and a builder so, I grew up on those job sites and that was really great. At the end of the day, you look over your shoulders before you get your car and go home and he said, "I did that" and it's a good feeling. But that's also how a movie goes. It is something special you are creating. You do have the opportunity to entertain somebody else. If they come out to watch it and enjoy it, it's unique.
What was the toughest scene to put together for you, personally?
Well, we did a horse scene and I think of myself as an expert on horses. I think that because my father was a real cowboy; he was a horseman who raised thoroughbreds that went on races and won all sorts of acclaim. But he was also a cowboy himself. The belt buckle that he wore to hold his pants up was one that he won in an actual rodeo. So, I tell you that because when we went to do the horse thing, I'm 45 years old, we went to the horse scene it dawned on me, I haven't been on a horse in 35 years; I did not realize that all this time went by. Just because I could do it back then doesn't mean I could do it now. I had already presented myself as an expert, where I told them "I don't need any practice. I'm an expert in horses". It's a little bit different after 35 years.
What would you like audiences to take away from film?
Well, I want them to just go have a good time. I really do. I want them to be able to suspend reality, go in and check out for two hours. Let us entertain you. If I didn't think it was entertaining, I wouldn't be here asking you to come watch. I'm asking for a favor and I want people to come watch. I want people to come see and I would love a comment. I want to know on social media, what they liked about it, if we are fortunate enough to do a sequel. Like you said, I will be listening to those suggestions. I'll tell you that much.
Well, thank you so much for taking the time out to chat and all the best but the film.
You're awesome. I appreciate it. Thanks, pal!
MOJAVE DIAMONDS is available On Demand, Digital and DVD May 30 from Lionsgate