Martial artist Joe Hallett gives us the 411 on his training, winning 5 world championships as a competitor for Teen England in Freestyle Kickboxing, and his new action-packed movie release Paintball Massacre, which he produced and stars in.
---
You've worn a few hats in your career- but is there one you prefer wearing?
That is a really tough question, as I love all aspects of film making. If I had to pick one I would go with acting in a role where you can kick ass too. However I have enjoyed the producing side of things of late and I believe this is the start of many more to come.
Being a martial artist, I imagine you also choreographed a lot of Paintball Massacre?
When I told people I was producing a feature film they all expected me to say it was an action Martial Arts film so when I replied no a Comedy Horror it does confuse them a bit. However I wanted to showcase my other skills, not be too pigeonholed and stereotyped. In "Paintball Massacre" there are a number of stunt / action sequences that I oversaw, one was an actor drowning in a lake, luckily this was performed by an actor with a stunt background. Another was an actor falling in a large hole and another being crucified. The moment I came into my own was choreographing the finale fight scene which was so much fun, the actors picked up the movements so quickly and I can honestly say no doubles were used. I can't take all the credit though, as we had World renowned stunt coordinator Peter Pedrero on set to conduct the biggest stunt of them all, a full body fire burn performed by stunt man Freddie Mason.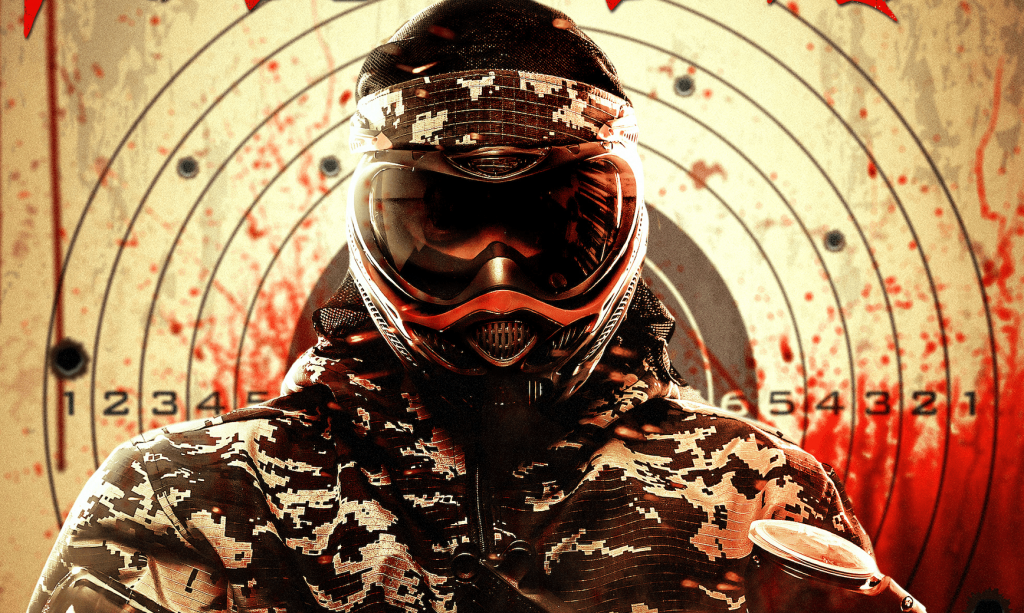 And you're in the film too – did you intentionally make sure you and your character took on the guts of the physical stuff?
Yes I took on the role of Aiden Jones, who is a cocky, big headed, loud mouthed paintball enthusiast. During principle photography I did very little physical stuff in the role of Aiden, as a producer I was running around doing a lot of physical stuff ensuring the shoot went as smoothly as possible. When we shot the pick up scenes and paintball montages that was when I had some fun, running around shooting my paintball gun. On this project it did not cross my mind to put myself in a more physical role, as I have done so many of those kind of roles in the past, I wanted to stretch my acting skills and prove myself in a different way.
Any scrapes or bruises along the way?
Again during principle photography I can safely say none of the actors including me were harmed in the making of "Paintball Massacre". However during the filming of the paintball game montages we all came away with some tasty bruises and bumps from the hits. You learn very quickly as a stunt man the key is to wear your body armour and protection there are no heroes on a film set, safety always first.
Is there a moment in the film that you're especially proud of?
The moment in the film I am most proud of is a scene where character Matt Wilson, played by the talented Ryan Winsley, is buried alive (spoiler alert). This scene was not shot in principle photography and was on the pick up shoot list. It was such an important key scene in the story line and plot we had to get it right. I directed this scene alongside my DOP Patrick Shead-Simmonds with clever lighting by Gaffer Matthew Joiner. What we were able to achieve with such a simple but effective set up in such a small confined space is something to be proud of. When you watch the sequence you would believe we were in a comfortable studio set up not an old farm house building.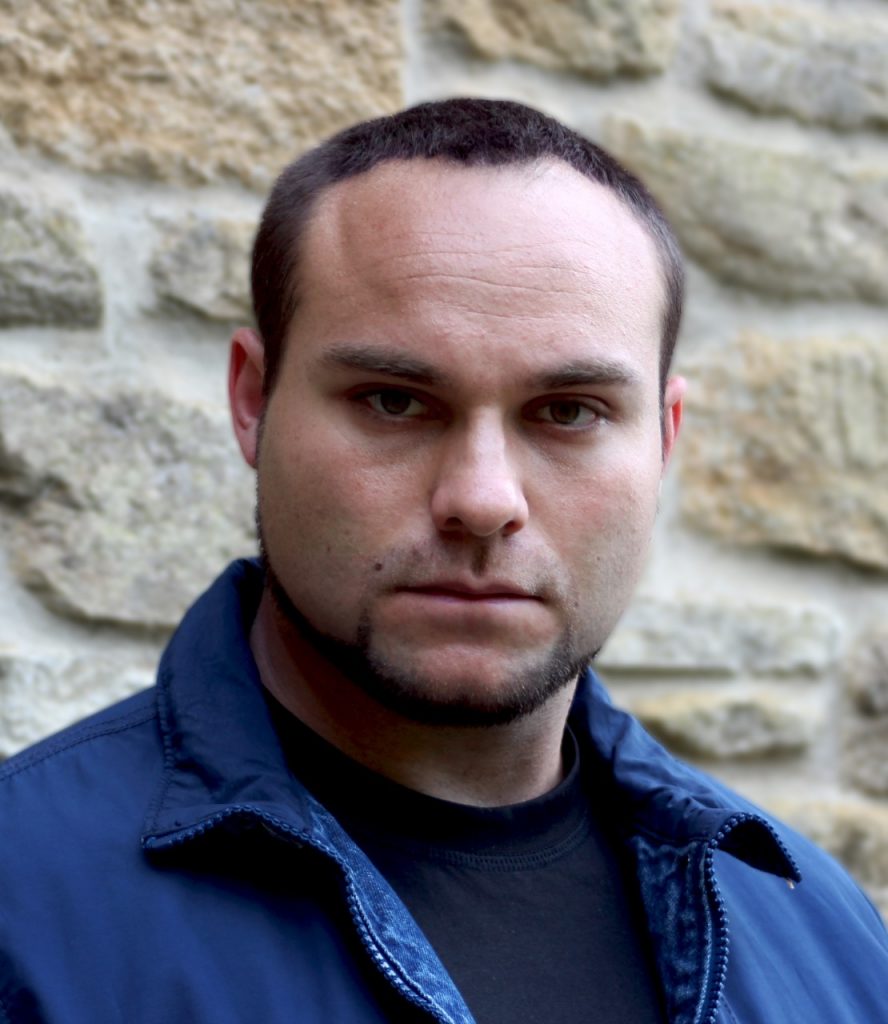 Did you have to learn weapons training?
I have been training in Martial Arts for over 22 years, primarily in Freestyle Kickboxing and won 5 World Championships as a competitor for Team England. If I was a game console character my special skill would be Nunchakus. From the first day I saw Bruce Lee in "Enter The Dragon" I was hooked on that weapon. I have since gained skills with Sword, Bo Staff, Kama and Escrima. Unfortunately "Paintball Massacre" was the wrong genre to utilise these talents. However my accuracy and gun skills did come in handy in one moment, shooting at a tree where one of our lead characters was standing by without any eye protection, If I was centimetres off she could have been blinded. Luckily I had gun and military training when I was taking on a role as a Baker Company soldier in the blockbuster film "Fury" so these definitely helped in "Paintball Massacre".
Tell us how you keep fit?
I am very fortunate to own my own Martial Arts school and teach on a weekly basis. So firstly my students keep me on my toes and motivate me. I try to train personally 4 times a week if my schedule allows, these sessions involve a variety of different sessions. I like to mix it up, some will be weight lifting based, others will be cardio or cross training, then pure Martial Arts training and Acrobatic with plyometric training mixed in. I have found the older I get the harder it is on my joints, so I have had to adapt and be clever with my training to ensure longevity. I give plenty of time to warm up and stretch these days to avoid any injuries.
Has it been harder to keep fit, or exercise, during 2020 because of Coronavirus restrictions?
As previously mentioned I own my own Martial Arts school, so I am one of the fortunate people to have a safe space to train regardless of the pandemic. However I would admit in lockdown 1.0 in England (March – July) I did struggle to stay motivated. It was very easy to sit and binge watch TV. So when the recent lockdown 2.0 came about (November) I was determined to not be lazy and train regularly while keeping a strict diet. This mindset has paid off as I have shifted pounds and am fitter now than I was a month ago.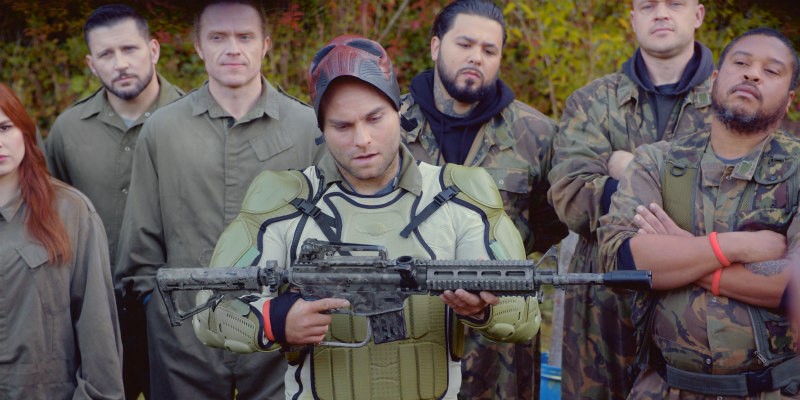 What most people don't realize is that you don't need necessarily have to attend a gym to stay fit. What at-home exercises would you recommend for those wanting to simply stay in shape?
For sure as an Instructor I have heard all the excuses under the sun for why people can't train. The true and main reason is down to their own self motivation. To get into good shape it takes time and dedication and it will not happen overnight, so firstly you need to get your head around that. I have been teaching Zoom classes to my students during lockdown 2.0 and these are all based around doing the class in your living room with approximately 2 metre square area or less with no equipment at hand. There is so much you can do at home from all the body weight exercises (Sit Ups, Press Ups, Squat Thrusts) to cardio exercises like shadow boxing, running drills on the spot and skipping. Plus, there are so many everyday items at home you can use as weights from canned food to bags of sugar. Put these in your hands and do dumbbell lifts or shoulder presses. However, I always recommend if possible, for you to get outside and go for a run or walk, being in a different environment and breathing fresh air does so much for your mental well-being as well as your physical health.