MASUMI is playing the lead in the new film "Yakuza Princess" opposite Jonathan Rhys Meyers, and Tsuyoshi Ihara; in the movie she plays Akemi, the heiress to half of the Yakuza crime syndicate who forges an uneasy alliance with an amnesiac stranger who believes an ancient sword binds their two fates. She must unleash war against the other half of the syndicate who wants her dead.
MASUMI stopped by to chat with me about the movie.
---
So we're going to be talking about your new film, Yakuza Princess, which I can say without a word of a lie, is one of my favourite films of the year so far.
Wow! What a compliment. Thank you so much.
I thought it had something for everyone dealing with themes of solitude, identity, honour and coming of age. Can you talk about what impacted you the most about it?
Yeah, I think you said all of it (laughs), but Akemi has a dysfunctional family, a broken family, basically, and she goes through turmoil with themes like identity and belonging. That's something that me as a person who was born in America but was raised in Japan, I have to go through a lot of that feeling of identity crisis and not belonging anywhere. So that was one of the strongest feelings that I felt was similar to Akemi. It helped me to understand it very quickly.
Was being able to relate to her in that way what appealed about the script?
Yeah, I think it was absolutely that, because that story is not told so much. I think when you feel when you have an identity crisis and when you feel like you don't really belong, it's hard for you to make a lot of friends. I feel like with Akemi, she doesn't have a big group of friends. She has a very simple life. She goes to work, she has very few friends. She really feels like she can't open up to people because not a lot of people understand the kind of loneliness she has and that's something that I very uniquely understood because growing up, I didn't have a lot of people that had the same experience as I did. And so in that way, I felt very lonely, too so that was something that I felt like I understood about her. That's something that jumped out for me.
I thought it was actually probably one of the most beautiful looking action movies I've seen in some time. I felt like you could listen to a screenshot and hang it on the wall. How did you find working with director Vicente Amorim?
I can't really compare it to any other experience because this is my first movie ever and working with the director for the first time, but Vicente was so easy to work with, very, very warm and very supportive. He was very communicative. What I really appreciate about him, though, was that he knew exactly what he wanted to get. So there was no half-baked ideas that we were trying out. We knew exactly what he saw and he was very good at communicating that. Also he was very open to playing with my ideas, any new ideas. Having that kind of relationship was very amazing to me as a first timer.
How did you prepare for the role?
Generally, I watched a few samurai movies that Vicente recommended one being 13 Assassins with Tsuyoshi Ihara. So I also watched Three Hearts, and I also watched Lady Snowblood. Have you heard of it?
Yes, it was one of the inspirations for Quentin Tarantino's Kill Bill movies.
I didn't know that actually (laughs). I was very inspired by that movie, how beautiful it was. Kaji Meiko, her performance was very impactful for me. So yeah, I watch that a lot. Other than that, I think I just spent a lot of time understanding Akemi, from my experience.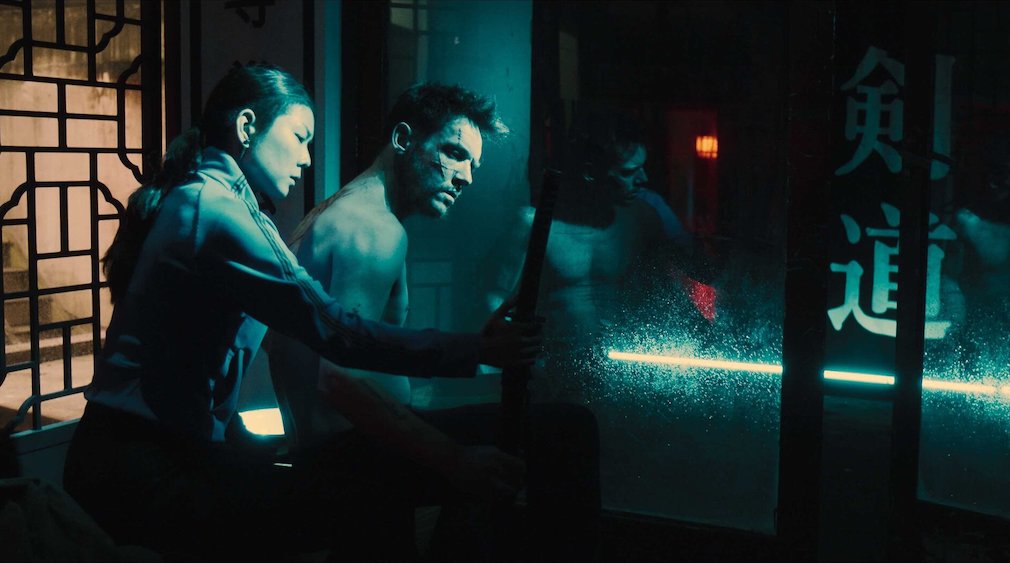 You have a lot of action scenes in Yakuza Princess including swordfights. I believe your husband, Kenny Leu trained you in martial arts as well. Can you talk a little bit about the training involved for this movie?
Yes, absolutely. My husband, Kenny, is a martial artist and he's also a US champion. So he has a very strong foundation in martial arts. I really needed him to learn all of these martial arts because there was all kinds of it. There were stunts, there were martial arts, there was sword fighting, there was kendo. And these were all very different things; with the kendo we went to a dojo a few times to join their classes. For sword fighting we had a fighting coordinator and also Eijiro-San and Ihara-San helped me out with it. For the martial arts part I would train up at the rehearsal studio and then I'll come home at night at my gym/apartment, and Kenny would rehearse with me again for a few hours every day. So it was it was a whole lot of martial arts that I jam packed in that month.
The sword Muramasa is almost like a character in itself. Did you enjoy working with it?
Yeah! It's interesting because the Muramasa story is actually true. I asked my father about it and he was like, "oh, that's interesting because I know that story" and it's an old Japanese story that is supposed to be a true story. With the sword, it's a funny story because I actually always had a lot of fear towards sharp things, so I'm actually scared of forks, too, just kind of whatever has a pointy ending to it. I was afraid of it. Going into using a katana was something that I was very worried about. My family was like, "are you going to be able to hold that thing (laughs)?" So in the beginning, there is a little bit of apprehensiveness around it but after shooting the whole movie with it, I think I had gotten pretty confident with it. I am actually thinking of taking a little bit more classes with Kendo and swordfighting.
A lot of the movie was filmed in São Paulo; how did you find shooting there?
Sao Paulo is beautiful and there are so many street parks. That was amazing as well. We shot in an area called Liberdade, where the biggest Japanese community is and Brazil has the largest Japanese community next to Japan. So there is a huge community there and we got to use their buildings. There are specific areas for the chase and fighting scenes so I think it turned out to be very unique and very beautiful because of the neon lights and everything. Yeah, it was a really fun experience. After we shot in São Paulo, we then moved to an area which was about two hours away, and was more in the in the forest mountainside and it's very famous for its fog. So it's always very, very foggy and almost you can't see two feet away from you because it's so foggy. So we got to shoot that; there's a creepy scene in the movie and it's actually creepy there. So that was also pretty cool.
I know the exact thing you talk about and yes, I agree. Is there a particular scene or moment that really stands our for you that you would say is your favourite?
Well, I have two that are my favourites but now I'll tell you one of them. There is a significant scene with Shiro and I can't say too much about it but that scene was one of the toughest scenes that I shot. I also felt like it brought me and Shiro very close together in that scene. So that's one of my favourite scenes, although it was emotionally tough to accomplish that scene. The second scene that I really like a lot is the scene where I fight with my husband. We choreographed this fighting scene together and that scene got to stay in the final cut. So that's also my favourite scene as well.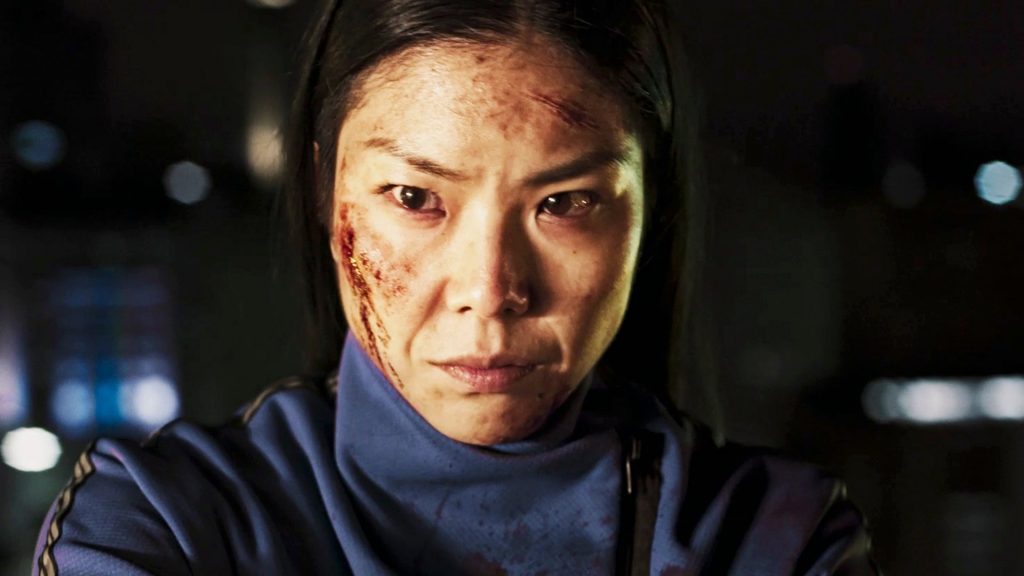 I feel like we need to see much more of these characters. Do you think you would come back for a sequel at some point in the future?

Yeah, I would love to. I would love to come back and we'll see if there's a sequel to it.
Once you'd finished working on the film, what did you learn from it?
Let's think. Well, there were a lot of things that I learned from working on the set, but one of the things that I didn't think I would feel at the end of the movie shoot is that I thought that being a lead of the movie, all the responsibility was on my shoulders and I thought it was a lot on my plate. Actually working on a movie set you realise that what you're contributing is like 10 percent off of your work, really. There's so much more that goes into the movie. That's not just your acting. There's the visuals, there's the cameras, there's the lighting, there's the sound, there's the set designers and all of that. When I realised that it was with all of us putting in all all of our efforts into it it was such a humbling process for me, making the movie. Three hundred people on the team and there's me and the actors. It was a very collaborative effort that I got to work with all these international people. We didn't even speak the same language sometimes, and that was very beautiful to me.
You come from a musical background yourself. Would you ever be interested in providing a score to a movie in the future?
That would be really fun. I want to do that yeah. I hope I'll get that kind of opportunity.
What would you like audiences to take away from the film?
There's this kind of a ghostlike feeling to the movie. It's a little bit spiritual. It's this feeling that you can't quite grasp what the truth is and I think life is kind of like that. Sometimes we can't quite grasp what the truth is or what's the right thing to do. I think what's inspiring about Akemi is that she still finds her own truth, her own value or whatever it is that she feels like she must do. Then she goes and does it. She takes the throne and I think that is the message that speaks so strongly to me. Life is like grasping on smoke and at the end of the day, you have to find your path and you have to commit to it and you have to tackle your fear and seize your throne. So I hope that people would receive that message from watching this movie.
What are you working on next?
What I'm working on movie wise, it's a little bit up in the air; I'm waiting for some final answers to it. With music I'm coming out with a few new singles with the launch of the movie. So I hope everybody would also check that out as well.
Thank you so much for taking the time to chat and good luck with the movie. I hope it's a huge success. I'll talk to you for the sequel, hopefully.
Oh I hope so! Thank you!
YAKUZA PRINCESS hits VOD/Digital September 3 with Vortex Media distributing in Canada, and Magnet Releasing in the US.