As a budding filmmaker, you may wonder whether a film education would support your goals and help your positioning career-wise. In truth, getting a film degree is a personal choice as some individuals may prefer a different approach; however, considering the top reasons or benefits of going after a film degree may help you make a more informed decision.
In this article, we have listed the top seven reasons college students try to acquire a film degree, discussing the benefits they may have in their film career.
7 Reasons To Pursue a Film Degree
There are many reasons to hone your film expertise when pursuing a career in this industry, and bagging a film degree is one sure way to do that. Earning this degree would put you ahead of your peers and kickstart your journey.
Being a student in higher institutions can be tasking; you must combine your very time-consuming studies with your activities. The assignments and projects do not make things easier, and often, you may wonder, "how can I write my coursework quickly?" To make this easier, you should take advantage of the services of a trusted coursework writing service, and you should be able to find more time for yourself.
Check out the top seven reasons to try a film program in your journey to becoming a big shot.
1.    You Gain First-hand Experience
Watching videos teaching how to use equipment or the proper way to write a script is not enough. Nothing beats hands-on experience, taking the tutorials learned in class into the theatre and putting them into practice; film school offers this and more.
You get to work in teams alongside your colleagues and learn from your mistakes, building your confidence as you go. This will also help you get rounded in most aspects of filmmaking, irrespective of what you wish to focus on while improving your worth. It will also offer a good understanding of how other roles in the industry may affect your work and what role you have to play in the grand scheme of things.
2.    You can Access Professional Equipment
Using professional equipment to produce your films can make a huge difference. You will see that the quality of your productions will be much higher, and this difference is usually very evident. The issue you will face is that this equipment is very costly, making it difficult for most creatives starting in the industry to acquire them. There is good news for you; a film school will strive to produce graduates that can use this equipment, making a wide range of them available for developing projects.
You will have access to multiple filming equipment, including;
Software for screenwriting
High-definition cameras
Filming tools
Software for editing your productions
Film sets
Software for visual effects
Sound equipment
Permits to filming locations
3.    Cultivate a Stronger Capacity For Storytelling
Making movies entails bringing stories to life in a way that pleases the audience enough to keep them engaged throughout the film production. It is impossible to do this if you do not know how to tell a good story; luckily, with film school, you can tap into your inner storyteller.
You will get introduced to the fundamentals of telling great stories. From your interactions with other students and teachers alike, you can broaden your knowledge and proficiency, getting more information about the world to write about from their perspectives. By learning creative writing structures, drafting scripts, and analyzing successful and poorly integrated productions with your peers in school, you can improve at storytelling and develop competently at telling the best stories.
4.    Build Connections With Other Film Professionals
Film school opens you up to endless possibilities because it offers you the chance to position yourself properly and start building your career from the get-go. Networking is essential in any career, and maybe more so in the film industry. Your connections with others—filmmakers, directors, crew, cinematographers, and actors—would play a huge role in your success.
While pursuing your degree in film, you can interact with your colleagues and complete projects with them. The professors are not left out, and from this point, you can start collaborating with these people for your current projects while building a contact list for your future work, as your network can greatly affect your career.
5.    Become a Better Team Player
As is common in many industries, you must be a part of some team as a filmmaker. You will likely have close relations with other professionals, such as actors, screenwriters, crew, directors, etc. It will greatly impact your worth if you know how to work well with these roles in a team.
Film school allows you to perfect your teamwork, readily putting you in teams with others to complete projects. Here, you will be taught how to work in a team—because you will have to step into several roles and wear many hats during your learning—and mitigate conflict that can delay production. You will also have the chance to master the necessary abilities for teamwork, like active listening, compromise, persuasion, and negotiation.
6.    You Get to Build a Catchy Portfolio
Film school does more than help you hone your ability. As a student in the film department of any college or university, you have access to professionals, top-tier equipment, and the necessary resources for creating short clips and movies. Even your assignments and projects offer impressive opportunities to help you grow with proof of what you can do in your portfolio.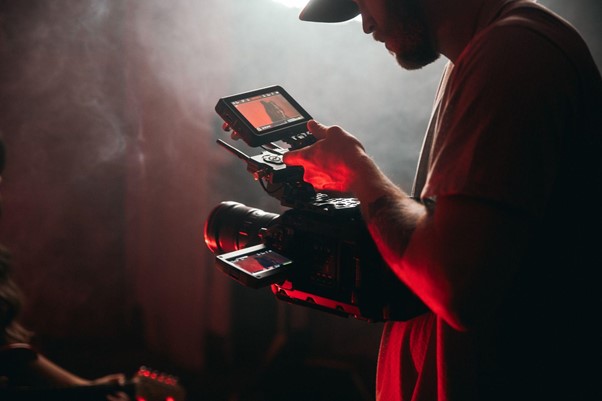 To break into the industry, you need to supplement your resume that describes your achievements and experiences with visuals that show your expertise. This is where a visual resume encompassing demo reels of your previous work comes in. When you build a professional portfolio, you can jumpstart your journey and position yourself better in your career.
7.    Take Advantage of the Diversity of Programs
You may be interested in chasing a career in the film industry, but unsure which role you may be best suited for. Instead of jumping into the first field that interests you and finding it unfulfilling, you should take advantage of the interdisciplinary model employed in film school. This means you understand the intricacies and necessary expertise for multiple roles, as they teach using principles and strategies from different specializations.
Since you will be exposed to various career choices during the duration of your learning, you will be in a good position to determine the best career that suits your competence and expertise.
Wrapping up
Chasing degrees in filmmaking are critical to your success in the film industry, irrespective of what role you decide to get involved in. You get to hone your skills and grow career-wise from the experience and learning. You also get a superb opportunity to break into your field by building resumes with completed projects and perfecting your unique style.
Once you have decided to take a film degree program, carefully research the schools available to you and ensure you pick a good one to help you acquire a skill set, build connections, and prepare you for a career.