Jesse V. Johnson needs no introduction around these parts as he has directed Scott Adkins in Debt Collector, Accident Man, Savage Dog and the upcoming Avengement. This week sees the release of the highly anticipated ensemble actioner Triple Threat which stars Scott Adkins, Michael Jai White, Michael Bisping, Tony Jaa, Tiger Chen, Iko Uwais and Jeeja Yanin. 
I had a good chat with Jesse about the film as well as some upcoming projects.
Triple Threat is the action event of the year; how did the concept all come about originally?
I was directing Scott on Accident Man in London and was contacted by Arclight; I had sort of gotten on their radar because of a movie I did called Charlie Valentine which was playing at a film festival in Naples, Italy. I got to spend a lot of time with those guys and they really enjoyed that movie and we always talked about doing a film together. So they bought what was essentially an idea from Tiger Chen; they bought the rights to an action film that starred three Asian leads Iko Uwais, Tiger Chen and Tony Jaa. They didn't really have a script for it. They had a number of different titles for the movie. I came on board and was basically told "we've got this for a year, we probably over paid for it and we need to come up with a project based around it and make it work" which was actually very exciting. I read the script; they'd already brought on Joey O'Brien who I got on very well with who started writing. We took his ideas which he had already started and used that as a jumping board. We got to Thailand which is obviously a very specific location that dictates a lot of what you're going to do there. There are certain things you want to do there which are extraordinarily difficult and expensive and other things which are really, really cool and almost free and basically a part of the local environment. You wouldn't even imagine until you get there and think "oh shit, we've got to work that into the script somehow". So it was actually better to have a barebones of an idea rather than a completed script as it allowed us to adapt it to the environment  and location but also to use the actors we had started hiring as when we went to Thailand we only had three leads. As I landed and we started nailing down the other cast members so characters flowed from the actors we hired and we had a fairly good time to write the script but it was still pretty intense.
The moment we locked in Scott I though "oh well, let's make him English" and we knew we had Michael Bisping coming who was also English and we could make them these two dysfunctional brothers.  Now that wouldn't have been in the script and wouldn't have made sense to Joey had he not known but it was a very cool way of doing it. We had a 55 page basic outline and then honed it, tuned it and made it work for those characters. I also got to talk with Tim Man at great length and we were going to set up these various action sequences as obviously you don't want to leave that till the last minute. The more preparation time you have with fight choreography the better it is due to the fact that it's rare that you do something off the cuff and it works out well. Just because of coverage and the sheer mechanics that has to go into creating any action sequence.  So Tim started work fairly early on and the moment any of these actors turned up his mind (which works like a computer) would sort of alter the choreography to work with that particular actor's martial arts style. It didn't happen on purpose but we ended up with 9 martial artists including Jeeja who all have very different styles. As opposed to try and force them to adopt a style that Tim came up with Tim actually worked beautifully well with all of them to just incorporate their particular motif and physical strong points.  Each actor has at least one absolute signature moment that is particular to that discipline; I think he did a fantastic job. I can talk rather ignobly about it because I wasn't the creator behind it. I want to give him credit for that and the wonderful work that he did on it.
For the fight scenes I had my hands full with the first unit directing so I'll direct right up until the first punch and then the bloody aftermath after the guy being picked up or any acting moments within that fight sequence, otherwise I sit with him ahead of time and we talk out the beats, where it has to go from, where it has to end and what has to happen. He then comes up with it and that's how it works. You have someone you trust and you work with them and so having said that I love how on this one the lines are so blurred and I can't tell where he starts and I finish which is brilliant.
You mentioned Charlie Valentine earlier; I saw it for the first time recently and it's a really awesome movie…
I worked very hard on that one; it's the first time I found a DP that I really enjoyed working with called Jonathan Hall who shot Triple Threat as well. The picture is a throwback but then it was almost retro because of how we decided to shoot it at the time which was anamorphic in a style called Technoscope. This is something Sergio Leone started and he was desperately trying to shoot widescreen like the big Hollywood pictures but there was no way on Earth he could afford to get those cameras so he came up with this Technoscope which is a 2-Perf exposure which means it only exposes 2 perforations in either size so you get a very very narrow frame. It's almost 2:35, the same as the anamorphic did but it was a very cheap way of achieving it (laughs). So John came up with that and we used old Panavision gold cameras which were immense weighing like 200 pounds and you're swinging these things around. It was a really fun shoot that one and I learned an awful lot; it's also probably the first film where I felt I had a handle on the actors in a way that gave them the opportunity to do what they wanted. I come from Second Unit directing and I've been interviewed a few times where people ask how it is coming from that background and you have to unlearn an awful lot. You have to unlearn this need to rely upon a storyboard or shot list or pre-visualization video. You have to learn to improvise and go with the flow and to understand that some of those beautiful moments in the movie come from being open to accepting what's going to happen on set when you put an actor in there. I mean, you have your plan but you don't force it upon the actors who are working with you. You allow them to organically come to the conclusion. It's amazing how often it's very similar to what you planned earlier but has the nuance to it that they feel that they created it so they have taken artistic ownership of it and you can see it in their eyes and the believability of their performances and it's a wonderful thing. I think that was the first time I ever felt that on Charlie Valentine; I trusted the cast, they trusted me and I think it shows on the film. It was the first mature film as the 3 or 4 that came before that were good technical pieces but they were a process. I'm really pleased you saw it and enjoyed it. John did great work on that one too…
Great use of squibs in Charlie Valentine…
They were bloody ones weren't they? (laughs)
There are quite a few in Triple Threat too; do you ever count the amount of squibs?
Yeah, I'm very aware of it because in Thailand they are the more expensive gags; it's the same price to do a blood squib as it is to do a huge fireball explosion. It's only the gasoline that's different as it's a couple of dollars. The preparation that goes into a blood squib you are very aware of as all the time you've got the producers breathing down your neck and you're making sure it goes well. You know from having to clean the blood off costumes and wardrobe that you only really get one shot at it. So you try to put a couple of cameras on it and you try to be as prepared and planned as possible; that's why you do need shot lists and pre-viz as all that sort of stuff you don't want to wait for the last minute. I know some of the great Hollywood directors were known for improvising their action but we don't have the ability on these pictures to sit for three days and think about how we're going to come up with a shooting sequence. You go in and you shoot it. The assault on the hotel was the worst day on the shoot for me; it was agonizing. We had incredible weather; I get very lucky with weather on movies. Knock on wood it's a strange thing but I think the heavens like movie making or something (laughs). If you get lucky with weather it's one of these beautiful things but that was the one day of the shoot we didn't. We had a torrential downpour; I mean where it looks like the rain is going sideways and just instantly soaked everything. We couldn't film so we were all standing under the overhang at the hotel with everything ready to go – squibs and guns and stuntmen. I'm looking at the time and realising that this already ambitious day's filming is now being cut down by the minute. We finally got started at 1 o'clock after lunch and had literally just the afternoon to shoot that scene so it had to absolutely go like clockwork. I think we pulled it off; I think it's a pretty good little sequence with a lot of squibs being used in that one.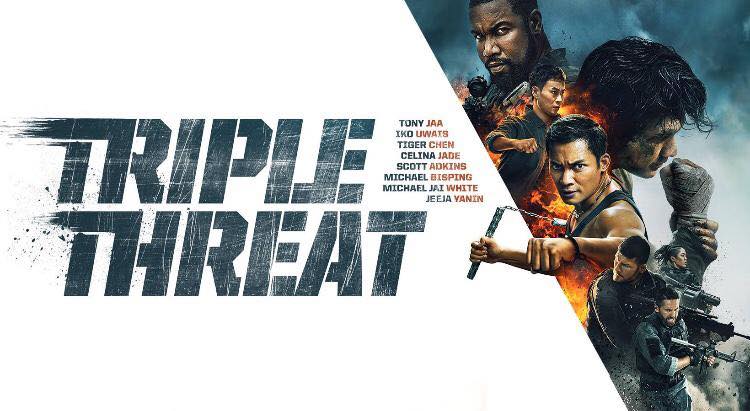 Am I right that the opening sequence is an homage to Predator? We even have Ron Smoorenberg looking like Hawkins…
Absolutely 100%! I love that movie and I thought it was a wonderful way to start. The genesis for doing the jungle was I had made a film in Bangkok before called The Fifth Commandment which was a good movie but it was hard work and I didn't have control over the edit on that movie and it shows. I can't even watch the movie, frankly. What I did remember about Bangkok was that you can fall prey to having a movie that has a tendency to look like it was all shot in the same city block. It's very beautiful but there's this ragged, unkempt almost grunge look to the architecture and even the electric lighting and everything there looks like it's very similar. If you watch a film like Only God Forgives it's a terrific movie but it all looks like it was shot on the same street. Everything is slightly unkempt, there's corrugated iron, there's loose wires and you unfortunately end up with a film that doesn't really look like it has massive production value. I was worried about that on this one and I sat with Mike Selby who was the local producer and said "what can we do that really takes us out of this usual Bangkok feeling?" and he said "we could shoot in these glass covered tower blocks" which we did and it was pretty cool. He also said we could shoot in the jungle; we could go three hours north and go into the dense jungle which sounded like a wonderful idea cos I'm an idiot and loved the sound of it (laughs).
It was fantastic and it does look different from the rest if the movie however, what I didn't realise was that when you're in the real jungle you have this dense canopy over your head which means that the sun doesn't break in there until around 10:30-11:00 in the morning. By 3pm it's gone because of the axis of the Sun so it's like nighttime in the jungle by 3 in the afternoon. It was a really short day which was something I wasn't quite prepared for. I was the only one of the crew that turned up in shorts and that became very obvious for that reason very quickly because everything in the jungle bites, scratches and is attempting to eat you. If you look at the floor of the jungle it looks like just leaves and branches and within a few seconds it's all slightly moving with insects like centipedes which was very unnerving; I was more unnerved than most of the cast as they just rip right into it. Scott was running around in his loin cloth and the rest of the gang were really fully committed so it was a helluva lot of fun moving the camera through all that dense jungle.  So yeah if there were any Predator similarities they were entirely intentional.
Ron Smoorenberg plays Steiner and in Savage Dog Vladimir Kulich played a character called Steiner; does the name have any particular meaning for you?
Yeah, there's a character in real life that I rather like reading about but that's a story for another interview but Ron was a good cat. I think he turned up as an extra or a one day stunt man on The Fifth Commandment and he was a very young man then so it was fun to work with him again. He gets a rather cool fight with Tony Jaa in this one and so I was pleased about that. He did learn one of the big lessons on this one; it happened three times before with a stuntman where he was doing a fight with Tony and he couldn't react as quickly as they wanted to so they said the absolute last thing you want to say in a fight scene with Tony Jaa which was "make contact, dude" (laughs) which is something you hear an awful lot in fight scenes especially with Scott and I've done fight scenes with Chuck Norris too. Sometimes they say "make contact" and it helps you react but Tony Jaa you just don't say that and so we had a few moments where people were recovering from that but he's a force of nature, Tony.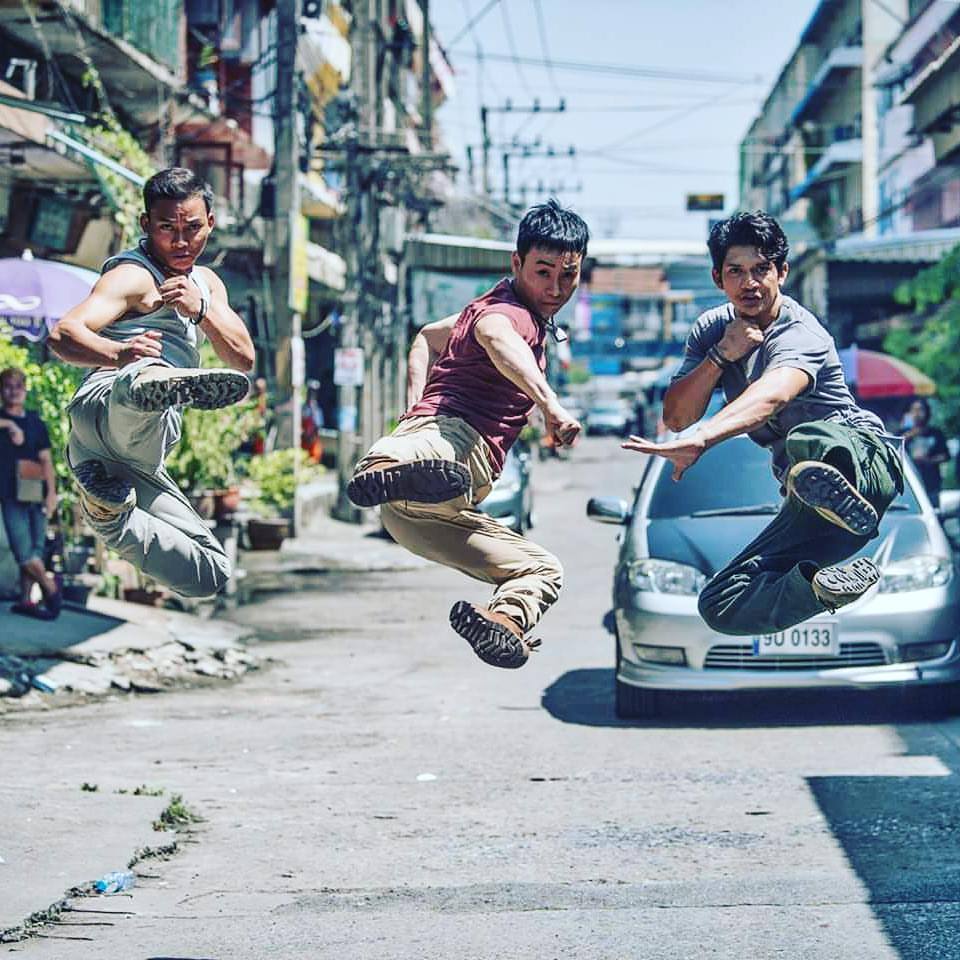 I found Tony's character in Triple Threat was one of his best to date and really had elements of his own personality and humour in it…
I hope I did; I hope I did get across what he's really like because he's very interesting. They keep trying to reinvent him and I've watched a couple of other films where they dye his hair blonde or something and that's not Tony. It's very difficult for someone who speaks a language as different as Thai which is a completely different mindset to try and play with. So I spent a lot of time with these guys ahead of time and went to dinner with them, had conversations and breakfast with them cos it's tricky. You're not only directing another actor you don't know so you're trying to get into their head but you're also trying to get beyond the language thing and the sensibility. Beyond them trying to be polite to you because that tends to be the situation under which they're meeting you you're trying to get to the very core of what makes them tick so you can bring that out on set. It's a tricky thing to do and with Tony I felt very lucky because I got to spend quite a lot of time with him. He is a very interesting person; he's almost like a Buddhist warrior, very gentle and quiet with a gentle sense of humour. He's been through a tremendous amount in his life and you can see it in his eyes. He has a great affinity for elephants and animals; they all flock to him and sniff around him wondering who he is. When he walks on set you know when he's there because not only the Thai crews stop and look at him but it's almost like Arnold Schwarzenegger when you work with him. There's a sense ahead of this person as they arrive which is very interesting. Tony is very gentle physically… until the action starts and then it's almost like a biblical transformation (laughs). It makes the hair on your neck stand on end because what you had just seen was this incredibly gentle form suddenly become something which is the most brutal, dangerous and powerful being you've ever seen. I do hope I get to work with him again and I hope I did him justice with this. I'm thrilled you said that as I wanted to  give him that ability to be funny but also to have that edge to him where you knew you don't fuck with this cat… you just really don't.
The same for Iko who has an intense spirituality which I find interesting; we were rehearsing and it was dynamic rehearsing right at the last minute when I get a call from his manager stating Iko would not be coming to rehearsal because it was an Islamic holiday. Iko is very religious and devout and there was something about that which really really impressed me especially in this era with actors doing anything for the camera like more close ups and this and that. He put all that aside because it was a day of prayer for him. The following day he was back to work as usual so I tried to work that into his character as well. There's an incredible spirituality to Iko which really impressed me so I hope to revisit that again on another movie. Tiger also had his strengths as a comedian and I found him absolutely hilarious; it was intentional. I wasn't laughing at him but with him. He has a very straight man's sense of humour; without breaking a smile he'll say very funny things so I try to work this into this misfit trio and come up with something that's entertaining and a little less clichéd than a lot of these other action movies that we get shown which have great fight sequences but very little character development and little time spent with the actors themselves.
That was the thing; I didn't even hate the bad guys in Triple Threat! I loved Scott Adkins, Michael Jai White and Michael Bisping so I wanted them all be buddies by the end (laughs).
Yeah, it's tough isn't it? I love making bad guys interesting in movies; giving them a backstory and coming up with some reason for them to be there. I'm always fascinated by the antagonists; you gotta look close at the reasons behind them and I think you should always have bad guys who feel in their heart and soul that they are doing something that's right. Then you've got a good bad guy.
What do you want audiences to take away from Triple Threat?
It's very important to me that they try and see it on the big screen as it's a film that truly, truly needs to be enjoyed on as big a screen as possible. You've got a vast amount going on; you've got some incredible fucking physical action that you normally don't get to see but you'll get your money's worth in this one. So go to the movie theatre and enjoy it there; it works well on your laptop or your big screen TV but baby, this is a film to see on the big screen (laughs).
Moving on to some of your other upcoming projects; is a sequel to Accident Man definitely happening?
It is, yeah. Stu is writing the script at the moment. I haven't seen it but I've seen all the drafts. Sony gave us a thumbs up and the greenlight so it's definitely in progress. It'll be very exciting.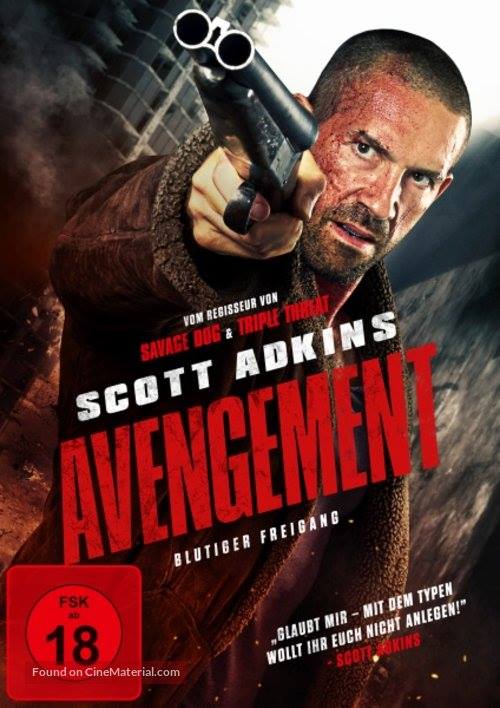 You've got Avengement coming up, what can you tell us about that?
Avengement is a very different kind of action movie to what we've done before; it was an incredible challenge but I think we pulled it off. I think it's Scott's best and I think he believes it too; it's his best performance to date and the most interesting and nuanced character that he's created so far. It's a baroque story of revenge but there's a helluva lot of action in it and very brutal (laughs) but it's a little more cerebral than anything we've done before. So you have to sit and listen to what's going on. You don't want to keep repeating yourself and at the end of the day we're making movies where at some point we're going to have two guys who are going for it with their fists and feet. So the amount of stories you have you've really got to use your wits and come up with something that really defines it. We don't want to do kumite or tournament films; we don't want to do films where in a situation they would normally shoot at each other but then lay down their guns and face off against each other because that's lame. I think with this one we've come up with a really original concept and I think people are going to dig it. It's incredible work from Scott and the rest of the supporting cast is brilliant and one of best acted pictures I've ever done. We have Nick Moran, Craig Fairbrass and Louis Mandylor came back in and we just have a really solid cast of characters. It was far better than I had ever imagined. The film is set in a pub with storytelling that takes us outside of the pub but it's book-ended in this English East End pub so that's something new for me. We're having to move the camera very creatively to keep it interesting and varied trying not to repeat yourself.
And after all the best stories start in a pub…
That's a good one (laughs). I think I'll use that!
Thanks for taking the time to chat and best of luck with Triple Threat and your upcoming movies.
Triple Threat will hit theatres for 1 night only on March 19th and on Digital and VOD March 22.