Explosive
Summary
Legionnaire remains one of Jean-Claude Van Damme's more under-appreciated pictures with solid performances from the entire cast as well as some spectacular battle scenes. 88 Films clearly put in a lot of work in creating this special edition so it's a must-have if you can still find it.
Plot: It's the 1920s: when your life falls apart, there's only one thing to do – run away and join the French Foreign Legion. And after gangsters shoot his brother, that's just what former boxer Alain Lefèvre (Jean Claude Van Damme) does – because they were aiming at him. But he's picked a bad time for a tour of duty in the desert: the locals are rising up against colonial rule, and woe betide anything that gets in their way. Especially the foreign legion…
Mixing up JCVD's familiar brand of action with something more epic, this is one of his greatest and most spectacular movies. With solid support from Adewale Akinnuoye-Agbaje (Lost, Killer Elite), Steven Berkoff (Octopussy, Beverly Hills Cop) and Jim Carter (Downton Abbey), 88 are proud to present the UK Blu-ray premier of this Van Damme classic.
Review: When I first watched Legionnaire many years ago I'll be honest and say I didn't love it simply because it wasn't what I was expecting to see from a Jean-Claude Van Damme film; normally we'd be looking for regular fight scenes but this isn't that kind of movie.
After picking up the 88 Films Blu-ray of the film recently I think it might actually be one of JCVD's most underrated pictures; if you're expecting Lionheart 2 then you'll be disappointed as this isn't a fight film but is really more of a character piece.
There are a couple of fight scenes but there are no fancy kicks or splits to be seen; the standout is a fight between Alain and a German Legionnaire where Alain defends his useless friend Guido and JCVD takes quite a beating… but eventually prevails.
There's a real sense of scale to the battle scenes with a surprisingly somber finale and it's beautifully shot giving off an almost classic serial vibe. The music score from Composer John Altman is also rather nice with a full orchestra giving off that old school adventure feel to it.
As you can see from the above clip the action is superbly done and this was before the days of CG overload so the battle is impressively shot. The sound really helps to immerse you in the action too and at times it feels like you are actually there.
It's arguably one of the best acted movies from Jean-Claude Van Damme where we really get to see his dramatic side as an actor. It has a strong supporting cast that includes Steven Berkoff, Adewale Akinnuoye-Agbaje and Jim Carter (Carson from Downtown Abbey). Berkoff starts off as the abusive head of the Legionnaires who ends up having more to his personality than you first think and he felt like arguably the most believable and authentic character in the story. Adewale Akinnuoye-Agbaje plays Alain's friend Luther who just wanted to escape from racist America and live his life in peace.
The story isn't predictable and there's genuine heart to the characters where Alain and his comrades have to work together to survive the harsh desert. Alain is a true hero who will even carry his friends through the desert when their bodies are failing them.
Themes of brotherhood, redemption and betrayal are explored here as well as the triumph of the human spirit overcoming adversity.
It's just over 90 minutes long but establishes most of the characters well enough that you care what happens to them, especially Alain who loses so much but remains strong.
The 88 Films Blu-ray is packed with special features and is one of their best releases.
Special Features:
[Strictly Limited to 3000 Units]
[Numbered Slipcase]
[Booklet Notes – The Sand and the Fury – Legionnaire: Van Damme Goes Epic by James Oliver]
[Fold-out A3 Poster]
High Definition Blu-ray Presentation (1080p) in Original 2.35:1 Aspect Ratio
5.1 DTS-HD Master Audio
Audio Commentary by Film Journalists Dave Wain and Matty Budrewicz
Audio Commentary by Writer Sheldon Lettich
Desert Command – Interview with Director / Producer Peter MacDonald
Second in Command – Interview with 2nd Unit Director Mike Brewster
Fire, Fights and Fillies – Interview with Stunt Co-ordinator Greg Powell
Sounds of the Desert – Interview with Composer John Altman
Theatrical Trailer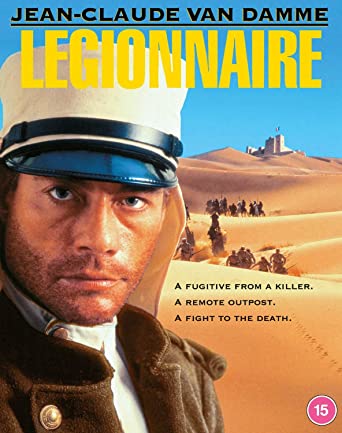 The picture and sound are nicely remastered and the interviews with composer John Altman and audio commentaries give great insight into creating the film. I also have a spot on my wall for the poster that I got with it too.
Overall, Legionnaire was something a little different from Jean-Claude Van Damme and if you're looking for wall to wall fight scenes then you may find it a little slow; I thought it was an entertaining character piece with some stunning battle scenes and genuine heart at its core. The 88 Films Blu-ray is the best version of the film I've seen yet with plenty of special features that should keep fans entertained.