The unbelievable story of the legendary 1980s B-movie studio continues in The Cannon Film Guide Volume II, which covers the company's output from 1985 to 1987, their peak production years under maverick moguls Menahem Golan and Yoram Globus. This highly-anticipated sequel to the original Cannon compendium takes an up-close look at sixty Cannon movies, from deep cuts to cult classics, including American Ninja, The Delta Force, Over the Top, Invasion USA, Masters of the Universe, Runaway Train, Texas Chainsaw Massacre 2, King Solomon's Mines, Lifeforce, Superman IV: The Quest for Peace, and many more.
With hundreds of photos and more than forty interviews with Cannon directors, writers, and stars, this is an indispensable reference book for fans of the VHS era's wildest production company.
Weighing in at nearly 1,000 pages, The Cannon Film Guide: Vol. II contains hundreds of photos and interviews with more than forty Cannon alumni, and features a foreword by James Bruner, writer of Invasion U.S.A., The Delta Force, and Missing in Action. The cover is illustrated by Oisin McGillion Hughes.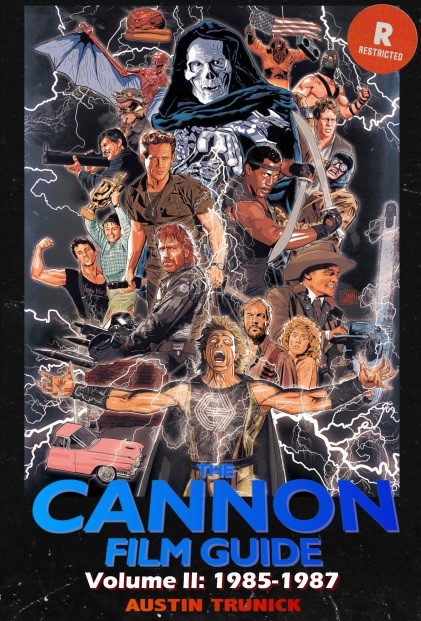 Interviews in The Cannon Film Guide: Vol. II include:Michael Dudikoff, Judie Aronson, Sam Firstenberg, Cedric Sundström, Steven Lambert, Mike Stone, and Larry Poindexter on the American Ninja films; Bill Moseley and Bill Johnson on Texas Chainsaw Massacre 2; Wings Hauser and John Bedford Lloyd on Tough Guys Don't Dance; Leon Isaac Kennedy on Penitentiary III; Eva La Rue and Michael Berryman on The Barbarians; Gary Goddard, Chelsea Field, Robert Duncan McNeill, Anthony De Longis, and William Stout on Masters of the Universe; David Mendenhall on Over the Top; Kyle T. Heffner and Brian Gendece on Runaway Train; Mario Van Peebles on Rappin'; Carey Lowell on Dangerously Close; Melody Anderson on Firewalker; Lisa London on The Naked Cage; Kathleen Wilhoite on Murphy's Law; James Karen and Hunter S. Carson on Invaders from Mars; Nick Maley on Lifeforce; Lorin Dreyfuss on Detective School Dropouts; Chuck Wagner and David Engelbach on America 3000; Bill Wallace on The Delta Force; David Neidorf on Under Cover; Jan Gan Boyd on Assassination; Thom Mathews on Down Twisted; Kit Le Fever on Grace Quigley; William Sachs on Hot Chili; and more! Plus: a bonus interview with Breakin' and Ninja III star Lucinda Dickey about her Cannon legacy.
List of Movies Covered in The Cannon Film Guide: Vol II:Action/Adventure: American Ninja, American Ninja 2: The Confrontation, American Ninja 3: Blood Hunt, American Ninja 4: The Annihilation, American Ninja 5, Invasion U.S.A., King Solomon's Mines, Allan Quatermain and the Lost City of Gold, The Delta Force, Delta Force 2: The Colombian Connection, Delta Force 3: The Killing Game, America 3000, P.O.W. the Escape, Murphy's Law, Avenging Force, Firewalker, Field of Honor, Asassination, Over the Top, Number One with a Bullet, Down Twisted, Three Kinds of Heat. Comedy/Musical: Hot Resort, Hot Chili, Rappin', Grace Quigley, Detective School Dropouts, Dutch Treat, Surrender. Drama: Maria's Lovers, Ordeal By Innocence, Déjà Vu, Thunder Alley, Mata Hari, Fool For Love, Salome, Otello, The Berlin Affair, Duet for One, The Hanoi Hilton, Dancers, Barfly. Science Fiction/Fantasy/Horror: Lifeforce, Invasion from Mars, The Texas Chainsaw Massacre 2, The Barbarians, Robotech: The Movie, Superman IV: The Quest for Peace, Masters of the Universe. Thriller: Runaway Train, The Ambassador, The Naked Cage, Dangerously Close, Camorra, 52 Pick-Up, Street Smart, Penitentiary III, Tough Guys Don't Dance, Under Cover. Children: Aladdin, Too Much: The Robot with a Heart.
Lifeforce! Avenging Force! Delta Force! The Cannon Film Guide, Vol. II: 1985-1987 Blasts into Bookstores in May from BearManor Media
Sequel to the Hit Book about the Legendary B-Movie Studio Covers 60 Cannon Movies Over 1,000 pages
Includes Hundreds of Photos and More than 40 New Interviews