Mel Gibson and Cole Hauser star in the edge-of-your-seat action thriller set during the political upheaval of 1989 Panama. When the U.S. is on the brink of invading Panama, a former marine (Hauser) is hired by a CIA operative (Gibson) for a top secret arms-trade mission. Alone and among the most dangerous arms dealers, Becker (Hauser) learns the true nature of political power.
The director of Panama Mark Neveldine (Crank, Gamer) stopped by The Action Elite to chat about the film.
---
Thanks for taking the time to chat; today we're talking about your new film Panama. What was it about the script that made you want to direct?
I thought there was something fun about going back into the 80's.  When the producers offered me the movie Morgan Freeman & Frank Grillo were attached.  Covid hit everything went upside down and schedules changed.  I got a last second call end of October asking if we could pull this movie off in 14-15 days in December with a new cast.  It sounded like a challenge and that was exciting to me and then they told me Cole loved the project and that Mel was interested.  Needless to say I was in!
Following on from that generally what do you look for in a script for it to get your attention?
I liked that this was the wild true story of an undercover operative buying a Russian chopper from a drug dealer. Ideas like that grab me. But at the same time if someone handed me the right drama, I would dive in.
The film grabbed me from the fantastic opening credits; can you talk about putting that together?
I was tired of always doing end credits and I just thought this would be a fun way to get back to 1989. The VFX team was excellent and the composer was really inspired to have fun with the music. I also thought it was a fun way to see ALL of the producers it took to pull this off during a crazy pandemic.
You've got a great cast; how did you find working with the likes of Cole Hauser and Mel Gibson? 
It was awesome. Cole is a pro, Mel is a genius and these are understatements.  Cole came down a week early to help out with the prep and Mel had lots of ideas about tightening up the dialogue, and then they just had fun and made these two weeks easy to shoot.
I thought Mauricio Hénao was inspired as Enrique Rodriguez; why was he perfect for the role? 
He was great, right.  Bonnie, our casting director found Mauricio. He's such a cool, intelligent cat.  Mauricio is going to do big things, and I look forward to the next one with him. The camera loves him, and there is so much depth to Mauricio.  A dangerous combination.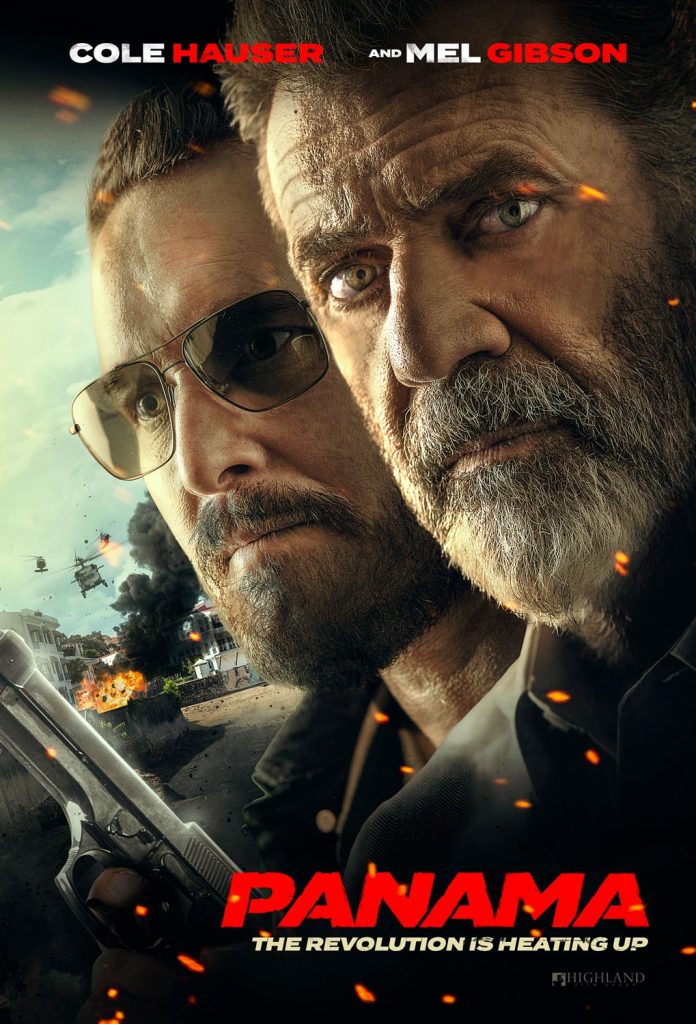 You have some great music choices; how did you go about choosing the right sound for the movie including songs/score?  
I hired Mick Fury.  He was a rock singer turned country singer who also loves a little electronic. He just gave a raw performance through this whole thing. We decided to move away a conventional score, find a spine and then build off each scene.  Very happy with it.  Glad you like it.
As Panama is set in the 80's, how challenging was it to make sure period detail was accurate in terms of costumes, etc.? 
The crew in Puerto Rico surprised me at every turn.  They were on top of everything.  I think every director should be blessed to work down there.  Mayna our production designer was meticulous and our DP, PJ, really synced up to create this palette.
What would you like audiences to take from Panama?
Live. Take a risk. You can always find redemption later 🙂
I'm sure you get asked this regularly, but did you ever have any story ideas for Crank 3?
There is something in the works for the Crank Cinematic Universe. That's all I can say.  That and it's going to be fucking insane.
What are you working on next? (that you're able to talk about)
I was actually supposed to go to the Ukraine and film this summer.  There are two scripts that I wrote that I'm excited about.  The Olympians and Net Zero.
Thanks so much for taking the time to chat and all the best with the movie.
Thanks man.  I appreciate you taking the time to write the questions.
In Theaters, Digital, and On Demand March 18, 2022