Explosive
Summary
If like me you grew with these movies then you really should seek out the Vinegar Syndrome Blu-rays as both films have never looked or sounded better making this a must-have.
I must give a shout out to my friend Jon Cross for finding this Blu-ray set of Martial Law and Martial Law II: Undercover from Vinegar Syndrome. It's getting hard to come by so it's great to finally own these two gems in HD so thanks, Jon.
Martial Law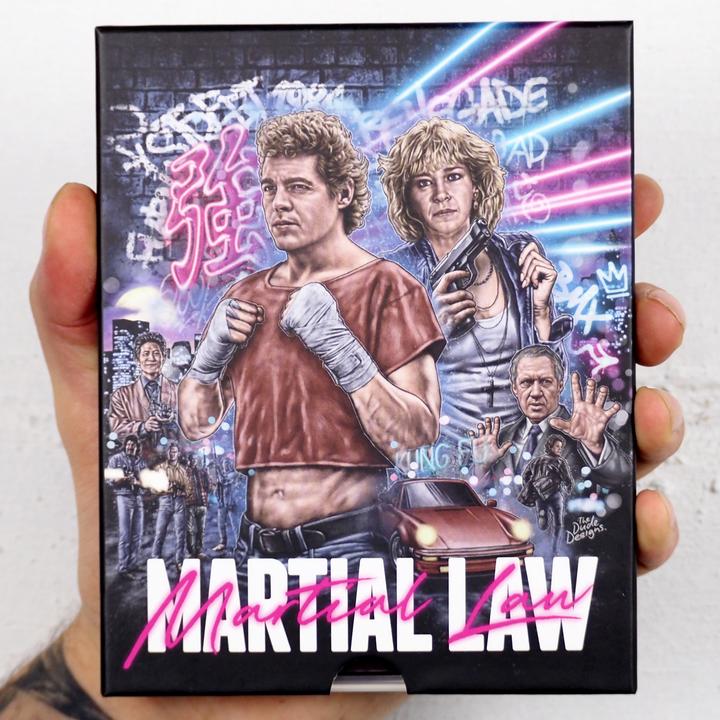 Plot: In MARTIAL LAW, Sean Thompson (Chad McQueen) is a tough as nails, martial arts master, LA street cop with the appropriate nickname of "Martial Law." After a body is discovered bearing telltale signs of "Dim-Mak," or 'death touch,' Sean and his female partner Billie Blake (Cynthia Rothrock) take on the case, which soon leads them to ruthless crime lord Dalton Rhodes (David Carradine) whose kung fu fighting band of thugs is preparing to unleash bloody mayhem on the city. All the while, and unknown to Sean, his younger brother Michael has become one of Dalton's henchman…
Martial Law stars Chad McQueen and Cynthia Rothrock and is the kind of movie (like its sequel) that I could watch on repeat. There is something endlessly rewatchable about these movies from the near constant action to the likable leads. I think these two movies are some of Cynthia Rothrock's best work and she is incredibly appealing on screen with an easy to like personality but she can also kick your ass in a few seconds without breaking a sweat.
Chad McQueen only stars in this first film then was replaced by Jeff Wincott and in one of the documentaries for the second movie Cynthia discusses how they don't know what happened behind the scenes and why McQueen didn't return to the franchise. McQueen has good chemistry with Rothrock and they make for a badass team.
Chad McQueen plays cop Sean Thompson whose brother Michael gets himself in trouble with the law while working for our villain Dalton Rhodes (David Carradine). This brings Thompson and Rhodes on a collision course that will lead to an epic showdown.
The supporting cast includes Philip Tan and Professor Toru Tanaka (who you can clearly see still breathing during his autopsy scene, oops!).
As I stated above, there is action galore in this movie and the fight scenes still hold up because the cast are genuine martial arts practitioners, and the camera holds back so we can see what's happening at all times.
The score provides us with slinky saxophone and electric guitar which was necessary for any action movie of the time period.
David Carradine makes for a nasty villain and his use of the 'dim-mak' (death touch) makes him a worthy opponent for our heroic duo.
The Blu-ray has been well remastered with clear picture and sound but most of all subtitles which is perfect for me. We get a making of which gives us interviews with the director and Cynthia Rothrock where she talks about getting picked for the movie. There are also trailers for the movie and deleted scenes.
Overall, Martial Law has never looked or sounded better and it's still the fun time it was back in 1990 so it's great to see it get loving treatment from Vinegar Syndrome.
Martial Law II: Undercover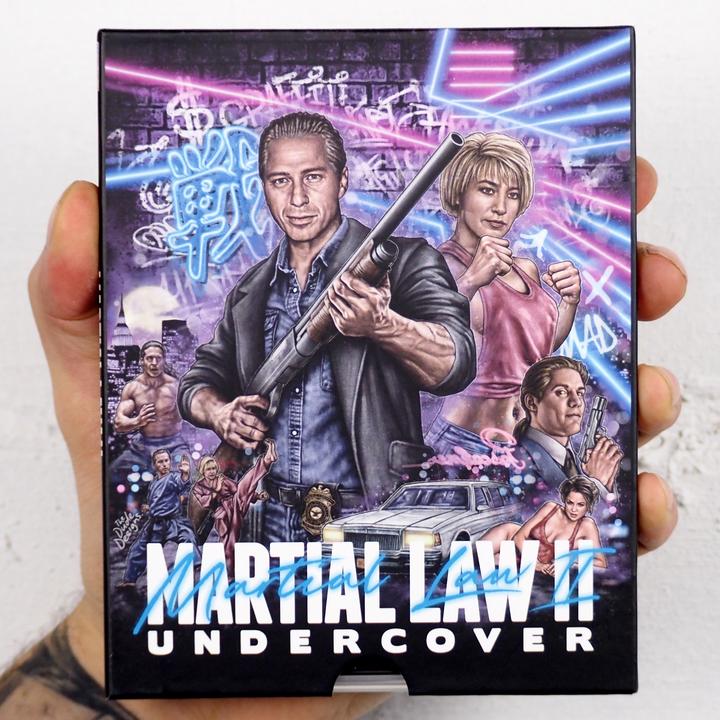 Plot: The saga continues in MARTIAL LAW UNDERCOVER when the body of a cop is found dead in a park, Sean Thompson and his kickboxing, crime fighting partner Billie Blake are hot on the trail of suspects, which leads them to a high-end nightclub where rich and powerful men are entertained by beautiful women and high-stakes martial arts fighting. Billie decides to go undercover in order to expose the shocking truth about the club and its patrons before more bodies turn up…
Jeff Wincott replaces Chand McQueen this time and he plays the same character; his dynamic with Rothrock is different and it's interesting that in the documentary on this disc they go into how Wincott and Rothrock didn't have the same chemistry as McQueen so their relationship was more platonic rather than romantic. I actually prefer this entry as Jeff Wincott is one of my favourite action stars from that era; he looks cool with his slicked back hair, could actually act and had the moves in the awesome fight scenes.
Cynthia Rothrock gets more to do in this entry as she's the one who goes undercover working at the bar of the villain Spencer (Paul Johansson) to get information on his illegal operations.
The scene stealing bad guy for this movie however, goes to the always reliable Evan Lurie who is absolutely jacked and makes for a fun henchman. There is no excuse for a yellow suit though; what were they thinking in the 90s…
The supporting cast includes Billy Drago who (shocker) plays the corrupt police captain, (Wincott movie regular) Leo Lee, Sherrie Rose as Bree and James Lew.
This is the kind of movie where pretty much everyone (including random goons) knows martial arts so like the first it's just constant action.
This has also been well remastered with near perfect sound and visuals once again providing subtitles for us hard of hearing folk. It has the same kind of special features including a 20 minute behind scenes interview with the director and Cynthia Rothrock but it's too bad Jeff Wincott wasn't involved.
Overall, Martial Law II: Undercover is arguably even better than the first movie with frequent action scenes and the addition of Jeff Wincott is always a bonus.
SPECIAL FEATURES & TECH SPECS:
• Region A Blu-ray (2-disc Set)
• Newly scanned & restored in 4k from their 35mm original camera negatives
• "Declaring Martial Law: The Birth of a Female Action Star" – a featurette focused on MARTIAL LAW with director Steve Cohen, actress Cynthia Rothrock and stunt coordinator Jeff Pruitt
• "Under the Law: How a Hit Became a Franchise" – a featurette focused on MARTIAL LAW UNDERCOVER with producer Steve Cohen, actress Cynthia Rothrock and fight choreographer Jeff Pruitt
• Silent outtake scenes for MARTIAL LAW
• Original trailers for both films
• Original video trailers for both films
• Double-sided poster
• Limited edition of 4,000
• Reversible cover artwork
• English SDH subtitles