Explosive
Summary
The Blu-ray of Maximum Risk is worth picking up because the film is an underrated gem with some fantastic action scenes however, I can't help feeling it's light on special features and it's too bad JCVD wasn't involved with it to give some interviews on the creation of the film.
I would give this 3.5 stars normally for the Blu-ray but as I love the movie so much it gets 4.
Plot: When French cop Alain Moreau (Jean-Claude Van Damme) discovers the man who looks exactly like him, he enters a whole new world of hurt. The dead man wasn't just the identical twin brother Alain knew nothing about, he was a key player in the Russian mafia. Following the trail to New York, Alain teams up with Alex, (Natasha Henstridge, Species) his late brother's fiancé, and uses the family resemblance to get inside the mob and tear it down from within. But he's playing a very dangerous game…
Review: I recently picked up a few JCVD Blu-rays from 88 Films so expect some fresh reviews in the coming days. First up is Maximum Risk which is a rather underrated Jean-Claude Van Damme film and it's one you don't hear too many people talking about.
Directed by the late Ringo Lam, Maximum Risk was a change of pace for Van Damme and remains one of his grittiest and understated roles to date. There are no showy scenes of him doing the splits and there is little to no levity but the action is still gritty and exciting, with some impressive camera-work too. The opening chase scene grabs you right away and the film doesn't really let up until the very end. I've heard some describe the movie as slower in pace than what we would expect from a Van Damme vehicle but I've never found that; it's an hour and 40 minutes and only ever goes a few minutes before another impressive set-piece takes place. The fight scene between JCVD and some goons in a sauna while they wear only towels is one of the many action highlights but to this day I still wonder how the towels didn't fall off.
The story involves Alain Moreau (Van Damme) discovering he had a brother who was part of the Russian mob but had been seeking a way out. Alain decides to takes his place and investigate his brother's death inheriting his problems, including his girlfriend. He is forced to fight his way to the answers while being chased by Russian Mobsters and rogue F.B.I. Agents who want him dead. Alain must find the answers to some tough questions and not get killed in the process.
Van Damme gives one of his best performances to date as Alain and the scene with him fighting back tears listening to his brother's message on the Dictaphone is one of the most heartfelt moments of the film. One thing I've always loved about JCVD is how he rarely plays invincible badasses; Alain is very much a human who can take care of himself but still gets hurt which makes him so relatable on screen.
When Alain flies to New York (which was actually filmed right here in Toronto) he meets up with Alex, (Natasha Henstridge) his late brother's fiancé to find out why he was killed. Henstridge is believably tough but vulnerable and Alex has a lot to do in the film rather than just run around screaming, waiting to be rescued. Her face is a picture when she sees Alain interrogate various gangsters as he starts to lose control of himself.
Zach Grenier plays the main villain Ivan Dzasokhov and he's as ruthless as they come making for an enjoyably nasty antagonist. The two corrupt F.B.I. agents are also well cast as Paul Ben-Victor looks menacing even when he isn't playing a bad guy.
One of the other excellent action sequences include a brutal fight in an elevator between Alain and Stefanos Miltsakakis (who sadly passed away in 2019). Ringo Lam also gives us some of his Hong Kong stylings throughout some of the chases and shoot-outs adding a sense of style to the action.
Robert Folk provides an exciting action score with some electric guitars that really add to the pacing of the film, despite not having a particularly memorable theme tune.
Let's take a look at the Blu-ray's Special Features:
[Strictly Limited to 3000 Units]
[Numbered Slipcase]
[Booklet Notes – Wham-Bam Thank you Van Damme, Maximum Risk, Maximum Reward by James Oliver]
[Fold-out A3 Poster]
High Definition Blu-ray Presentation (1080p) in Original 2.35:1 Aspect Ratio
5.1 DTS-HD Master Audio
2.0 DTS-HD Master Audio
Audio Commentary with Action cinema aficionado & game producer Audi Sorlie
Optional English Subtitles
Original Trailer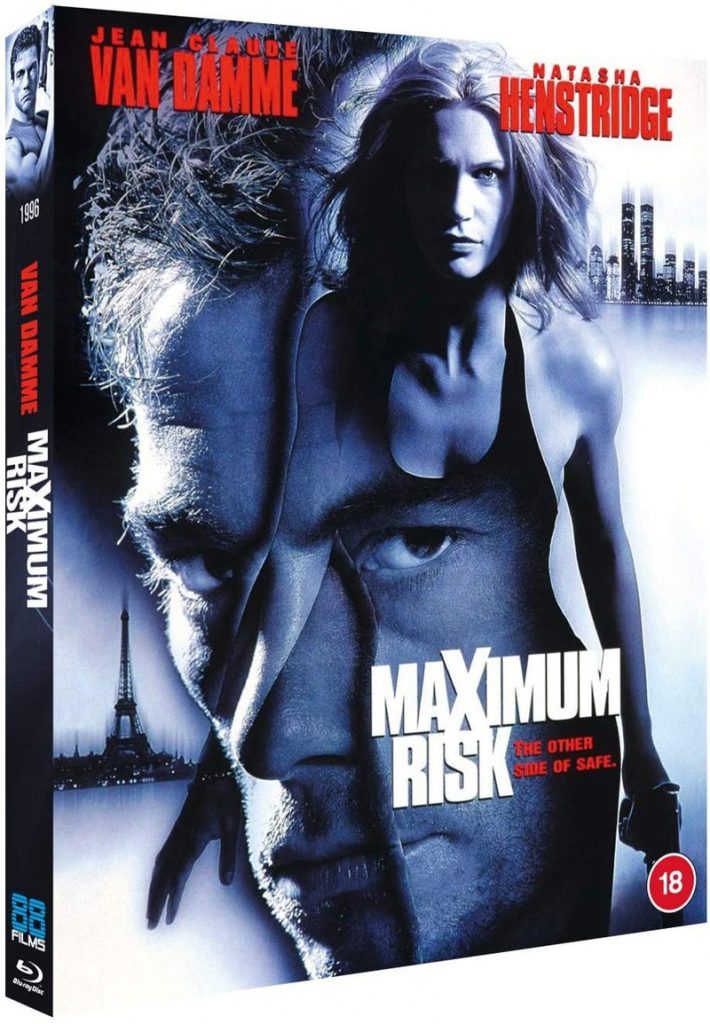 It's worth getting for the movie itself but I was a little disappointed in the special features; for some reason there is no Scene Selection which is pretty basic stuff and I have no clue why that wouldn't be on it. Audi Sorlie's audio commentary is informative and entertaining but there are no behind the scenes featurettes, deleted scenes or anything else of interest. The booklet Wham-Bam Thank you Van Damme, Maximum Risk, Maximum Reward is also fun but I would have liked more insight into the creation of the movie so it feels like a missed opportunity.
Overall, Maximum Risk is a fun slice of Van Dammage with some entertaining set-pieces and a strong performance from the man himself; it's great to finally own the movie on Blu-ray but I do wish 88 Films had added some more features like Scene Selection which feels like a pretty big omission.