High-Octane
Summary
Mr. Nice Guy is filled with Jackie Chan's trademark stunts and insane action with Richard Norton stealing the show as a particularly hateful villain. This HMV exclusive Blu-ray has two different versions of the movie and a trailer but no other special features; I still think it's worth it as the movie is a lot of fun.
Plot: He chops, he dices, he purees! Jackie Chan has the recipe for delicious action-comedy entertainment when he plays a celebrity TV chef caught in a deadly dispute between rival Australian crime lords. With Chan in the kitchen, you know there'll be more pow! than kung pao, and the irrepressible star does not disappoint. Take a look at the in-one-door, out-the-other fight sequence staged at a construction site and you'll discover what we mean. Just when you think you've seen it all, along comes Chan with something new. Then something newer. br/The breathtaking, lightning-quick fun and excitement just might have you shouting, "Nice kick! Nice spin! Nice move!" He is, after all, Mr. Nice Guy.
This new Blu-ray™ presentation of MR. NICE GUY contains two different versions of the movie. The MAIN FEATURE presentation is the EXTENDED ORIGINAL CUT (aka GOLDEN HARVEST version) with 10 minutes of additional footage reinstated. It has been newly remastered and restored especially for this release with a 4K scan from the original camera negative. Also included in the special features on this disc is the NEW LINE CINEMA version of the feature, reflecting the many changes made to the film both in terms of footage and a different audio mix.
Review: While in the UK recently I picked up the Jackie Chan film Mr. Nice Guy on Blu-ray which has two alternate cuts of the film; it also contains a trailer but sadly no other special features which is a shame.
The film itself doesn't have the most engaging story but it's just an excuse for Jacke Chan to do insane stunts and provide the audience with some spectacular fight scenes. Richard Norton chews the scenery as the really nasty villain Giancarlo who has no problem slapping women around and also hitting his own men; a lot of these scenes are uncut in the international version and the film is more brutal.
On this extended edition (which is around 13 minutes longer) the audio has been changed a little and admittedly some of the dubbing/performances are a little stilted but that never really bothers me as it adds to the enjoyment factor.
I had to have a look at a great site called Movie-Censorship.com which goes into everything that was missing from the original cut and they state that there were 290 documented differences:* 35 cuts potentially due to censorship
* 39 re-cuts
* 8 scenes with alternative course
* 25 scenes with altered audio
You can check out their site for a more detailed look at what was removed.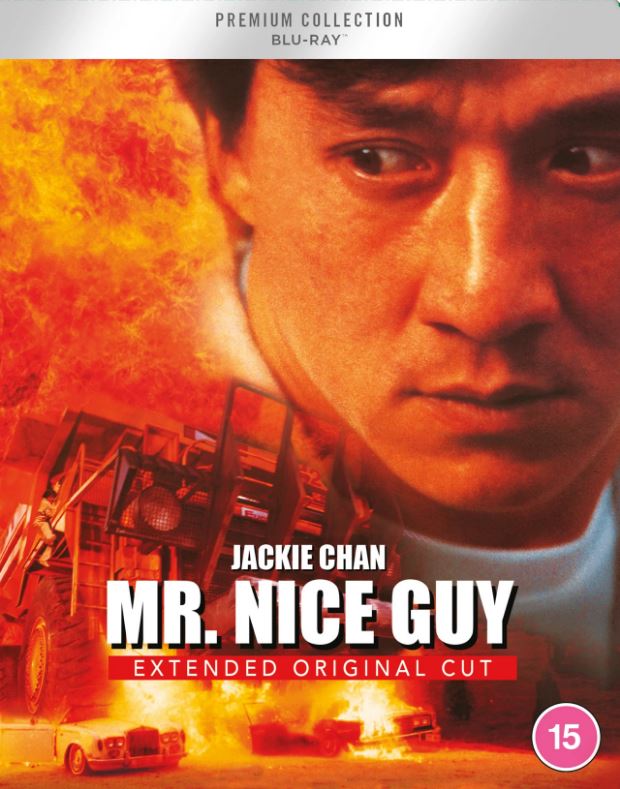 Mr. Nice Guy is well paced with Chan as likeable as ever and it took me a while to recognize Rachel Blakely who played Gaby Willis in Neighbours way back in the day.
There are some truly jaw dropping action scenes in this movie and the finale with Chan driving the construction truck through Giancarlo's house is just spectacular. Directed by Sammo Hung he gives the action a frenetic quality and yet you can still see everything that's going on. Hung also makes a cameo as a cyclist. The tone is mostly serious but it still has enough moments of trademark Chan humour.
Overall, Mr. Nice Guy is an entertaining Jackie Chan film and the extended edition is arguably the definitive cut; it's too bad there weren't more special features but you do get some postcards and a mini poster which will be up on my wall very soon.