Worth a Purchase
Summary
On Deadly Ground's music score may not be up there with Basil Poledouris' best like RoboCop but it's still got a memorable main theme and the Deluxe Edition is the definitive one.
Review: I've always felt Basil Poledouris never got enough kudos as a composer as he created some iconic music with movies like RoboCop and Conan the Barbarian. He provided the score for Under Siege 2 which I will likely review at some point as that also has a Deluxe Edition.
Whatever you think of the movie On Deadly Ground there's no denying this is an enjoyable score and the new Deluxe Edition is the definitive version. It has a memorable theme and I especially like the opening credits which has the right amount of action cues but that hint of mysticism helps match the film's tone.
There is an extended track called Jennings Goes Down and we also get an alternative version of The Journey. Horse Chase is a personal favourite as it's filled with swelling heroics as our hero Forrest Taft (Seagal) outruns his pursuers on horseback.
It's certainly the kind of score that works better with the visuals of the movie and some of it doesn't really stick on your head aside from the main theme which I still like.
Overall, if you like the music to On Deadly Ground or are just a Basil Poledouris completist then this Deluxe Edition is worth picking up.
It's on Spotify so youPreview (opens in a new tab) can pick your favourite tracks to add to your hand slapping playlist.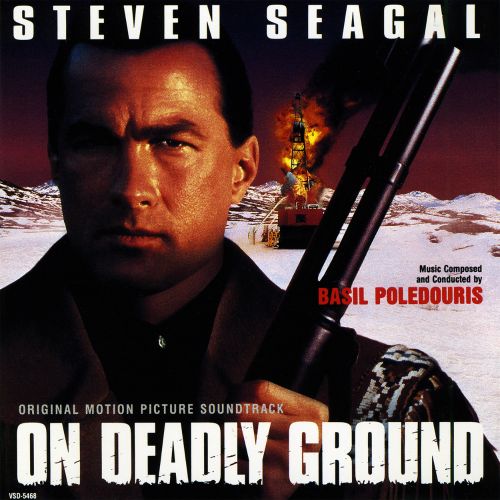 | | | | |
| --- | --- | --- | --- |
| 1 | | Main Titles | 2:21 |
| 2 | | Aegis Flameout | 1:44 |
| 3 | | Fire Out | 1:56 |
| 4 | | Forrest Doesn't Fight | 1:22 |
| 5 | | Kill Hugh | 2:30 |
| 6 | | Hugh Torture | 4:33 |
| 7 | | Forrest Blown Up | 3:07 |
| 8 | | Forrest Found | 1:37 |
| 9 | | Chief Meets Forrest | 3:18 |
| 10 | | The Journey | 7:56 |
| 11 | | The Chief Is Shot | 5:03 |
| 12 | | Snowmobile Ride | 1:56 |
| 13 | | Gunfight At Hugh's | 1:40 |
| 14 | | The Mercs / Forest Decides | 3:08 |
| 15 | | Safe House / Chopper Explosion | 4:34 |
| 16 | | Horse Chase | 2:20 |
| 17 | | Forrest Enters Aegis | 3:47 |
| 18 | | Lights Out | 4:17 |
| 19 | | Mutiny / Setting The Bombs | 4:43 |
| 20 | | Jennings Goes Down (Extended Version) | 5:57 |
| 21 | | The Warning | 4:08 |
| 22 | | End Credits | 3:15 |
| 23 | | The Journey (Alternate Segment) | 2:51 |
| 24 | | Seagal/Nasso Logo | 0:15 |