Pasha D. Lychnikoff has had roles in comedy, action, drama and more; this month he stars alongside Keanu Reeves in the brooding thriller Siberia which tells the story of a business deal in Russia that goes south and a U.S. diamond merchant (Keanu Reeves) and his lover (Ana Ularu) are caught in a lethal crossfire between the buyer and federal intelligence service.
We got to chat with Pasha about his role in the movie.
---
In Siberia you play Boris Volkov; what drew you to the script and character?
I was honoured that the director gave me this opportunity to play this sensitive and gentle man who touches the hearts and minds of his community (laughs). A true representative of his glorious city!
Is it true that the film was shot in Winnipeg?
That is absolutely true and my part was shot in Winnipeg.
Did the weather behave?
The weather was pretty good because it was late April. The days were long where we worked 12-14 hours mostly inside so it didn't really affect us.
How was the shoot in general?
Actually it went pretty smoothly and we finished on a very high note. Remember the scene where we are doing some substances in the room?
Yeah.
That was our last day of work.
That was a tough scene to watch but also one of the best as it was so intense.
Yes! It was the last scene; it felt right and we all felt good by the end of it.
Although Boris wasn't exactly a nice person he wasn't a total villain either; there was a sense of honour there.. is it wrong that I liked him?
No it's not wrong. Whatever his business is (which I'm not in favour of) he does it with honour, pride and a kind of glory. I tried to make him likeable otherwise it won't work and we wouldn't find the storyline.
How did you find Matthew Ross as a director?
Matthew is absolutely brilliant, fantastic and the easiest guy to work with. He's the most loyal guy I've ever met; there aren't enough positive words in any language to describe Matthew. But he's such a great guy and I love him to death.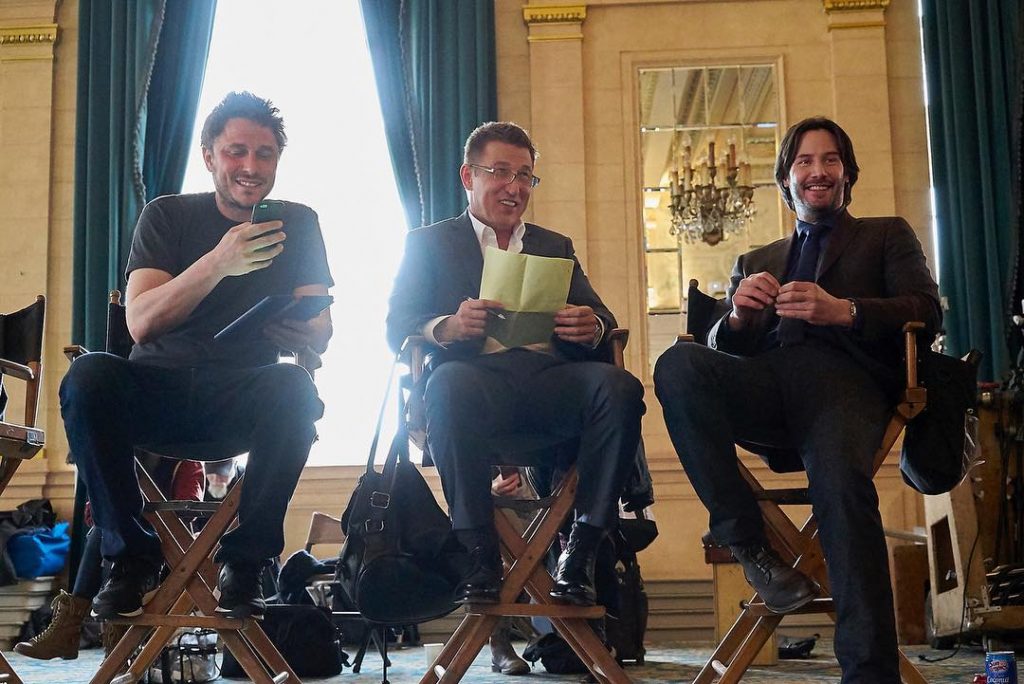 What is your process for preparing for a role?
Oh I like to write my imaginary biography for my character (laughs) where I fantasize about who this guy really is. How did he become this person? Who is he now? What's he doing now? Then afterwards you get on the set after you memorize your lines, then I try to become that particular guy I'm portraying. I think that's the most interesting part of acting where you can go from one skin to another where you can be a pilot, a doctor, gangster and so on. Then of course you improvise because you work with a partner and you're only as good as your partner. Keanu is nothing but terrific; he gives so much so basically by taking his energy and passing it through me I could give it back.
Although the movie is quite serious in tone, how was the atmosphere on set?
Actually we had a lot of fun; we all had great chemistry going on between each other and it wasn't serious at all. We were searching for the right moments, we were rehearsing, we were playing and it was fun. That's how something good can be born, I think.
What do you want audiences to take away from Siberia?
I want them to be entertained and to take something positive from it; something about loyalty, friendship or love and if they can keep it for themselves and learn something from it that's the most rewarding part.
Like crime doesn't pay…
Exactly, crime doesn't pay; hard work always pays off but most importantly crime never pays!
SIBERIA WILL BE IN THEATERS AND AVAILABLE ON VOD AND DIGITAL HD: July 13, 2018