Robert "Bronzi" Kovacs is the star of the upcoming action movie Death Kiss where he plays a vigilante with a mysterious past who tries to rid a city of crime as he protects a young mother and her child.
We got to chat with Mr. Kovacs about Death Kiss and the influence of one Charles Bronson.
First of all, has anyone ever told you that you have a startling resemblance to Charles Bronson?
Yes, many years ago my friends and colleagues told me and they called me Bronze.  Actually, I meet people every day who comment on the similarity or ask "sorry, but do you know that you are very similar to Charles Bronson?"
Was he a big influence to you growing up?
I'm a big Bronson fan.  Yes, he influenced my life a lot.  Since my childhood Mr. Bronson was my role model as an actor and I always admired him.
What were some of your favourite films of his?
I think I've seen all of them and I love them all, but my favorites are Once Upon a Time in the West, Chato's Land, Cold Sweat, and the Death Wish series.
How did you get into acting initially and was it always your dream?
I was born in Hungary.  My career started almost out of nothing.  I worked hard to get to this level.  For many years I worked in Spain as a stuntman and actor.  For example, Port of Adventure Park (Salou, Spain); Texas Hollywood Cinema Studios (Tabernas, Spain).  I'm proud of this.  Since my childhood, my dream was to appear in western films, which I managed to reach two years ago.  Death Kiss is not a western movie, but has a very good theme, much like Bronson's Death Wish movie.  I am very happy and grateful I got this role.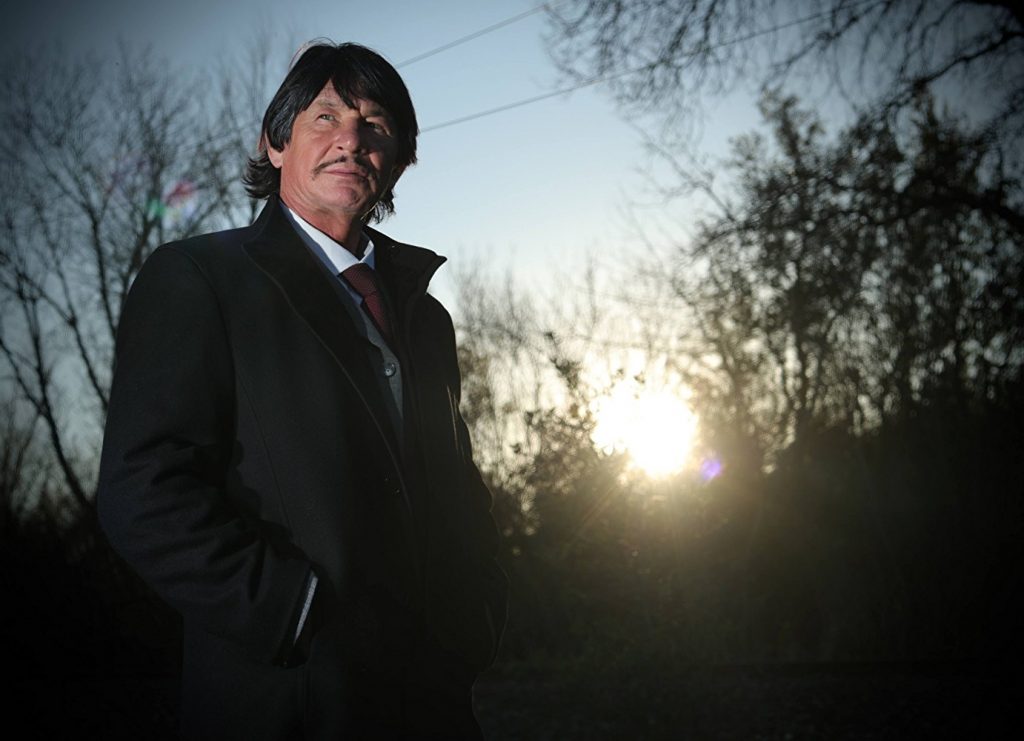 Death Kiss is coming soon; how did the project come about and what appealed about it?
I did a movie with director Rene Perez two years ago.  In the last year we talked about the Death Kiss project that we have just finished.
Can you tell us a little about your character who has thus far remained quite mysterious?
Well, I do not have a name in the movie.  No one knows who I really am.  Only the radio reporter (Dan Forthright, played by Daniel Baldwin) may know my real name.  I'm playing a man in the movie who alone fights against the perpetrators of drug trafficking, child prostitution, violence, etc.  He does not have a decent home, he does not have a family, he lives alone in retreat.
What was the shoot like?
I really enjoyed shooting.  It was a very helpful team.  Everyone was trying to work hard and help the director, Rene Perez.  I have to say that all the actors in the movie were great, and congratulations on their work.  I thank them for the opportunity to work with them and for everyone who made the movie.  I can only congratulate everyone.
What was the biggest challenge you faced while filming?
Well, I remember the scenes when I had to reload my pistol.  Rene asked me to try to do it fast, but the glove was thick so I could not always catch the bullets.  The bullets scattering on the ground was frustrating, but at the same time it was very funny.  We shot that scene several times.  I think this was the biggest challenge for me in the film.
This is your second feature with director Rene Perez; how did you meet and what can you say about him as a director?
Rene Perez was in Spain, in the western village where I worked as an actor and a stuntman.  There he saw me, later contacted me, and talked about the possibility of working together.  What I can say is that Rene is a highly experienced film professional.  He is diligent and demanding for his work, elaborates in detail in all the scenes.  This is also apparent in his films.  Calm, intelligent man.  It is good working with him.
Could Death Kiss be a potential new franchise? Is there a direction you would like to take future stories?
"Could it be a potential new franchise"?  Well, it is difficult to answer these questions.  I hope people will like the movie, and if so, hopefully there will be a sequel.  I'm an actor and I'm trying to do everything well, to the best of my knowledge and ability.  I do what the filmmakers ask me to do.  What direction for future stories?  Well, that does not depend on me.
What other projects do you have in development?
A few weeks ago, I started discussing a new movie that we would start shooting in New York at the end of this year.  In addition, in the past few days I got an unofficial call from Spain to shoot a western movie.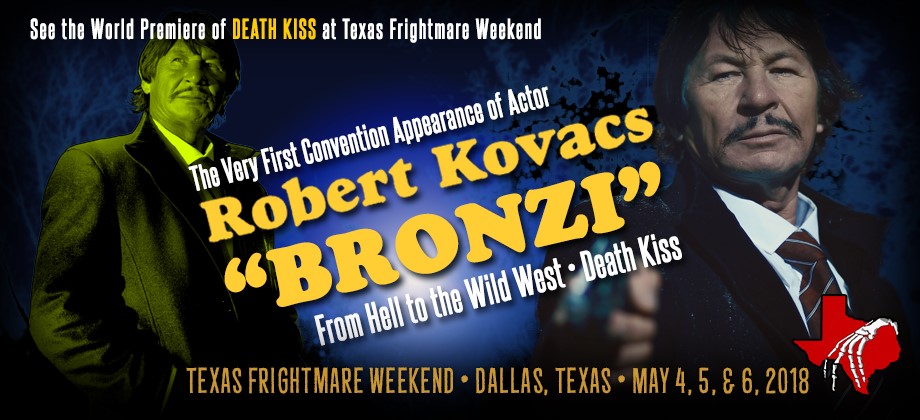 You're also appearing at the upcoming Texas Frightmare Weekend convention in Dallas for the World Premiere of Death Kiss; can you tell us about that?
It is a great pleasure for me to attend this and the greatest honor for me to be present at the World Premiere of Death Kiss.  I'm very confident that everyone will love the movie, and everyone will feel very good.
Thanks so much and I can't wait to see Death Kiss. All the best with it!
Thank you.