Explosive
Summary
RoboCop 2 is an entertaining sequel that may not reach the lofty heights of the original but it's still a fun ride in its own right. Shout! Factory knocked it out of the park with this release giving us so many great special features that explore the creation of the movie in an honest and insightful way.
Plot: RoboCop returns to fight his toughest opponent yet: his replacement!
RoboCop 2 pits two unstoppable cyborgs against each other in a battle to the death! When Detroit's descent into chaos is further compounded by a police department strike and a new designer drug called "Nuke," only RoboCop can stop the mayhem. But in his way are an evil corporation that profits from Motor City crime and a bigger and tougher cyborg with a deadly directive: Take out RoboCop. Containing the latest gadgetry and weaponry as well as the mind of the madman who designed "Nuke," this new cyborg isn't just more sophisticated than his predecessor… he's psychotic and out of control! And it's going to take everything RoboCop has – maybe even his life – to save Detroit from complete and utter anarchy.
Review: We all know that the making of RoboCop 2 was troubled but this Blu-ray from Shout! Factory really goes into all of the behind the scenes drama which is arguably even more entertaining than the film itself. Nancy Allen hated working on the movie because her character arc was greatly reduced and she didn't get on with director Irvin Kershner.
I had no idea until watching one of the documentaries on this disc that Tom Noonan (who played the villain Cain) actually quit acting for a while because the final movie didn't come out like he had hoped with a lot of his scenes removed. We get see some screenshots of the deleted scenes on here too which is one of my favourite special features.
I've always felt RoboCop 2 got a bad rap from people in the same way that Predator 2 and Die Hard 2 got more negative press; none of them are bad movies but they just had the problem that they came out after their classic first films.
RoboCop 2 isn't a patch on the 1987 original but that's not to say it's a bad film; there's still plenty to enjoy, especially the satirical tone carried over from the first. I adored this movie growing up so maybe it's hard for me to see all the negatives through my nostalgia filled eyes but I still enjoy the film for the ridiculously over the top violence and fun action set-pieces.
It is essentially another dig at big business as OCP are the evil corporation with their flag looking remarkably similar to the Nazi Swastika. Although a darker tale this still has a sense of humour with character names like District Attorney Sphincter, which still gives me a laugh. Mayor Kuzak (Willard Pugh) is hilarious especially when he loses his temper with the Old Man calling him a  "senile old bastard!"
Directed by Irvin Kershner (The Empire Strikes Back) the action is slick and the pacing flows nicely; it opens on a Detroit that has descended into near anarchy as the police are on strike again due to OCP cancelling their pensions; crime is running rampant with only Murphy and Lewis the few cops still trying to maintain order. OCP are especially evil in this deliberately getting Old Detroit to tear itself apart so they can build their dream city on top of it and this storyline would continue into the third movie.
RoboCop 2 is arguably even more brutally violent than the original, especially the scene where Officer Duffy (Stephen Lee) gets some unnecessary surgery with a scalpel. Interestingly, the US version is uncut but the version I grew up watching in the UK wasn't anywhere near as disturbing; in the initial script it was even harsher with Cain slitting Duffy's throat.
Tom Noonan always terrified me as Cain due to him remaining creepily calm while also being a truly hateful monster; it's too bad his performance was cut down as there was potential for him to be every bit as iconic as Clarence Boddicker (Kurtwood Smith) who remains one of the all-time great action movie villains.
Peter Weller is still fantastic as Robocop/Murphy and despite his face being covered for most of the film, he still manages to portray the loss of humanity and struggling emotions well.
There was some controversy at the time with the character of Hob (Gabriel Damon) who was a foul mouthed kid swearing constantly and he was arguably as evil as Cain however, we still almost feel empathy towards him during his death scene… but not really. Damon was fantastic in the role and I wonder what he's doing now; according to IMDb his last role was in 2006 in a short called Danny Boy.
I do love my stop motion visual effects which we get here with Cain once he becomes RoboCop 2 although some of it does admittedly look dated.
Although I like the heroic sounding music score it just isn't as good as the Basil Poledouris classic lacking that great Western style theme. Whenever RoboCop and Cain have their final battle there is an old-school monster movie feel to the music which works well.
This Blu-ray from Shout! Factory really gives the picture a nice sheen with all the cyberpunk style visuals dripping with 90's style neon. I also kept pausing it during the scene in the arcade so I could spot the various games they were playing; I noticed Midnight Resistance and Bad Dudes which were some of my favourites growing up.
Bonus Features
NEW 2K Scan Of The Interpositive
NEW Audio Commentary With Author/CG Supervisor Paul M. Sammon
NEW Audio Commentary With The Makers Of "RoboDoc: The Creation Of RoboCop" Documentary – Gary Smart, Chris Griffiths And Eastwood Allen
NEW Corporate Wars: The Making Of ROBOCOP 2 – Featuring New And Vintage Interviews With Director Irvin Kershner, Producer Jon Davidson, Cast Members Tom Noonan, Nancy Allen, Galyn Görg, Executive Producer Patrick Crowley, And More!
NEW Machine Parts: The FX Of ROBOCOP 2 – Featuring Phil Tippett, Peter Kuran, Craig Hayes, Jim Aupperle, Kirk Thatcher, Paul Gentry, Don Waller, Justin Kohn, Randal Dutra And Kevin Kutchaver
NEW Robo-Fabricator – An Interview With RoboCop Armor Fabricator James Belohovek
NEW Adapting Frank Miller's ROBOCOP 2 – An Interview With Comic Book Writer Steven Grant
NEW OCP Declassified – A Collection Of Rare Archival Production And Behind-The-Scenes Videos Including Interviews With Director Irvin Kershner, Actors Peter Weller, Dan O'Herlihy And A Look At The Filming Of Some Deleted Scenes
Theatrical Trailer
Teaser Trailers
TV Spots
Deleted Scenes Still Gallery
Still Galleries (Behind-The-Scenes Photos, Stills, Posters And Lobby Cards)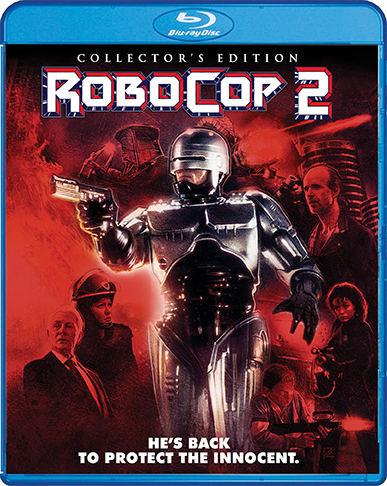 There is a TV spot on here that I remember seeing back in the day promising "Robo action!" and took me back to simpler times. There is almost too much greatness on this disc to go into but highlights are Adapting Frank Miller's ROBOCOP 2 where we explore the original ideas for the film and how it turned out so different. The aforementioned look at the deleted scenes is also a must-see. The vintage interviews with Irvin Kershner are fascinating as he seems like a soft spoken gentleman. I love watching special effects documentaries too which we get called Machine Parts. Nancy Allen discusses her problems with the film and how her role was significantly cut but now she looks back on it with less animosity.
Overall, RoboCop 2 deserves more praise as it's still an action packed ride with even more graphic violence than the first film, some nice touches of humour and I still love the design of Cain AKA RoboCop 2. This is my personal favourite Shout! Factory release (so far) as there are so many incredible special features that really go into creating the movie and all the turmoil that went on behind the scenes. If you like this movie then this needs to be in your collection.