Worth Revisiting
Summary
RoboCop 3 isn't as bad as I remember making for a fast paced and action-packed film; the script lets it down and the watering down to a PG-13 rating understandably put fans off but it's worth a reappraisal. Shout! Factory killed it with this release as it really made me pay more attention to what goes into making a film and Fred Dekker comes off as a very candid about the whole project.
Plot: It's Megacop vs. Megacorp when Detroit's cyborg crime-fighter hits the streets to protect the innocent – this time from corporate greed!
When the ruthless corporation that runs Motor City begins kicking families out of their homes to clear space for a profitable new real estate project, RoboCop (Robert John Burke, 2 Guns, Limitless) joins with a renegade band of freedom fighters to save them. But RoboCop must face some deadly foes, including a lethally efficient android and a dangerous gang of thugs. RoboCop's latest arsenal of high-tech weaponry only somewhat evens the battlefield, as this lone superhero takes on the entire army of corporate militia in an all-out war to control Detroit! This last film in the trilogy is directed by cult filmmaker Fred Dekker (The Monster Squad, Night of the Creeps).
Review: I remember RoboCop 3 being worse than it is; it's still not exactly a great film but I recently picked up the Shout! Factory Blu-ray and I found it entertaining if flawed.
The themes of this film are arguably even more relevant now than they were back then with big business continuing to help the rich get richer and the poor stay poor.
For the longest time it's been a common misconception that this film had been butchered by studio interference but in realty as director Fred Dekker states on the Blu-ray it was really his script that was the biggest issue. The initial draft was written by Frank Miller but Dekker was hired to do a re-write after he initially passed as Shane Black was meant to co-write with him (he was busy working on Last Boy Scout instead).
In one of the documentaries Dekker came up with some hilarious ideas which he goes into here like he thought a potential idea would be at the end of the movie the OCP building would grow arms and come alive becoming a huge robot in itself. I think we can be glad that didn't happen… although I would have been there opening night all the same.
Orion did request the film to be PG-13 but it still manages to be surprisingly violent in places especially Lewis' death scene when she is shot multiple times and we get some nice squib work.
As Dekker himself notes a lot of the humour doesn't work and there is some clunky dialogue; Rip Torn overacts as the OCP Chairman but he's Rip Torn, that's jut what he did and we loved him for it.
OCP are at their most dastardly here forcing people out of their homes to make way for their shiny new Delta City; the main antagonist is Paul McDaggett (John Castle) who is more monstrous than the corporation he works for showing no empathy for other humans whatsoever. He is truly hateful but he does at least get a satisfying comeuppance at the end.
Peter Weller was nearly going to return as Murphy/RoboCop and even met with Dekker but he was busy working on Naked Lunch at the time so he wasn't able to. Stepping into his rather large shoes was Robert John Burke (Safe) who does the best he can but you definitely notice Weller's absence.
I like the idea of RoboCop going against his creators for the good of the people, making him a true hero; I used to hate the idea of Robo befriending a child in this movie but for some reason Nikko (Remy Ryan) didn't bother me at all in my recent viewing. It's really just the one scene of her making Ed-209 "loyal as a puppy" which is a little excruciating and I hated seeing this badass robot turned into a punchline.
RoboCop 3 is well paced and the majority of the action is well done; we get some great practical explosions and Otomo (Bruce Locke) is an entertaining new adversary for Robo to contend with. I think we can all agree that the biggest failing is the jetpack sequence at the end which even at the time looked bad; it's a shame because the idea of RoboCop using a jetpack sounds cool but the execution just didn't work.
I can actually understand why the studio wanted to give this a more family friendly rating as Robocop is the kind of character that appeals to kids who would love to play with toys related to the franchise.
Basil Poledouris returned to provide his fantastic score so we get the classic theme again after the mis-step of new music for the second film; I liked the score to part 2 but RoboCop's music is instantly recognizable so it was a strange decision not to use it.
The Shout! factory Blu-ray is definitely a must-have for fans of RoboCop as we get some very honest interviews with Fred Dekker, Nancy Allen and other cast and crew members who discuss the film and why they thought it didn't really gel with audiences. I think they definitely went a little too kid friendly but it's not as bad as RoboCop: The Series which I'll be reviewing tomorrow.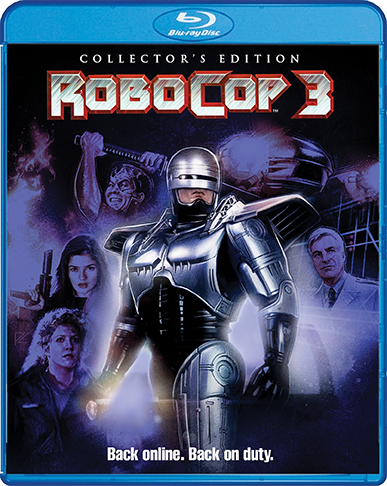 You can check out the full special features below:
NEW Audio Commentary With Director Fred Dekker
NEW Audio Commentary With The Makers Of "RoboDoc: The Creation Of RoboCop" Documentary – Gary Smart, Chris Griffiths And Eastwood Allen
NEW Delta City Shuffle: The Making Of ROBOCOP 3 – Featuring Director Fred Dekker, Actors Nancy Allen, Bruce Locke, Producer Patrick Crowley, Cinematographer Gary Kibbe And Production Designer Hilda Stark
NEW Robo-Vision: The FX Of ROBOCOP 3 – Featuring Peter Kuran, Phil Tippett, Craig Hayes, Kevin Kutchaver And Paul Gentry
NEW The Corporate Ladder – An Interview With Actor Felton Perry
NEW Training Otomo – An Interview With Actor Bruce Locke And Martial Arts Trainer Bill Ryusaki
NEW War Machine – An Interview With RoboCop Gun Fabricator James Belohovek
Theatrical Trailer
Still Gallery
The film has been well remastered with decent picture and sound quality (even if it is still a little grainy at times); the neon signs and sets look better than ever and subtitles are always the most welcome bonus for me.
Overall, RoboCop 3 is certainly not a great movie mostly let down by the script and dated visual effects for the jetpack sequence but it has some entertaining moments and even if you dislike the film this special edition from Shout! Factory is worth buying just for the behind the scenes stories.